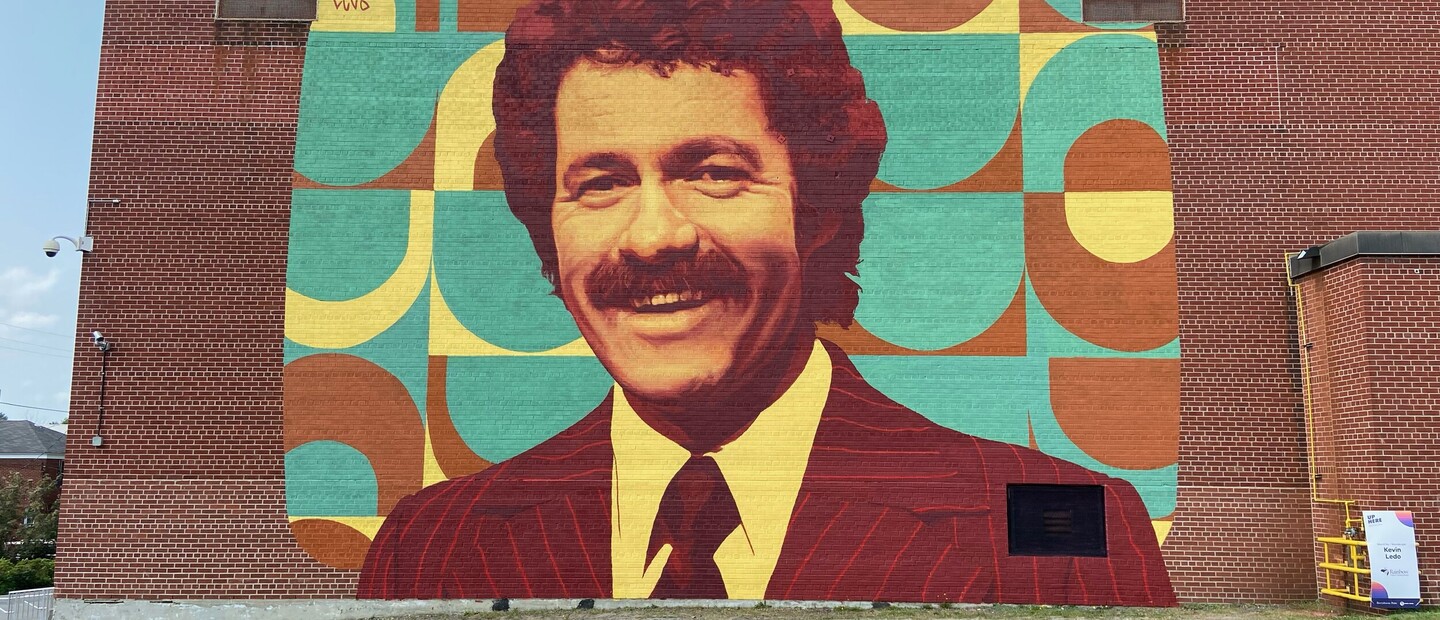 The Jeopardy! Lover's Guide to Alex Trebek's hometown
Once you've visited the city's brand new mural, there are plenty more places to explore!
The late, much-loved Alex Trebek was born in Sudbury in 1940. Sudbury—with a population of 161,000, making it the largest city in northern Ontario—is justifiably proud of its hometown hero, who is best-known for hosting Jeopardy! from 1984 to 2020 with wit and gentle professionalism. If you're a Trebek fan, what better way to show your affection than by touring the town where he was born and raised? A four-hour drive north of Toronto or about five hours west of Ottawa, "Nickel City" is surrounded by 330 lakes and offers plenty of cultural and outdoor activities for visitors. Here are some fun ways to answer the question, "What is the Jeopardy Lover's Guide to Sudbury?"
1. The Alex Trebek mural, CORNER of mackenzie street and davidson street
This new mural, completed in 2021, covers three stories at Sudbury Secondary School (formerly Sudbury High School, which Trebek attended in the 1950s). Created by acclaimed Canadian mural artist Kevin Ledo, this colourful, retro-style art pays tribute to Trebek and joins other stunning works by Ledo around the world, including portraits of Rosa Parks in Detroit and Leonard Cohen in Montreal.
Just down the street is the city's main library branch, called the Mackenzie. Ledo commented "how fitting is it to have [the mural] go up facing the Sudbury Public Library—a place of knowledge, curiosity, and everything Trebek stood for." Just after Trebek announced his cancer diagnosis in 2019, a local radio host started a petition to rename the library branch to honour his legacy. That call was echoed by other Sudbury residents after Trebek's death in 2020, but to date no renaming changes have been made.
3. École Saint Louis-de-Gonzague, 162 Mackenzie Street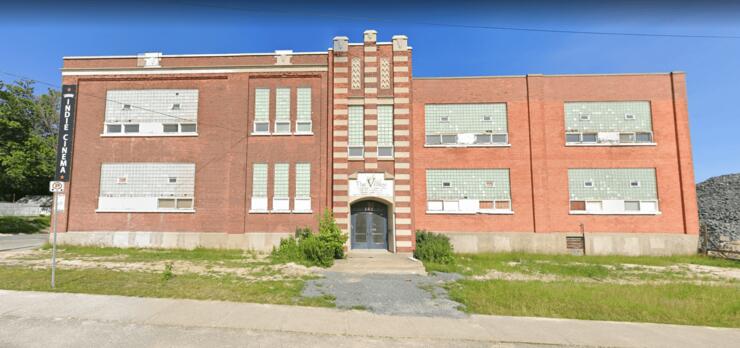 The distinctive Art Deco facade on Trebek's former elementary school. (Photo via Google Street View).
Another spot in the neighbourhood is Trebek's elementary school—now home to the Sudbury Indie Cinema. Built in 1914, some residents are working to have it designated as a heritage building. It was one of the first francophone school in the city and was designed with Art Deco-style zig-zag and triangular features. Check it out and catch a film while you're there!
4. Lagace Street, Flour Mill neighbourhood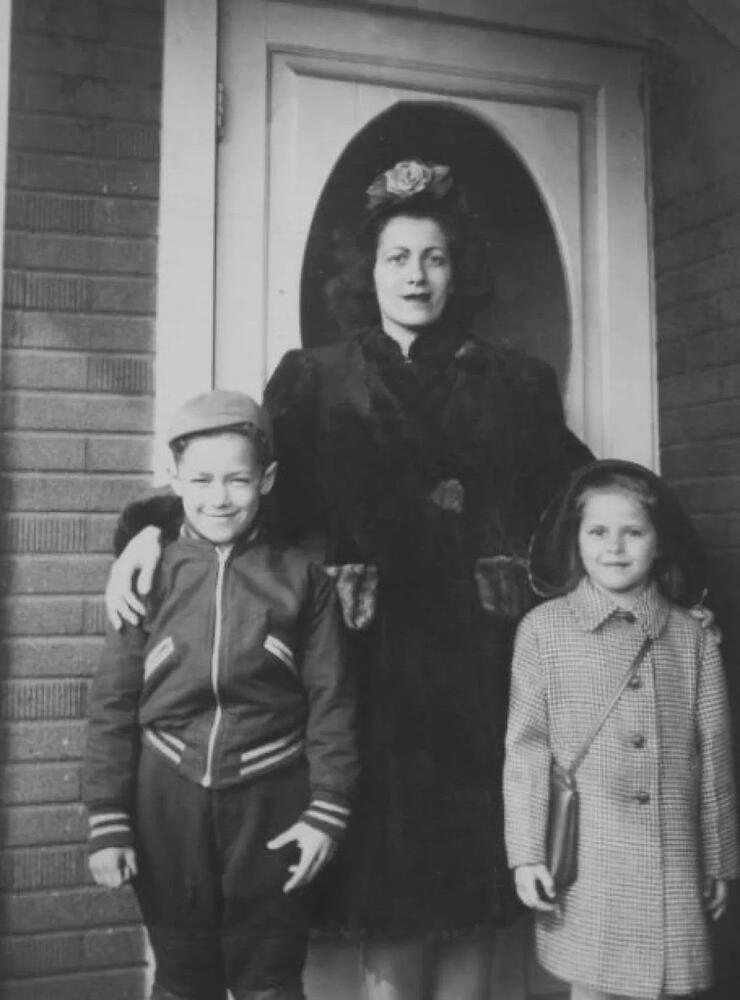 A young Alex Trebek (left) with his mother Lucille Lagacé and sister Barbara. Lagace Street is named after her family. (Alex Trebek collection)
Lagace Street is named after Trebek's maternal relatives (his mother was Lucille Lagacé). It's found in the historic Flour Mill neighourhood, where much of the city's early francophone population lived. For the first half of the twentieth century, at least of third of Sudbury's population was francophone, many of whom worked in industrial and labour sectors, building the city. You can walk or bike on a self-guided "history hike" to see the area's gardens and original 1910 flour mill silos.
5. The Nickel Range Hotel, Elm Street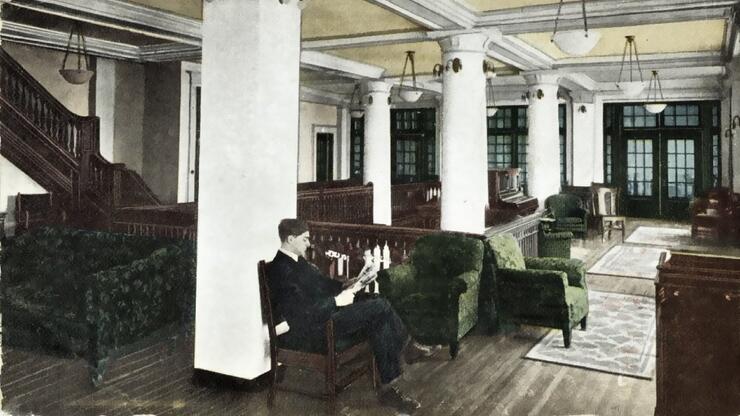 A postcard showing the posh interior of the hotel where Trebek had his first job as a bell hop and pastry chef. (Image credit: Sudbury Public Library)
Sadly, this glam five-star 1914 hotel is no more longer standing—it was demolished in 1976. In its heyday, it offered luxurious northern accommodations to guests who included Ernest Hemmingway in 1923 and King George VI and Queen Elizabeth in 1939. Trebek's dad George, worked as a pastry chef at the Nickel Range during Trebek's childhood, and it was there that Trebek had his first jobs as a bell hop and pastry chef in grade 8. In the opening chapter of his memoir, Trebek credits the Nickel Range with fostering traits like punctuality and work ethic. Check out some vintage pictures on the Sudbury Ontario Yesterday and Today Facebook page. Want accomodations on Elm Street? Consider the popular and well-appointed Parker House Suites.
6. Buy some memorabilia

A Trebek pin available from the Up Here Festival.
For just $5, you can purchase a limited-edition enamel pin featuring Trebek. Originally offered to raise funds for the Pancreatic Cancer Canada Foundation after Trebek's pancreatic cancer diagnosis, the pin has been re-issued and is for sale online only. The pin was commissioned by the Up Here urban art and music festival which gathers dozens of musicians, muralists, and installation artists to turn downtown Sudbury into an urban art gallery every summer.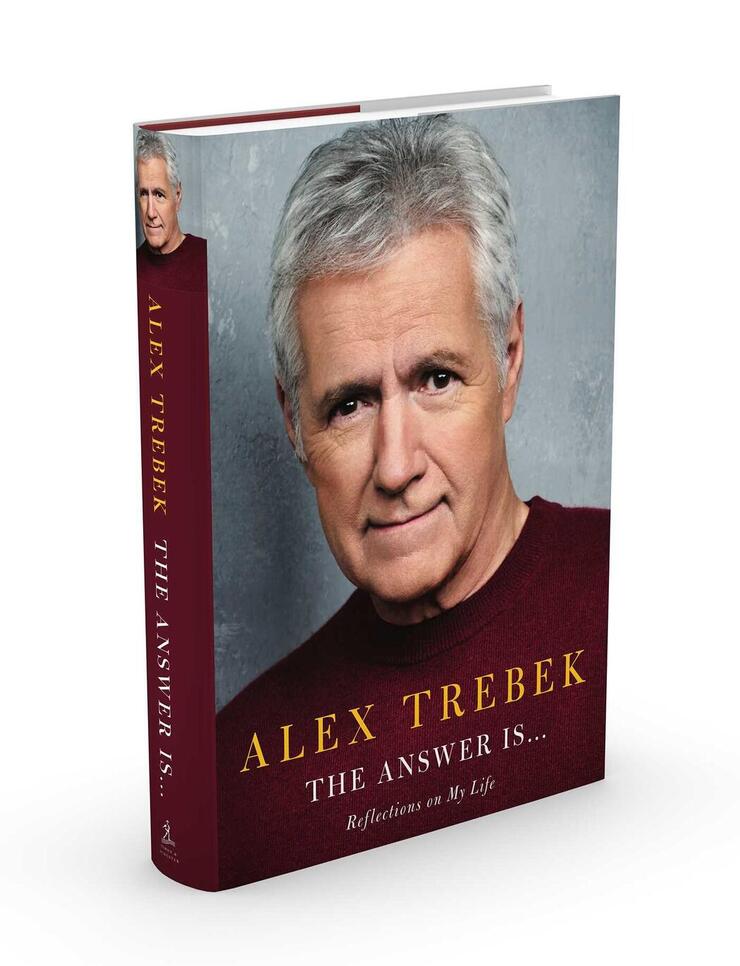 Or, pick up a copy of Trebek's 2020 memoir, The Answer Is…Reflections on My Life. If you're lucky, you can snag a copy at Bay Used Books at 124 Elm Street,  a Sudbury landmark since 1975. Even if it's sold out, you can still while away an hour or two in the stacks that are home to half a million used books on every subject. Or check out Chapters Sudbury at 1425 Kingsway Road to see if they have a new copy in stock.
7. Fuel up
In his memoir, Trebek revealed that his "breakfast of choice" was either a Snickers and a Diet Coke, or a Kit Kat and a Diet Pepsi. And while you could zip into a local convenience store to try out those interesting combos, Sudbury does have a lot of indie eateries serving breakfast, lunch, dinner or snacks to consider as well. Around the corner from the Trebek mural is the delicious Beards Bakery. Or check out a few new spots on Elgin Street: Beaucoup Cafe is a new pop-up, plant-based cafe and Good Luck General Store offers plants, jewelry, home accessories, and more. The Laughing Buddha has tasty snacks, pizzas (like the Gunga Galunga and Llama Rama), sandwiches, soups and salads. Pay a visit to one of the city's three breweries to sample a brew: 46 North Brewing, Stack Brewing, or Spacecraft Brewery. Verdicchio offers outstanding modern Italian cuisine, and Tucos Taco Lounge serves up fantastic fresh vegan and vegetarian Mexican fare. Old Rock is the perfect place to pick up locally roasted, award-winning coffee and if you're heading north out of town—Nickel City Cheese will set you up with decadent poutine or deep-fried cheese curds, or your choice of nine cheddars.
Whether you're a die-hard Trebek fan or simply admire his pop culture legacy, touring his hometown of Sudbury is a fun, quirky getaway that's sure to inspire.