Get Moving
From hiking Blueberry Hill and A.Y. Jackson Lookout to blasting along the Kitchen Sink Trail on a mountain bike, Sudbury's extensive trail systems have something for everyone!
Summer adventures are looking a bit different this year for most of us, but there's never been a better time to rediscover the natural beauty found in our own backyard. 
The parks, conservation areas, and other green spaces surrounding Sudbury are a haven for outdoor enthusiasts, home to picturesque lakes, lush forests, sandy beaches, and lookout points with sweeping views. Whether you're looking for a relaxing afternoon excursion or an exhilarating trek, you'll find dozens of appealing options a short drive from the city. These are some of the best hiking and biking trails to check off your Ontario bucket list this summer.
Best for: biking
The Great Lakes Waterfront Trail is a scenic route that runs for 3,000 km along Canada's Great Lakes and the St. Lawrence River. The Lake Huron North Channel, a section of the trail that stretches between Sault Ste. Marie and Sudbury, offers excellent opportunities for multi-day cycling journeys through off-the-beaten-path parts of Northern Ontario. 
Spanning 380 km, the peaceful trail traverses Mennonite and Amish farmsteads, heritage rivers, thick forests, and sandy beaches, passing through 26 communities where you can stop and explore. Less experienced cyclists have the option to discover shorter sections of the trail on day trips, including the pretty 8 km route that runs from Junction Creek to Bell Park. 
Best for: biking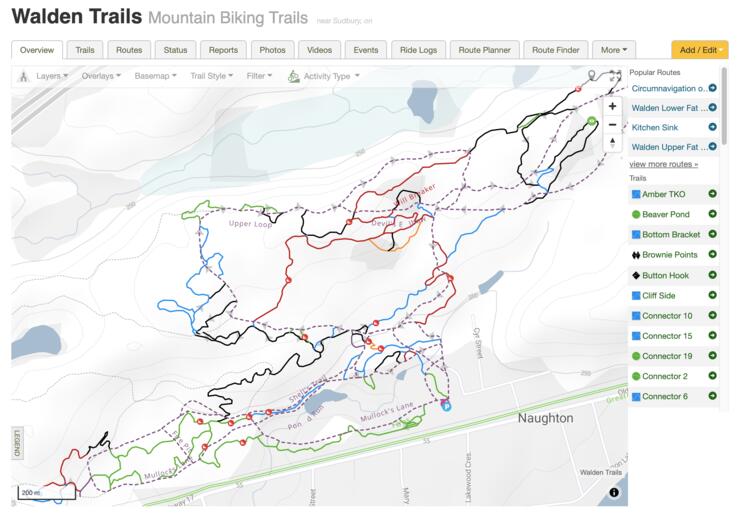 The Walden Trails, formerly known as the Naughton Trails, are a favourite among Sudbury mountain bikers. Moderately hilly and lined with trees, these well-marked trails offer picturesque views over the surrounding area at their highest points. Six self-guided routes make it easy to choose a distance and level of difficulty that best suits your skills. 
For example, the aptly-named Nice and Easy route is an approachable, 3 km loop. Experienced cyclists, on the other hand, might want to take on the Kitchen Sink Loop, a 12 km trail that climbs up to an elevation of 234 m.
Best for: hiking
This 12,706-acre park north of Sudbury offers wonderful opportunities for hiking day trips as well as longer excursions paired with overnight camping. Fans of wildlife-viewing will enjoy the chance to spot bald eagles, osprey, woodpeckers, and songbirds, all of which call the park home. 
Trail options in Halfway Lake Provincial Park span from 2 to 15 km and range in difficulty. The 6 km Echo Pond Trail is a popular option that's moderate in both length and challenge. This splendid trail runs along Raven Lake and the west shore of Echo Pond, passing through a grassy wetlands area where beavers, minks, and moose can often be seen. 
Best for: hiking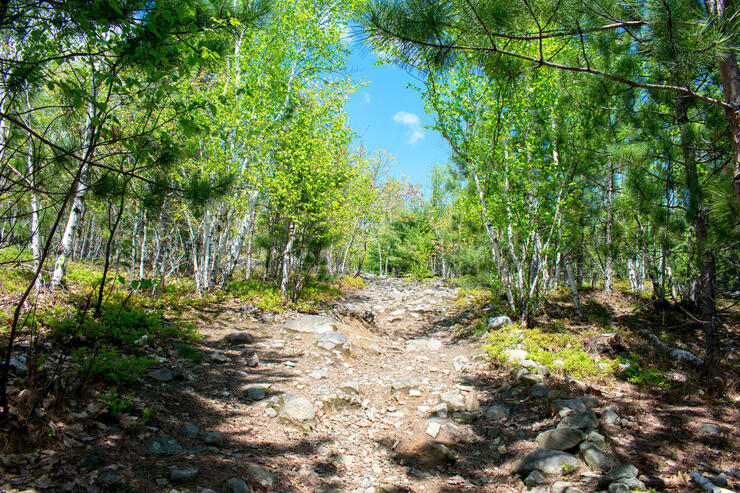 This moderately challenging 1 km loop makes for a pleasant hike any time of year but, true to its name, the Blueberry Hill Trail takes hikers through some lovely blueberry patches in the summer months. The blueberry season typically begins around the end of July and continues through August.
This forested trek also features a number of superb viewpoints, including one panoramic vista that encompasses the city, Minnow Lake, and Ramsey Lake. The Blueberry Hill Trail is part of a large network of Sudbury trails managed by the Rainbow Routes Association. 
Best for: hiking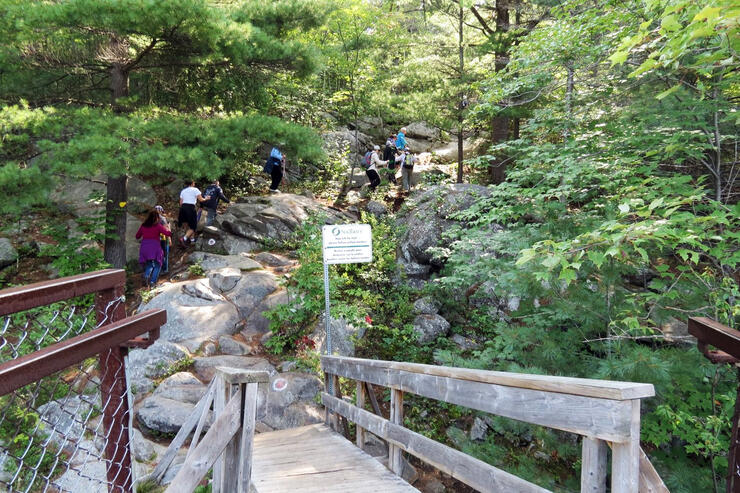 Another trail belonging to the Rainbow Routes Association network, the A.Y. Jackson Lookout includes three short but challenging trails that range in length from 0.5 to 2 km. Named after the famous Group of Seven artist who drew inspiration from these landscapes, it's a rewarding trail that's sure to offer a feeling of inspiration, too. The trail rewards hikers with dramatic views of the Onaping River, which drops down over 45 m in a series of scenic waterfalls as it empties into the Sudbury Basin. 
In addition to the striking waterfall views, the A.Y. Jackson Lookout features an interesting, self-guided geological walking tour that highlights the unique rock types found in the Sudbury Basin. 
Best for: biking and hiking
Kivi Park is one of Sudbury's largest and most beloved outdoor spaces, providing visitors and residents access to spots like Crowley Lake, Linton Lake, and Camp Lake. With more than 55 km of trails in total, the 450-acre park offers something for hikers and bikers of all experience levels. 
Most trails span between 1 to 7 km, passing through beautiful boreal forests and serene lakeside settings while offering a variety of lookout points along the way. Day passes are available for purchase online. 
Best for: biking and hiking
This tranquil trail with views of Kelly Lake starts out easy and becomes more challenging after the first kilometre, traversing a mix of boardwalks, as well as gravel and dirt paths. 
Suitable for both biking and hiking, the 4.5 km trail is another part of the Rainbow Routes Association network. Travelling through a bird-watching sanctuary and attractive forested areas, the Kelly Lake Trail features various viewing platforms and informational signage along the way to enhance your experience.
Best for: biking and hiking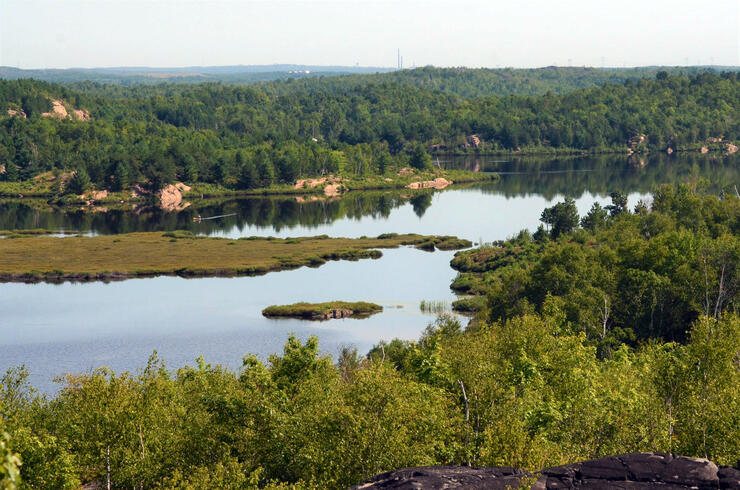 The Lake Laurentian Conservation Area may only be a short drive from downtown Sudbury, but coming here feels like escaping into a secluded destination in the wilderness. Its 23 km of hiking and biking trails vary in length and difficulty, taking in delightful lakes and wetlands, scenic viewpoints, and excellent bird watching areas. 
South of Ramsey Lake, you'll find the moderately challenging 3.5 km trail to Moonlight Beach, which can be used for both hiking and biking. Moonlight Beach's sandy shoreline is an appealing place to relax and enjoy the scenery after an active day. 
Whether you choose to explore Sudbury by foot or by bike, there are incredible, scenic, and safe outdoor experiences waiting here for you.