10 of the best winter beverages to keep you warm in 2022
This Hot Toddy Made with Peanut Butter Whisky is Just One Must-Try Drink in Sudbury this Winter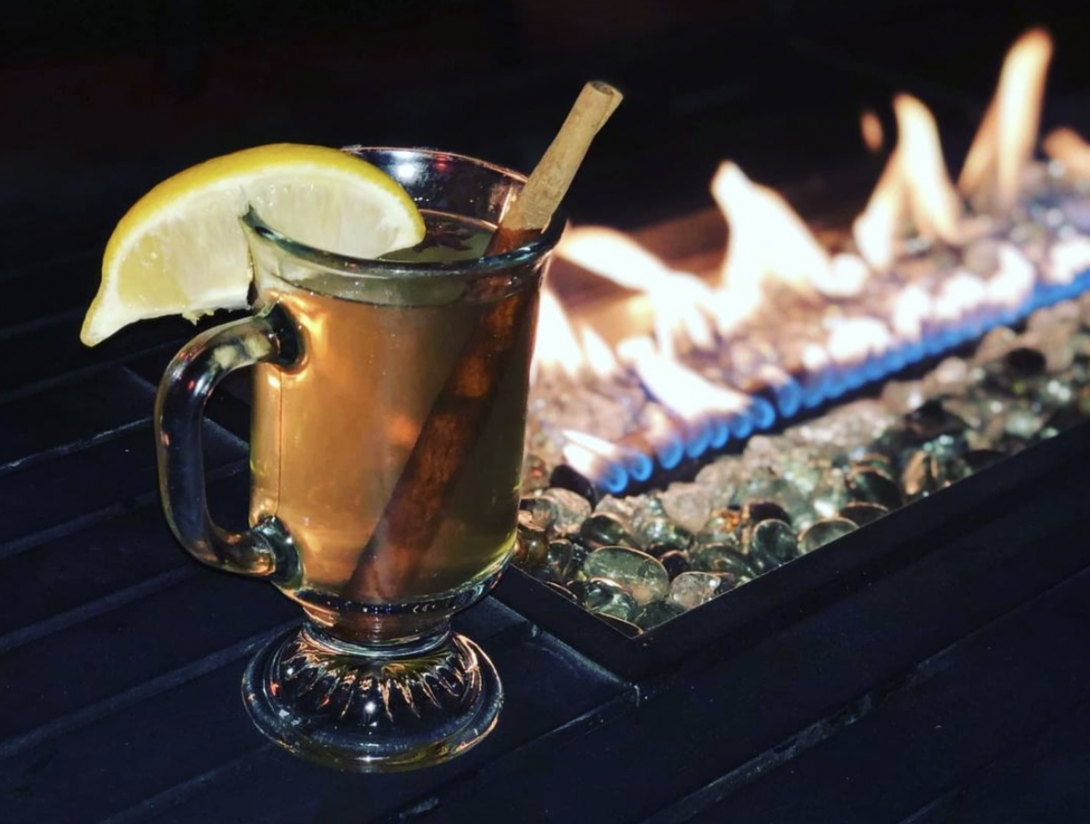 Whether you're looking for a way to spend a leisurely winter weekend morning or taking a break from running errands, nothing helps shake off the cold-weather blues like a hot drink. These are some of the best winter beverages for warming your heart (and your belly) in Sudbury this season.
1. reishi hot cocoa from Nourish
Opened in November 2021, Nourish is a Sudbury newcomer that's already winning fans with a menu that aims to strike a balance between healthy and indulgent. Drink offerings span from standards like cappuccinos and chai tea lattes to more inventive options like the matcha coconut latte and the reishi hot cocoa – a hot chocolate-style drink that's said to improve immunity and gut health. Take the belly-warming goodness up a notch by ordering one of their housemade soups, which come in daily-changing varieties like vegan cream of broccoli and cheddar and gluten-free turkey noodle.
2. A peanut butter whisky hot toddy from Laughing Buddha
When your winter beverage craving calls for something a little stronger, check out the Laughing Buddha's selection of creative seasonal cocktails. Snuggle up with a peanut butter whisky hot toddy or opt for a warm cider with spiced rum and Luxardo cherry. Escape the cold in the restaurant's hip dining room, which features exposed brick walls and copper-tin accent tiling. Laughing Buddha has also winterized its popular summer patio with gas-heated fire tables, heating lamps, and blankets.
This cheerful cafe, which has two locations in Sudbury, prides itself on its primarily locally-sourced ingredients. Their syrups, which can be added to give your drink an extra flavour boost, are free of artificial flavour and many are made in-house. In addition to year-round favourites like the mocha and the matcha tea latte, Salute Coffee Co. offers an excellent selection of special seasonal beverages. Warm up with a winter white mocha or gingerbread latte featuring housemade gingerbread syrup.
This downtown Sudbury coffee shop features an array of toasty drinks, from espresso-based bevies like flat whites to drip coffee and tea lattes. Floor-to-ceiling windows overlooking Larch St. and plenty of plants give Kuppajo Espresso Bar a warm, inviting atmosphere, even in the middle of winter. The cafe's rotating line-up of freshly-baked pastries like cinnamon bun muffins and peanut butter cookies offer a cozy complement to your drink. Stop by at lunch to try one of their hearty sandwiches or paninis.
This family-owned northern Ontario chain roasts its own green beans in-house daily for a fresher-tasting cup of joe. The lengthy menu at Twiggs Coffee Roasters includes coffee and specialty drinks made with fair trade, organic beans, as well as Harney & Sons teas. Pair your hot drink with a housemade pastry, such as a scone or biscotti. If you're in the mood for something more substantial, Twiggs also has a wide selection of breakfast options, sandwiches, soups, pizza, and shareable platters.
6. a Studded Tire winter cocktail from Alibi Room
Head to Alibi Room for a late-night winter warmer. This intimate, speakeasy-style bar is known for its artfully-crafted cocktails and its special seasonal drinks are no exception. Try the Hygge, a soothing blend of dry red wine, cognac, maple, and mulling spices named after the Danish and Norwegian word for coziness. Or opt for the Studded Tires Hot Toddy. For an alcohol-free option, there's the spicy Mexican hot chocolate blended with cream, cayenne, and jerk bitters (which you can also kick up a notch with a shot of tequila).
Da Capo Cafe offers a hint of escapism on the coldest winter days with a European-inspired menu and an interior decorated with warm, natural elements like wood and plants. Go for a London Fog (a Canadian invention made from Earl Grey tea, steamed milk, and vanilla syrup), a Greek-style coffee or customize classic lattes and drip coffees with flavoured syrups ranging from coconut to maple. Don't miss the cafe's Greek desserts, which include treats like baklava and kourkoubinia – rolled phyllo pastry pieces served in syrup. Da Capo Cafe also serves delicious sweet and savoury crepes.
For lovers of loose-leaf, there's no better place to find yourself on a cold day than Tea & Bloom. Part cafe and part retail shop, Tea & Bloom offers over 70 different types of tea to take home or to enjoy in the welcoming cafe. The sisters behind Tea & Bloom previously owned Grandmother's Pie Shoppe, a bakery known for its homestyle butter tarts, and continue to sell their signature pastries to pair with Tea & Bloom's hot drinks. For a treat-yourself experience, pop by for the cafe's afternoon high tea, which includes sweet and savoury snacks served on a traditional tiered tower.
From the cottage-style decor to the locally-sourced AAA steak, M.I.C. – which stands for 'made in Canada' – is dedicated to celebrating the Great White North. With over 80 different kinds of Canadian whisky on the menu, it's perhaps no surprise that one of M.I.C.'s signature cold-weather cocktails is the Hot Toddy. M.I.C.'s makes their take on the classic mixed drink with Wiser's Special Blend Whisky, lemon, hot water, a cinnamon stick, and, of course, maple syrup for an added Canadian element.
Beards Bakery in the Donovan specializes in vegan, scratch-made goodies, including cupcakes, scones, and muffins. The bakery's dairy-free pastries make for a perfect sweet breakfast or afternoon snack served alongside coffee from Toronto-based roaster Propeller Coffee Co. They also offer teas from Pluck – another Toronto-area producer – as well as espresso-based drinks. Beard's commitment to accommodating customers with special dietary preferences extends to their housemade syrups, which are gluten-free and vegan. Keep an eye out for seasonal hot drinks, such as the gingerbread latte and the peppermint hot chocolate.