Family Wintercation in Sudbury
Glide along the famous Ramsey Lake Skating Path, devour fresh Mexican cuisine, or spend the day at Science North—there are so many ways to enjoy Sudbury this season!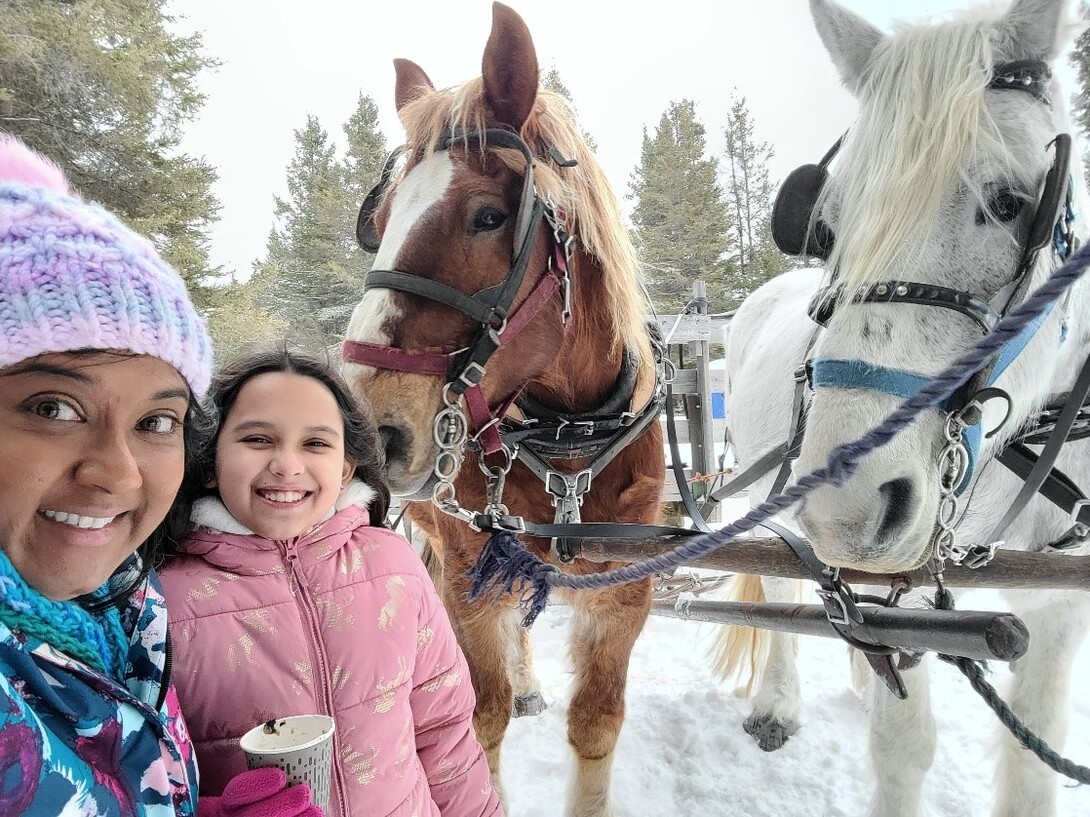 There's no need to hibernate! Get your kids to don those layers and get ready for a fun winter vacation in Sudbury. It's time to fill your vehicle with snacks, road trip games and a solid playlist as you make your way to this city located four hours from downtown Toronto. If you're looking for a mix of outdoor winter adventure and indoor fun, the city of the Big Nickel has numerous activities to beat the winter blues.
Here are 3 things to do in Sudbury this winter. 
1. Outdoor Winter Adventures with Kids
Our family witnessed some magical winter sights in Northern Ontario during our winter weekend in Sudbury. Our visit to Wagon Wheel Ranch was picture perfect. Imagine horse driven sleighs amidst a soft snowfall, roasting marshmallows on an open fire and warming up with a cup of hot chocolate. It's exactly what I had pictured when I read winter-themed bedtime stories growing up in the Middle East. Dreams can come true! Obviously, our eight and 10 year olds loved this experience. They even got to ride a pony at the end of the experience.
When it comes to embracing winter sports, there's no better spot than all-season, Kivi Park which is set on 450+ acres of Cambrian Shield. If you don't have your own gear, fret not because Adventure 365 will rent everything you could possibly need. And yes, they have gear even for the tiny tots! There are many trails for all skill levels and beginner level winter sport enthusiasts like us will appreciate the routes that allow parents to ride fat tire bikes whilst the kids snowshoe along. The rental shop closes before sunset so if you have your own skates, bring them along, because an evening skate through the forest at Nina's Way is thrilling!
Even if you don't have your own skates, I highly recommend a visit to Ramsey Lake Skating Path because it's quite mesmerizing to see the lake frozen. Even without skates you can walk on the ice and take shelter in the design forward ice huts located near the Sudbury Canoe Club. The 1.5 km path ends near Science North so you can make a full day of it, if you wish!
2. Stay Entertained Indoors
If you prefer to flex your real muscles, head to Urban Air Adventure and Trampoline Park. We broke a sweat and battled each other because parents are encouraged to jump right in with the kids!
For us no road trip to Sudbury is complete without a visit to Science North. Whether you're looking to escape the summer heat or the winter chills, you can take solace here for hours. We speak from experience! With 4 floors and numerous exhibits, kids of all ages will learn and be fascinated at this science museum.
3. Take a Bite
The culinary scene has evolved since our previous visit, and we discovered some delicious eats and fun drinks. Our kids highly recommend a visit to La Fromagerie for the sparkly mocktails and cotton candy drinks. This is a wine bar serving up a fabulous selection of charcuterie boards and cocktails, so parents you'll be happy here too!
We love spicy food (okay the kids don't) so we dived right into each North Indian dish we ordered at Sukhdev's. Get the Lamb Biriyani! You can order kebabs and white rice for the kids.
If you're looking to transport yourselves to Mexico, head to La Casa Mexicana for some authentic eats prepared by the owner herself.
If you're in the mood for a fancy dinner, be sure to make a reservation at Bella Vita Cucina and enjoy freshly made pasta.
Don't forget to start your day with a decadent breakfast either at Gloria's Restaurant (get the pancakes and yes, they have vegan options) or The Motley Kitchen (you must order the French Toast) and you'll be primed for your day of adventure in Sudbury with kids.
Tips for enjoying your Sudbury winter
It can get very cold so ensure you bring extra layers, gloves and hats. You should also wear your warmest boots to ensure you stay comfortable as you explore the outdoors. If you're visiting on a Sunday or Monday, ensure that the restaurants you want to visit are open as some are closed on those days.
If you're curious to see what else we've experienced in Sudbury with kids you can check out our website.
Your family's Sudbury Wintercation awaits!