2022 Spring Bear Hunt: Highlights and Recaps
Highlights from a first-time bowhunter to a recap from a dedicated hunter landing his sixth bear, and more…
Superior Country's 2022 Spring Bear Hunt has come and gone for another year. The spring season was open from May 1st to June 15th in WMU 21A and 13—where Bob Bearman operates Nipigon River Bear Hunts. After having the chance to spend another great spring season alongside Bob, his hunters, and locals, I am thrilled to pass on the experiences we all had.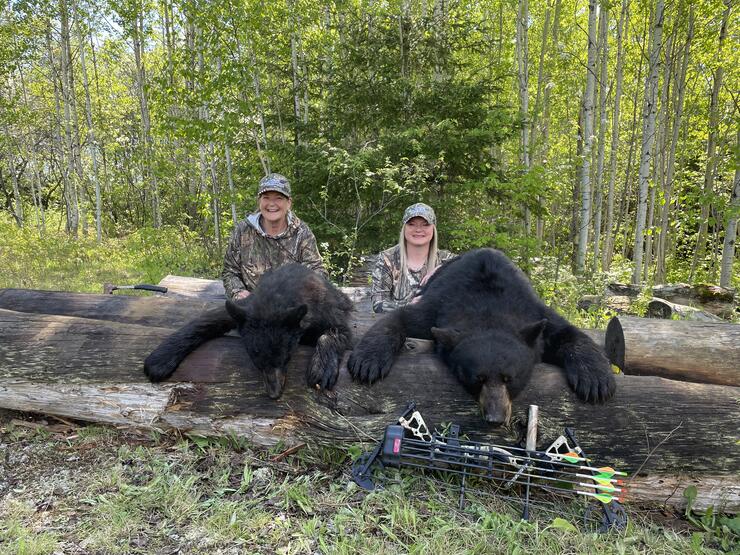 The IBA travels North
All 11 of the hunters that came up this spring were a part of the Iowa Bowhunters Association (IBA), an association striving to protect, defend, and promote bowhunting and archery in the state of Iowa. I was thrilled to learn about the association, their efforts and dedication to Iowa bowhunting. The IBA encourages and conducts educational programs to the public and archers with the safe and ethical use of bowhunting as an effective method of hunting legal game. They support youth involvement of bowhunting through continued support of the Iowa Archery in School Program.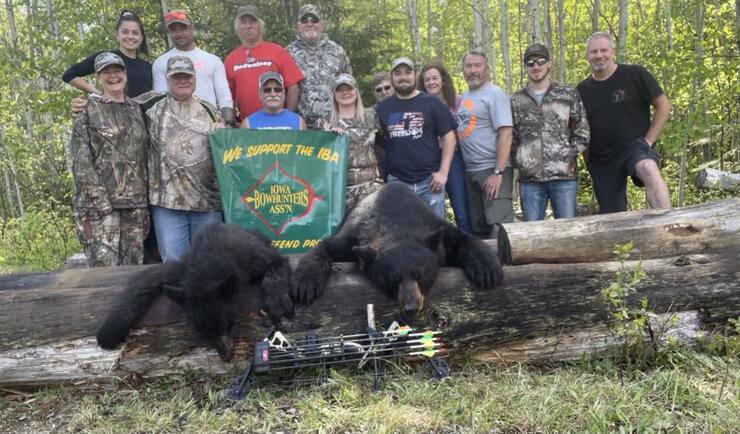 As a proud supporter of the IBA, Nipigon River Bear Hunts was happy to have returning hunters from the association and new ones come experience bowhunting in Superior Country. Although I am unable to share a recap from all 11 hunters without this turning into a novel, I chose to share a few of the most notable stories I got to collect, and the experiences had with these lovely individuals.
Megan Mcdonald - first hunt? no problem.
One of the most notable hunts from this group, in my opinion, came from a first time bowhunter. Megan McDonald has years of experience behind her shotgun hunting for deer, however, this spring she decided to take on the challenge of bowhunting for Ontario black bear.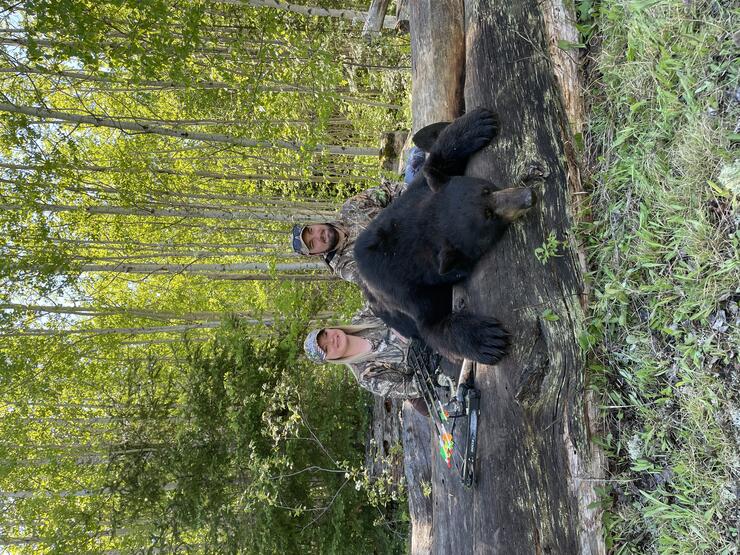 I had the chance to get a full in-depth recap from Megan on her memorable trip to Canada, in short, she landed the beast of the spring! Patience and persistence paid off, Megan was able to get a mere perfect shot on her bear, double lunging him. After a 30–40-yard dash, the death moan was made.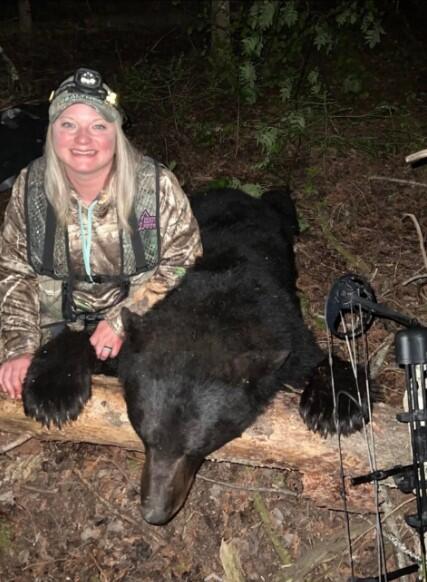 Excitement and profound proudness circulated camp that whole night. Being it was her first bow hunt and first bear hunt; we couldn't be prouder of Megan. She brought back a 352lbs bear that had a massive 5.5inch spread on his paws and girthy 32-inch neck.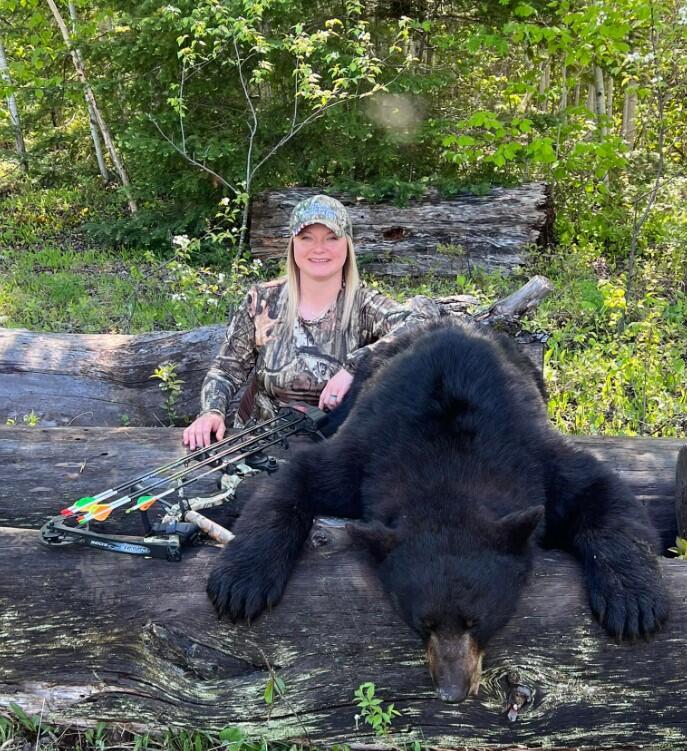 This bear would've easily been a 500lbs trophy bear if he had been hunted in the fall. "I was so darn proud of myself for the shot that I made, along with getting my first bear as well as my first animal harvest with a bow!" Bowhunting Bear in Northern Ontario gives the full, in-depth look on Megan's memorable hunt.
Travis Glidden - "great hunt, amazing community"
Although this next hunter fell just shy of having the most notable hunt, he overall had the most notable experience. As I, a Nipigon local and lover of the region, I wish everyone who travels here to leave as pleased as Travis had. Travis is a dedicated member of the IBA (has been since 1984) and came up this spring to take on his 6th bear hunt. On his 6th night, after 4 consecutive nights of no action, he landed a boar weighing in at just over 200lbs.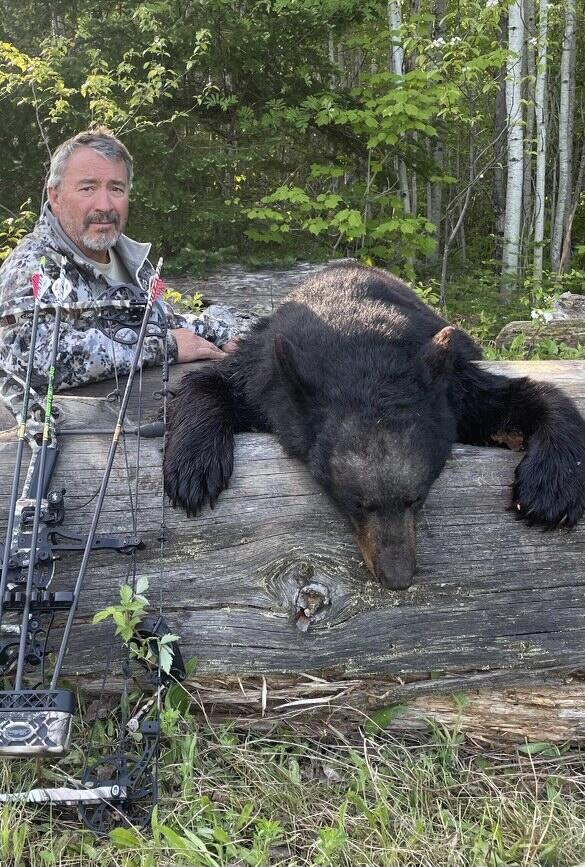 While he did have a joyous hunt and expressed his great appreciation for the effort Bearman put forward to make his hunt worthy, he also noted about the admiration he has for the region. From the fishing to the kind sense of community in Nipigon, Travis assured he'd be back again. "I've travelled through Nipigon a number of times for work over the years, this was my first time in Nipigon for recreation purposes…" he explained. "The fishing was awesome, next time I am up I'll give myself a few days dedicated just to the fishing and then a few for hunting".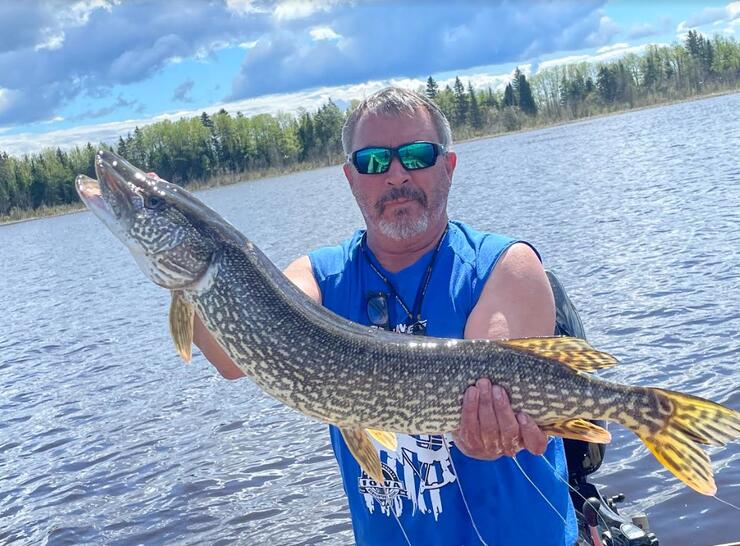 He continues to add "It was great to be up there [in Nipigon], no matter where I went, The Beer Store, the grocery store, everyone was so hospitable. And Bob, he's very knowledgeable, you can tell he's been doing this for some time". The region, the town of Nipigon, and the relationships made stood out to Travis just as much as the successful hunt did.
Karen and bob branchcomb - "as long as the hunts go on, we will return"
Next is a two for one of Karen and Bob Branchcomb, both are long term IBA board members. I was delighted to see these two return once again to Nipigon River Bear Hunts. This was their 6th hunt with Bearman and as always, a memorable one. I refer to Karen as "doc", as a noble front line worker she truly knows how to spend her time off! Her and Bob both landed their bears by the third night out.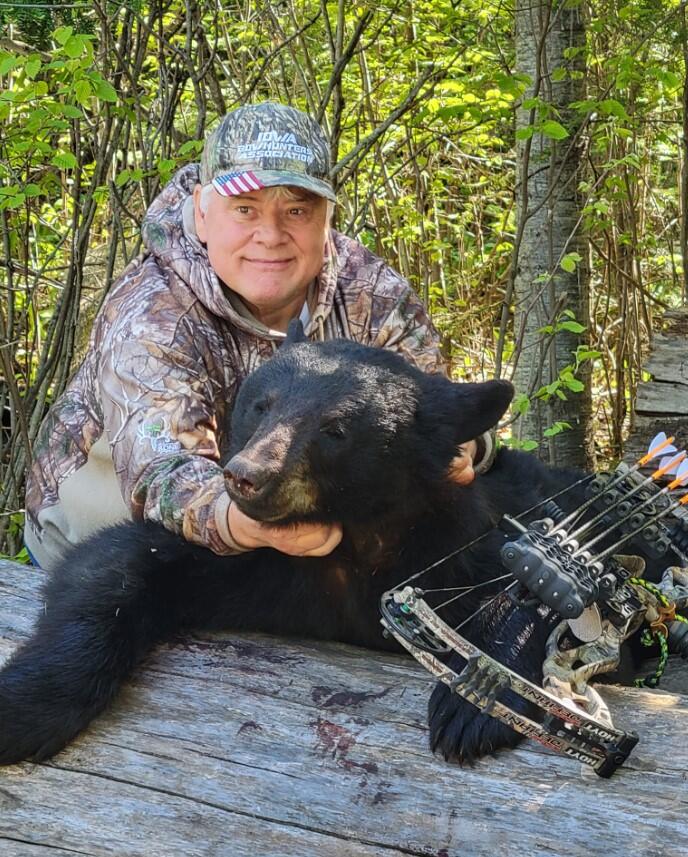 Karen retells her hunt to me as follows: "The night before I landed mine, I had two bears come in, I couldn't get a good shot on them as they were skittish, fun to watch them zoom around, but didn't want to make a shot on them.", She continues to add "when I went back the next night to the same stand, I had the same two come in and another, littler one. I tried to get draw on the biggest one, who wouldn't!? but again, he was skittish! So, I reset myself, when I lined up to draw again on what I thought was the biggest one of the three, I released and came to realize that it was one of the smaller ones, dang! My first year up here with Bearman I landed my largest, and this year my smallest, I call this guy boo boo."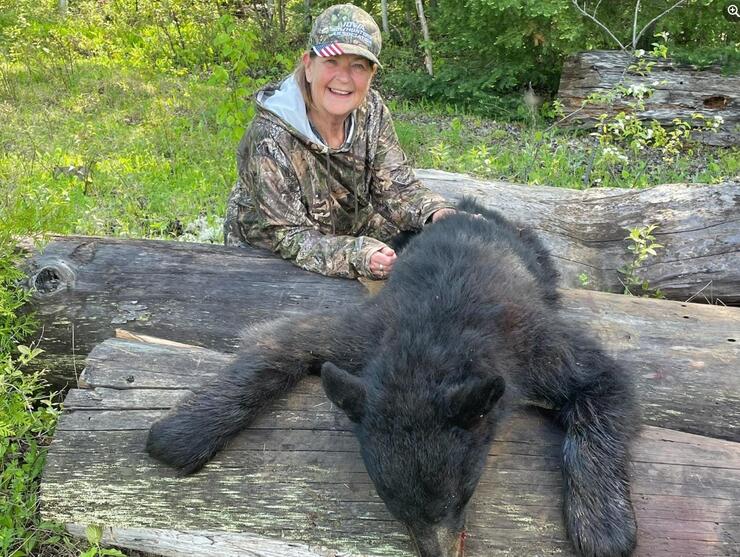 Lastly, she adds "we will be back again! Need to get to the double digits with Bearman, we will hunt as long as he operates!". Karen and Bob have spent a handful of seasons in Superior Country and make new lasting memories every trip.
I can confidently say the IBA members discovered (and rediscovered, for the returning hunters) love and appreciation for the Northern Ontario region of Superior Country. Bob Bearman at Nipigon River Bear Hunts put on another successful spring bear season for hunters and represented the community of Nipigon and surrounding area blissfully. I expressed to the group that this was by far one of my favourite groups to have come up. I've worked for Bearman a little over 6 years and cherish the relationships, memories and experiences had each year. Call me bias, but Bearman and the Superior Country region please all hunters that come to the north to hunt.