6 Indigenous-owned hotels, yurts, and cabins you can stay at in 2023
Looking to visit Indigenous businesses on your next vacation? Check out these 6 cool spots and start planning!
Indigenous-owned accommodations give getaway-seekers an excellent opportunity to explore different parts of Ontario. Discover the art, culture, cuisine, and outdoor adventure of Indigenous traditions, and explore Indigenous-owned businesses and organizations—all at the same time! Talk about a win-win-win. Here are six Indigenous-owned venues—hotel and hostel, cabin, and yurt—to kick off your visit.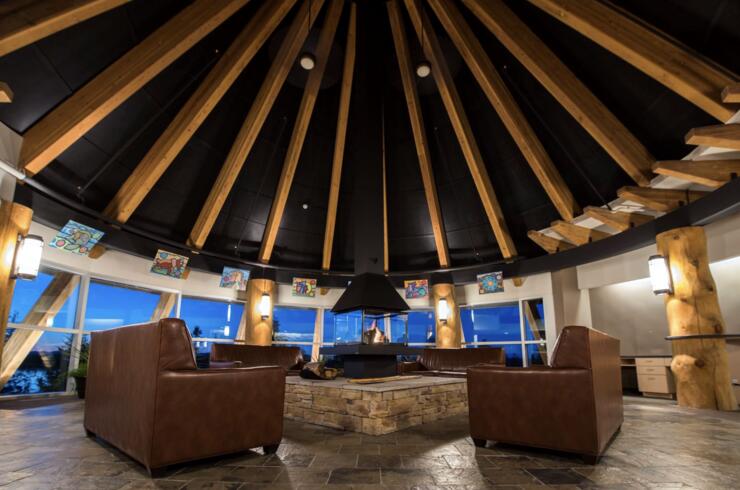 For untold years, people have gathered to discover the natural beauty, culture and cuisine of Manitoulin Island, and the Manitoulin Hotel & Conference Centre is your perfect home base. Relax in a contemporary room or suite decorated with wood, stone and textile décor that reflect First Nations traditions, and dine at North46, which features fresh local ingredients and fare described as "Aboriginal-themed dining" (the Anishinaabe Taco and Manitoulin Whitefish are both popular choices). The venue is ideally suited for a variety of events and excursions, including hiking or biking trails like the M'Chigeeng Trail and Bebamikawe Memorial Trail, taking in Bridal Veil Falls, and seeing the world's largest peace pipe, dreamcatcher and drum. Don't miss the Ojibwe Culture Foundation which has a museum and workshops. Be sure to check out Wikwemikong Tourism to discover Indigenous arts, theatre, and outdoor recreation opportunities too.
More info manitoulinhotel.com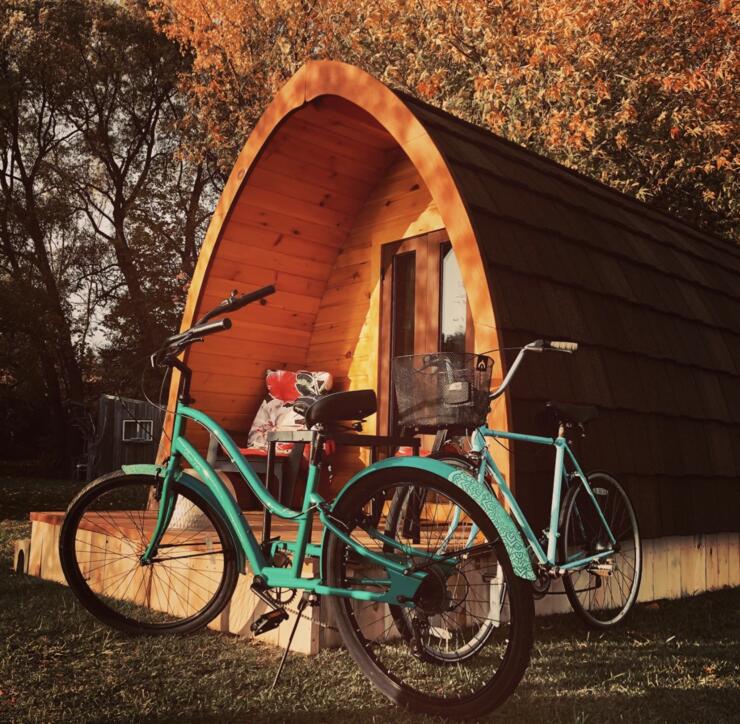 LiL Crow Cabin Private Courtyard, on the beautiful Bay of Quinte in Tyendinaga Mohawk Territory, features four Insta-worthy curved "pods" or cabins for accommodations. Cozy, restful, and thoughtfully designed, each is equipped with modern conveniences like a mini-fridge, mini electric fireplace, and private shower room, along with a fire pit and access to the waterfront. Explore the area by water by a provided kayak or canoe, or go by bike on land. (Helmets and life jackets provided.) At this adults-only retreat, you can rest and rejuvenate, or take advantage of its location to head out to discover the cuisine and culture of Tyendinaga Mohawk Territory, Prince Edward County, and  Sandbanks Provincial Park. Your hosts, Kimberley and David R. Maracle, also own Native Expressions, which showcases David's incredible stone carvings and music that incorporate the cultural traditions of the Haudenosaunee People.
More info lilcrowcabin.com/about-us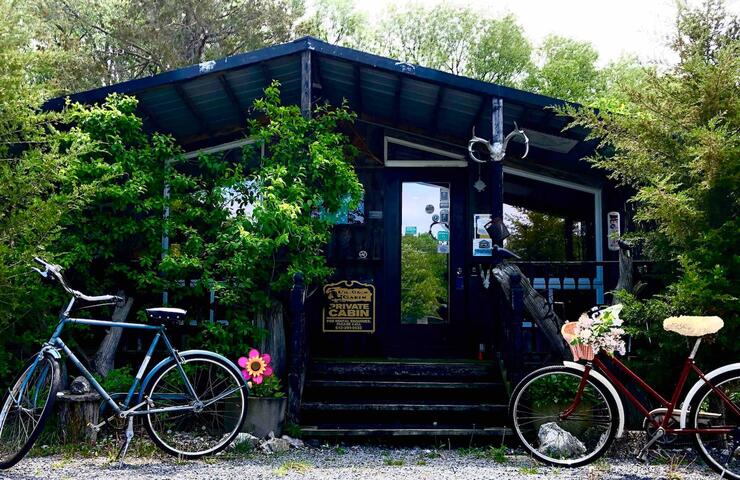 3. Do Some Urban Exploring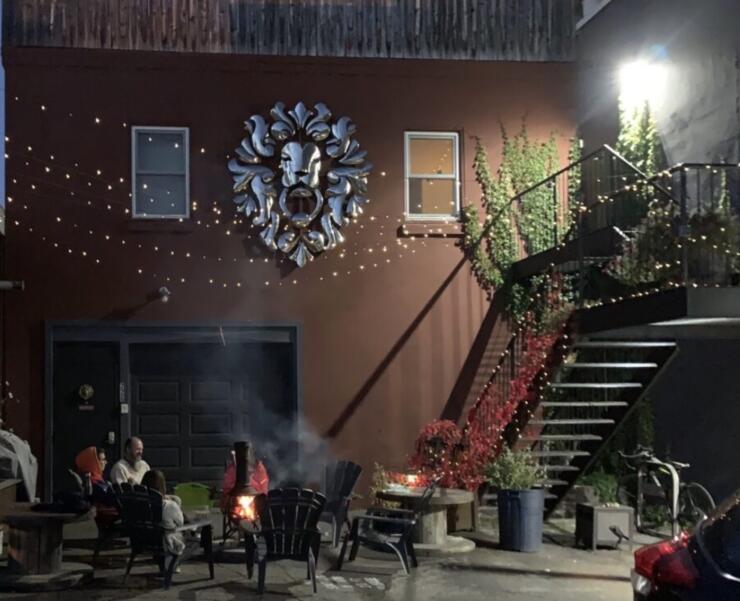 The Metis-owned The Haven Hostel is an 8,000-square-foot venue in a hip Thunder Bay neighbourhood just a block from Lake Superior, with plenty of independent restaurants, bars, and shops to enjoy. Clean and modern, with "bohemian chic" décor, it can be rented out in its entirety for a larger group, or you can book your own private room. The hostel has partnered with local operators to offer rock climbing, ice climbing, or snowshoeing excursions. There are community kitchen facilities, two lounges, and an outdoor courtyard firepit.
Nearby local Indigenous artisans and venues include the Ahnisnabae Art Gallery featuring works for sale from a variety of talented artists, the Spirit Garden on the waterfront with a wonderful view of the Sleeping Giant or Nanabijou, the Thunder Bay Art Gallery which has a good collection of work by contemporary Indigenous artists, Sister Bear Designs in the new Goods & Co. market, Giinawind Co. Collective Art Space, and The Bannock Lady. To the southeast, there's Fort William First Nation, site of the soaring Mount McKay or Anemki Wajiw (Thunder Mountain), a culturally important landmark. Just past the pow wow grounds is a fenced lookout with an incredible sweeping view over the community, the city, and Lake Superior. A steep hiking trail takes you even higher with even better views.  
More info thehavenhostel.ca
4. Catch the Big One
If you're craving a bit of fishing or hunting time, you've got your choice of two outstanding lodges in the Chapleau area. Sunset Lodge and Cabins on Unegam Lake, in Wenebegon River Provincial Park is a new year-round destination with beautiful views and modern private cabins with Wi-Fi, a full bathroom, kitchen facilities and a barbecue.
Depending on what time of year you visit, you can spend the day fishing from your boat, check out the sandy beach, canoe, kayak or SUP, or go snowshoeing or ice fishing. Unegam Lake is known for its exceptional walleye (pickerel) opportunities, or a 10-minute walk to Red Bark Lake or White Bark Lake lets you try your hand at catching trout.
Moose Horn Lodge on McLennan Lake has been hosting outdoorspeople since 1957. In addition to the main lodge, there are six well-appointed cabins in a variety of spacious configurations, as well as a hot tub and wood-burning sauna for guest use. Hunt for bear, moose, or grouse, try the ATV and snowmobile trails, or you can take advantage of excellent fishing for walleye, northern pike, smallmouth bass, brook trout, whitefish and perch. There are plenty of opportunities for wildlife watching and photography as well. 
More info facebook.com/sunsetlodgeandcabins/ and moosehorn.net/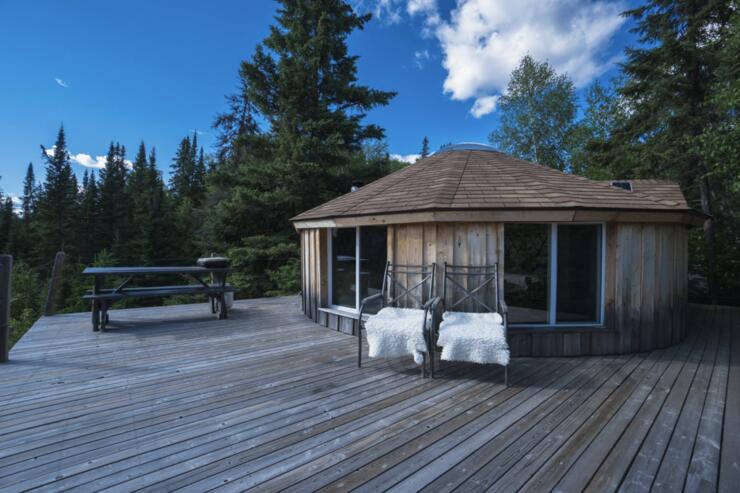 Minaki Yurt Adventures, 45 minutes north of Kenora, offers year-round wilderness fun and excitement. Choose from five yurts with various space configurations, indoor plumbing and equipped kitchen areas. Cozy up by your wood stove, take a sauna, or whip up a deluxe pizza at the site's wood-fired pizza oven. Hikers, bikers, and cross-country skiers can explore the 20 km of maintained trails at Club Minaki, or you can skate or boat on Camp Lake right at your doorstep.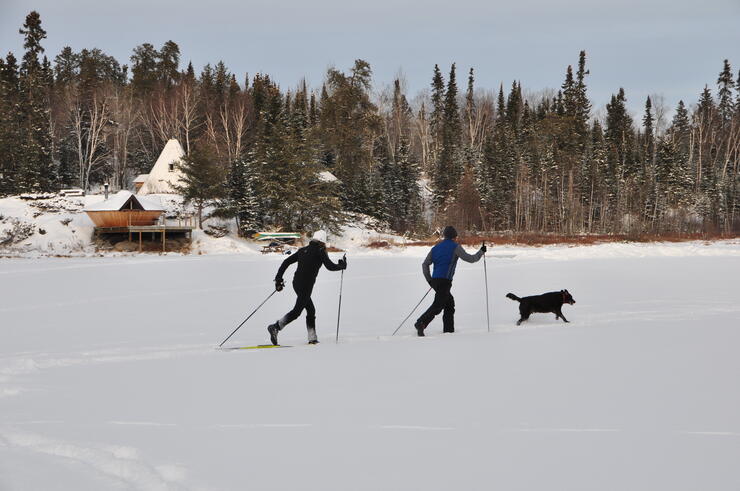 More info minaki.ca
When you're planning your next Ontario getaway, be sure to keep these unique and beautiful Indigenous-owned accommodations in mind.