Highway 71 Visited
In our series of Ontario's best roads, this northwesterly route has gorgeous views, smooth roads, and selfie stops aplenty.
Whether you're coming from Winnipeg, Minnesota, or Wisconsin, you will love riding Highway 71 with its curves and scenic views. It's no wonder it's one of the Top 30 Motorcycle Roads in Ontario.
The King's Highway 71 is a 194-km (121-mi) paved road that runs from the Trans-Canada Highway 17 on the north (Kenora) to Highway 11 to the south (Emo), roughly following the eastern shores of Lake of the Woods. Or if you find landmarks more helpful, from Husky the Muskie to the Norlund Chapel (among the world's smallest chapels). It also joins the northern and southern routes of the Nor-Wester.
This area, known as Sunset Country, is best known for outdoor activities such as fishing, boating, hiking and camping due to the vast number of lakes, rivers and forests.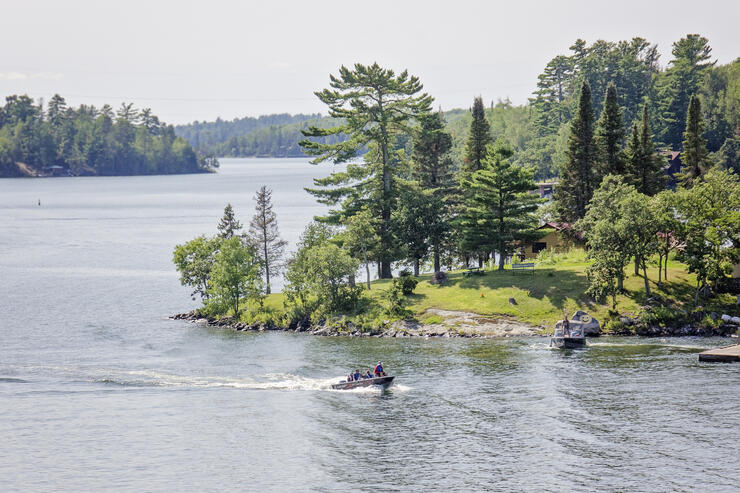 Highway 71 is a smooth, paved road, with lots of curves as it snakes its way through the waterways of Lake of the Woods. While not the twistiest road in Ontario, I loved it as a great example of the Canadian Shield with its rock bluffs and majestic white pines. You ride so close to swamps, rivers, and lakes, you wonder if fish might jump out onto the road! And like any Northern Ontario road off the Trans-Canada highway, you have a feeling of remoteness, like this road was made just for you! The bottom portion, north of Highway 11 though, has a few sections of roller coasters, so keep that in mind if you're pulling a trailer with your boat or motorcycle(s).   
The Sioux Narrows Bridge, a designated Ontario Heritage Site, is clad with douglas fir timbers from its original 1936 construction. The waterfall in Nestor Falls is also a worthy photo op, and good opportunity for a picnic lunch or a quick bio break. Access is directly from Highway 17 and is the namesake for the town. If you're lucky, you'll get to see loons or pelicans in the waters by the foot of the falls. 
Gas is a non-issue on this 194-km road as you can fill up in Kenora, Sioux Narrows, Nestor Falls, Emo, and Fort Frances.
Riding on some seriously beautiful roads will not only get your motor rumbling but your belly too:
Is it worth going anywhere if you can't get a good photo for your Instagram? Here are a few photo ops that will elevate your game above Dave in accounting's Insta account:
This area is a major tourism destination, so accommodations are plentiful! And this being lake country, you can easily find waterfront accommodations right off Highway 71 such as Totem Lodge, Sioux Narrows or Lecuyer's Lodge, Nestor Falls. If camping is your thing, set up your RV or tent in Rushing River or Sioux Narrows Provincial Parks. If you want to stay in town, book a night at the iconic Lakeside Inn & Conference Centre in Kenora or use the Find a Place to Stay tool on the Sunset Country website to find a place that's just right. 
Step back in history and visit "One of the coolest little museums in Canada" according to the Canadian Automobile Association (CAA), the Lake of the Woods Museum in Kenora. It would also be a shame to not get on the water while you're here so head out on the M.S. Kenora for a day or evening cruise, or head out on your own and explore the Lake of the Woods area. 
So if you're just passing through or staying in the area, be sure to include Highway 71 in your road trip plans. And don't be surprised if you want to come back again and again.
Check out our series on Ontario's Best Roads: