The Parry Sound Bike Rally
Chelsey Hennig is passionate about motorsports, and her take on why Parry Sound needs to bring it back is just that; an impassioned plea. While we know there are dozens if not hundreds of reasons why this event ended, and maybe just as many why it hasn't come back, perhaps it's time to revisit these reasons and ask ourselves..why not?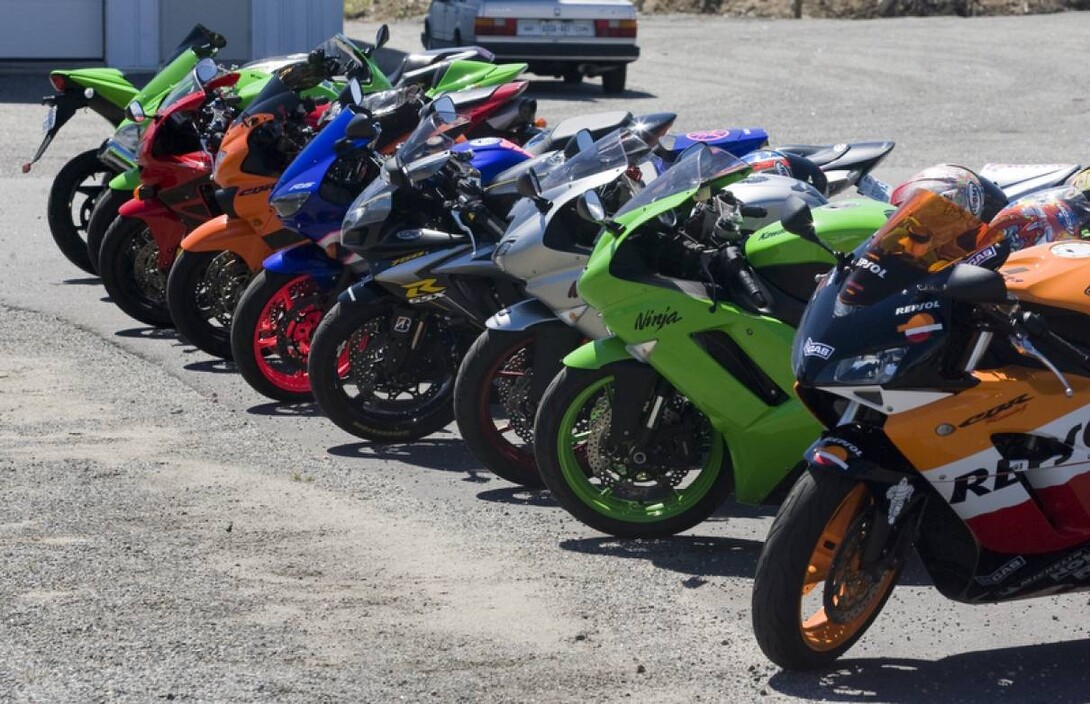 At one point in time, the Town of Parry Sound in Ontario, Canada held one of the largest sport bike specific rally's in North America. With the Parry Sound Sport Bike Rally attracting over 5,000 visitors to the town for 3 days, hotels and restaurants were packed, the streets were bustling with riders and spectators, and stores were busy. The Parry Sound Sport Bike Rally featured a professional stunt show, national trials, a manufacturers expo of new products, food and clothing vendors, radar runs, an auction and demonstrations and the famous Thunder Run through town, which spectators lined the streets to watch.
On November 15th, 2011 the town of Parry Sound and the Parry Sound Motorcycle Association took a year off from holding the event to restructure around a wide age range and bike range (older riders on touring bikes, and younger riders on sport/street bikes, and 3-wheeled bikes becoming more popular such as the Can-Am Spyder). However, since November 2011, nothing has happened. After 30 years of holding the Sport Bike Rally, there has been minimal to no talk about another bike related event in the town of Parry Sound. 
In everything from dirt biking to boating Parry Sound is the ideal place for motorsports. Parry Sound has hundreds of kilometers of ATV, side-by-side, and dirt bike trails, which double as OFSC snowmobile trails in the winter. The Deaf Camp motocross track is just south of town, which is also home to Motocamp (a motocross training camp for children). Parry Sound also hosts World Enduro Canada Cross Country MX Races as well. Parry Sound is located along the shores of Georgian Bay and surrounded by inner lakes, which makes it the ideal place for boating and PWCing. The beautiful twisty Muskoka roads surrounding Parry Sound also make it ideal for on-road bikes as well; in the summer months you can always see touring bikes and street bikes on the twisty roads of Parry Sound/ Muskoka. With all that being said, Parry Sound is the ideal place to have an event such as the sport bike rally; here are 10 reasons why the town of Parry Sound should consider an event like the sport bike rally again in the future.
1. It has the Potential for Great Tourism and Economic Benefits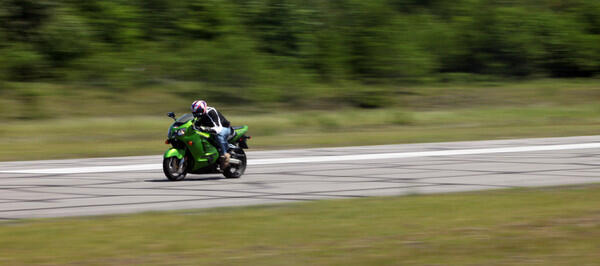 Statistics show that over 5,000 people came to Parry Sound for the three days of the Sport Bike Rally. Whether they were riders, spectators, photographers, etc there were over 5,000 people coming to Parry Sound and spending money in the town of Parry Sound. Lets just say that on average, each person spends $150.00 minimum on entry fees, accommodations, food, and any souvenirs – that equals out to $750,000 going into the town of Parry Sound for one weekend alone.
With having so many people come to Parry Sound in one weekend, the town of Parry Sound would also have the opportunity to promote other events throughout the summer and promote winter attractions as well to get people to keep coming back to town throughout the year, not just in the summer.
I briefly talked to a few store owners downtown Parry Sound about the previous Sport Bike Rally's in town. "I remember being so busy that weekend, I had to bring in another employee", "I met a lot of interesting people that weekend, I remember meeting a couple who came up all the way from Georgia… Crazy that they came all the way to Parry Sound of all places", "That weekend was incredibly beneficial to the town of Parry Sound and small business owners… It brought so much money into the town", "I hope it comes back, I remember by café being busy that weekend and I really enjoyed watching the Thunder Run with my family".
2. It's An Event For Everyone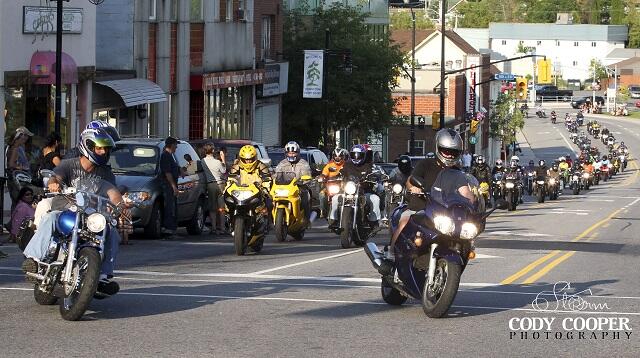 The Sport Bike Rally was not just an event for people who are interested in bikes or rode bikes. The Sport Bike Rally was a great family event as well. There would be families with small children, and/or teenagers walking around looking at bikes, taking pictures, watching the professional stunt show, and lining the streets to watch the Thunder Run. The Sport Bike Rally was an opportunity for families to go to a different event, one where they could learn about bikes and bike safety (for riders and those in cars driving near a bike), see a wide range of modified and stock bikes, and experience motorsports. The Sport Bike Rally had something for everyone of every age.  Parry Sound, much like any other city has a wide range of age groups – so hosting an event where there is something for those young and old allows everyone in town to enjoy the bike rally.
3. It's a Sport Bike Specific Event
These days, many bike events are geared towards cruiser and touring bikes such as Harley Davidsons, or Can-Am Spyders. There's nothing wrong with that, but sport bikes essentially get left out of the fun and there are minimal events that are street bike specific anymore. By hosting another Sport Bike specific event, or an event that at least features a street bike specific show, it allows for a nice balance in the road bike industry as the street bike owners will now have an event to attend.
4. Parry Sound is The Perfect Motorsports Town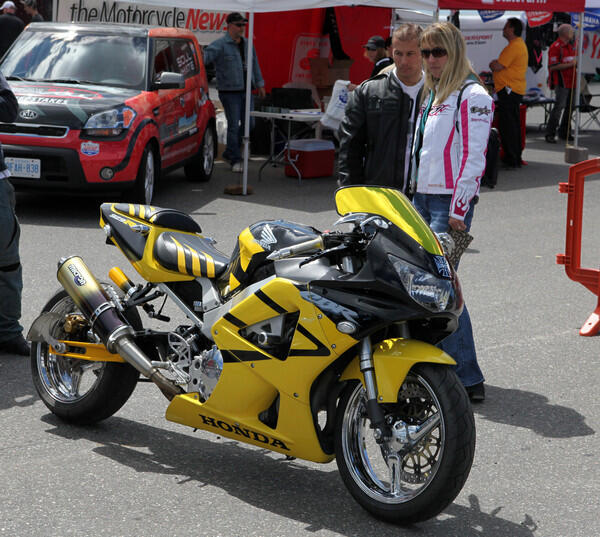 Parry Sound is an ideal town for motorsports for so many reasons. The trails surrounding the town, which go through surrounding communities, such as Mactier, McKellar, Rosseau, etc are perfect for ATV's, Side-By-Sides, and dirt bikes; these trails in the summer double as OFSC Snowmobile trails in the winter. Boating and personal watercrafts are ideal to have in the Parry Sound area because of all the lakes and Georgian Bay. The twisty roads through Parry Sound/ Muskoka are ideal for touring and sport bikes, making this area a road bike owners dream ride. Having another bike rally and possibly including a day ride where groups of bikes travel through the twisty Parry Sound/Muskoka roads, and stopping in small villages for lunch and fuel. This would help show the riders that the Parry Sound District is beautiful, would help bring tourism to the smaller villages surrounding Parry Sound, and would make the riders want to return.
5. It Has Huge Appeal Across North America, Not Just Canada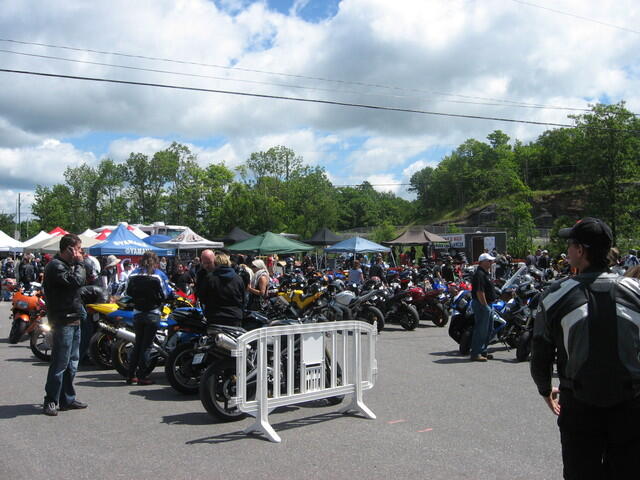 Considering the Parry Sound Sport Bike Rally was one of the largest Sport Bike Rally's in North America, it would not be hard to resurrect another bike rally in the town of Parry Sound, especially with the reach of social media. A new event would put Parry Sound on the map in this community. The Sport Bike Rally used to attract riders, spectators and photographers from the northern United States, and even southern states such as Georgia. If Parry Sound were to bring the Sport Bike Rally back and return to it's previous levels, the town would benefit from a higher awareness as a motorsports destination. 
6. It Can Help Get Kids Outdoors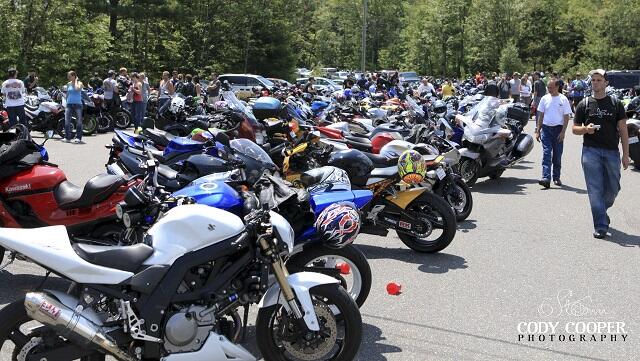 These days many kids are glued to their computers, phones and gaming devices, and they spend more time inside than they do outside. A child spending so much time inside is becoming a health issue (which is why we are beginning to see TV advertisements promoting "Bring Back Play" and why medical journals are publishing more child obesity articles for example).  Parents are finding it harder and harder to get their children outside to play due to the influence of technology. I know many children myself who would rather be on Instagram, texting their friends or playing video games then be outside swimming for example.
I find it incredibly disappointing that the majority of children these days would rather be beating a level on their game then be outside, considering my whole childhood was spent outside. Living in Northern Ontario, there are so many opportunities for children to get outside and play, there are so many things to do and adventure but outside play is becoming obsolete.  I strongly believe that hosting another bike rally in town, will give vendors and manufacturers an opportunity to target the younger generation, by showing them how much fun a bike can be, to make them want to get outside and learn how to ride a bike whether it be a motocross bike or a road bike.
I believe that any way to get children outside and learning something new is worth doing, especially since outdoor play is competing against technology. A child can learn a lot by learning how to ride a bike. For example, starting a child on a 50cc motocross bike will teach them self-control and patience. If a child acts out aggressively they will be penalized for their actions in a motocross race – a child will learn that allowing anger to get the upper hand will only negatively impact their performance. Riding bikes requires children to control their emotions and actions. Being able to manage frustration is a skill that every child should learn. A child will also learn the value of money with a bike. In addition, a child will develop excellent mental focus.
After taking numerous developmental psychology courses while pursuing my degree (Honours B.A Psychology), the years before a child becomes a teenager are the most important developmental years. Having a child develop mental focus from a young age is an important thing. Learning to ride a bike at a young age requires a lot of mental focus, especially for the young generation of today. Children get on a bike and expect it to go (just like in their video games), but what most children don't understand when first learning is that a clutch and shifter can be hard to learn. By learning a clutch and shifter on a bike, a child will learn to focus and concentrate on what they are aiming to do. Children will also meet new friends outside of school and their online gaming group. There are SO many benefits to starting a child off on a bike, and having vendors at a bike rally to attract children and educate parents would be incredibly beneficial. We do not want our youth to grow up glued to a television, computer or phone, lacking verbal in person communication skills, and lacking basic outdoor skills.
7. It Brings Families Together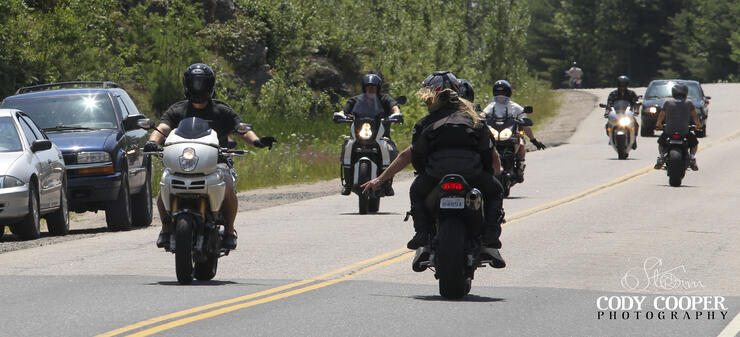 A well-planned sport bike rally can be an event for the whole family, much like the town of New Liskeard has planned the Bikers Reunion. Family time is important, but becoming rare. I am sure almost everyone has seen the "Go Camping" TV Commercial where each family member is in their own room, on their cell phone or computer not spending time with each other. By hosting another bike rally; the town of Parry Sound will be putting on an event, which families can go to together, even if they do not know anything about bikes. The Sport Bike Rally was an excellent event and almost everyone loved the Thunder Run and Professional Stunt Show.
8. The Community Needs to Show Some Compromise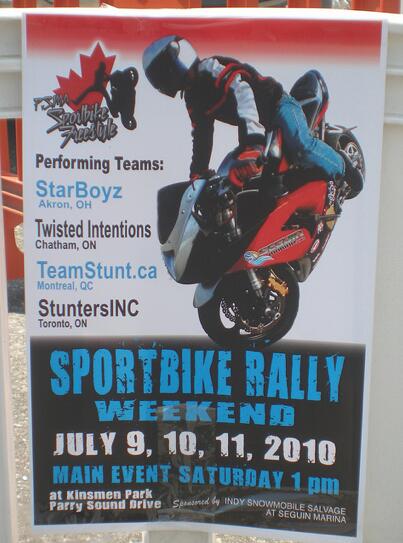 With recent controversy over a small group of individuals boycotting ALL motorsports in the Parry Sound area, it can be agreed that a middle ground needs to be found for the people who want motorsports events and the people who do not want them due to noise. This small group of individuals needs to realize that motorsports is a driving force for the economy here in Parry Sound; if the town of Parry Sound were to cut out everything (snowmobiling, ATV spring jam, boating, etc) there would be nothing left and minimal tourism revenue.
Parry Sound is the ideal motorsports town due to its location, trails, and roads. The town of Parry Sound hosts quiet, low key events such as Art in the Park, and the Festival of The Sound for those who like to relax and drink wine. But however for the majority of people who live in, have a cottage and travel to Parry Sound for motorsports - there is nothing for us. The Deaf Camp motocross races are slim to none, the World Enduro Canada races are not as popular as they used to be, and most importantly the Sport Bike Rally is gone. The Town of Parry Sound needs to stop being one sided to the small group of people who do not like noise and put on a bike rally again to keep everyone on both sides of the happy.
9. It's Not Just for Men
Many believe that bikes, both on road and off road are a guy's thing. Although many of these industries are male dominate, they aren't just for men. There are many women who both own and ride their own touring bikes and sport bikes. It would be great for Parry Sound to host another bike rally and possibly offer incentives (such as prizes) for women riders to attend to increase female participation. By having a town, with the reputation for hosting such a large sport bike rally, offering incentives for women would make more women want to break out their bikes and travel to Parry Sound. Many women own and ride their own bikes and if Parry Sound were to put on another bike rally, it would be great and beneficial to the industry to have classes and prizes for women.
10. Parry Sound Needs to be Known for Something Cool to Keep It's Youth!
Honestly, Parry Sound needs something cool again. I know I am not alone when I say this, but I always find myself traveling OUT of Parry Sound to attend cool motorsports events and shows such as drag races at the King of the North DragWay, Car and truck shows in Barrie/Toronto, or RJ's Motocross track just north of Barrie. It is disappointing to think that Parry Sound used to have something cool then they foolishly got rid of it. Now, people need to drive over an hour either way to attend a motorsports related event. I hate to be harsh but Art in the Park, and the Festival of the Sound are dull events; yes there is amazing local and external talent, from musicians to visual artists that I can respect but I find that most of the events in Parry Sound are feared towards the older generation leaving virtually nothing for the younger generations. Dragon Boat races aren't anything special as a lot of cities have a race, and almost every city has a Rib Fest…big deal. It is straight up boring to be young and live in Parry Sound. The town of Parry Sound is driving its youth out of the town and making them not want to come back. You would think that a town would host events and do things to try and keep a younger generation to stay and live in Parry Sound when they get older. Parry Sound should heavily consider an event again like the sport bike rally to attract and keep the younger generation in town, not drive them away.
Comments and Testimonials About the Sport Bike Rally
"The Sport Bike Rally was one of my favorite weekends of the entire year and I would wait for it and count down the days anxiously until it was here! I miss it and would love for it to come back"
"I really miss that rally and really believe that it did generate a lot of revenue for the area"
"It is a great experience to take part in or be a spectator for. You get to ride some of the best roads in the province and meet new people with a diverse selection of motorcycles that you wouldn't normally see. It's always cool to see when I'm out riding and I'm stopped at a stoplight, I look over at a vehicle beside me and the kids are in the back seat waving at you with a big smile, kids love motorbikes and they love the thunder run. Its a great atmosphere that is brought to the town."
"I honestly no nothing about bikes and have never rode one before in my life, but I would always go with my family to watch the Thunder Run. My kids loved watching people go by waving"
"I had only went to the rally once, and when I did go it was a lot of fun and I saw so many bikes that looked like a rainbow all parked beside each other – it was really cool"
"Oh I made a lot of money in the store that weekend [laughs], it would be great for the town to have another event like that"
"It was one of the highlights of the summer to go see them all, and hear them all ride around the town. It would be awesome if it came back, we would absolutely volunteer our time if Parry Sound were to bring it back"