Top 10 Motorcycle Routes in Ontario for 2018
Riding season is officially here—if you're planning your big trip for the summer, these are the top destinations in Ontario.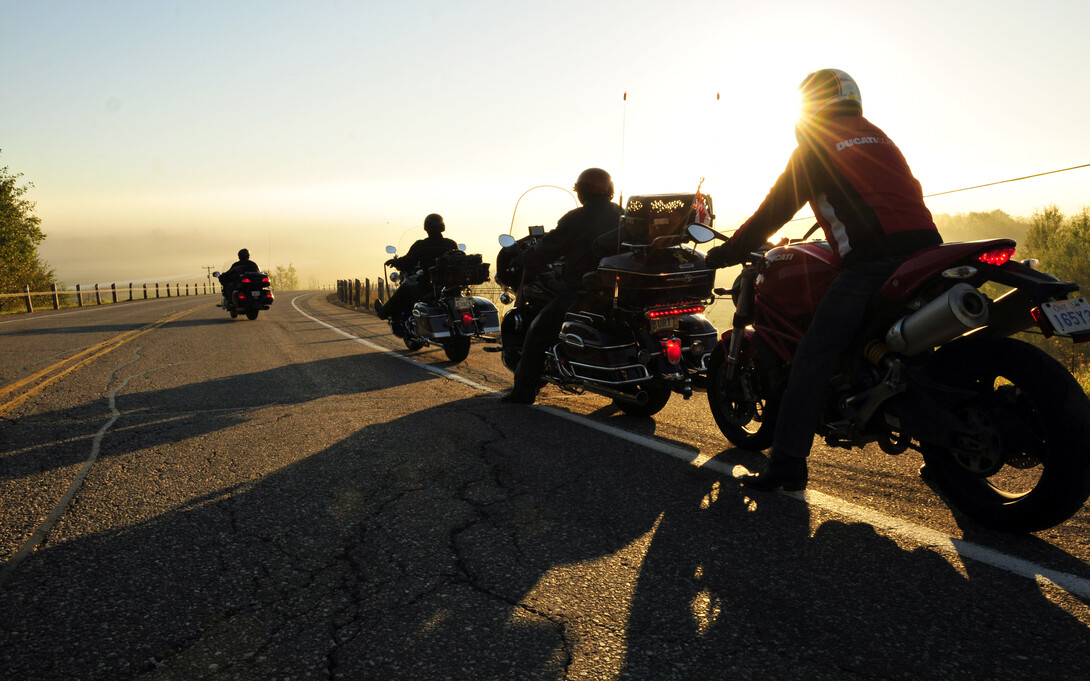 Editor's Note: Click here to see our picks for the best routes for 2022.
Every year we take stock of the state of motorcycle touring in Ontario. We look for improvements to routes, or to their trip planning resources. We check out any new routes, amenities, and festivals or attractions that might enhance your ride. We add in long-term weather forecasts and anticipated construction, and compare everything to come up with this list
This year you'll find a familiar cast of characters—most routes have improved in ride quality.  This summer and fall should see moderate stable temperatures, with some additional stormy weather, but with average rainfall. For those of you looking for a fall ride, these stable temps mean this is going to be a good year. 
But any time spent riding is a good time—right? Read on for our top 10 for 2018.
Who Should Ride It: If you're from St. Catharine's, Windsor, Michigan, Ohio, or New York state, the Cruise the Coast route is great for people looking for a quick weekend ride who prefer straight lines and quaint farmland to technical twisties, rock cuts, and forests. You'll be close to Lake Erie for much of the ride, so if you feel like going for a dip, or staying somewhere right on the lake, this can work for you. 
Why You Should Ride It: Food, craft beer, beaches—if this sounds like your scene, this is definitely the ride for you. If you like quiet back roads winding gently around farmer's fields, rivers and streams, and lots of old school character, you don't need to read any further.
Who Should Ride It: The Explore the Bruce route is perfect for Toronto and Michigan riders, especially those originating in the greater Detroit and Lansing areas. Group tours on big bikes, or adventure bikes looking to try out a little bit of dirt and gravel before tackling something more complex.
Why You Should Ride It: Hilly countryside with lots of big water surrounding it, and, like Cruise the Coast, plenty of options for where to stop and eat, and some great breweries and wineries. This is either a great short weekend trip from the big city, or the gateway to bigger trips via the Chi-Cheemaun ferry in Tobermory.
Who Should Ride It: Riders from Ottawa, Toronto and Kingston areas who are looking to do some high mile touring in a remote wilderness setting will love the 1,350-km Great Legends Tour. It encompasses so much territory in the North that you have to be a lover of long rides.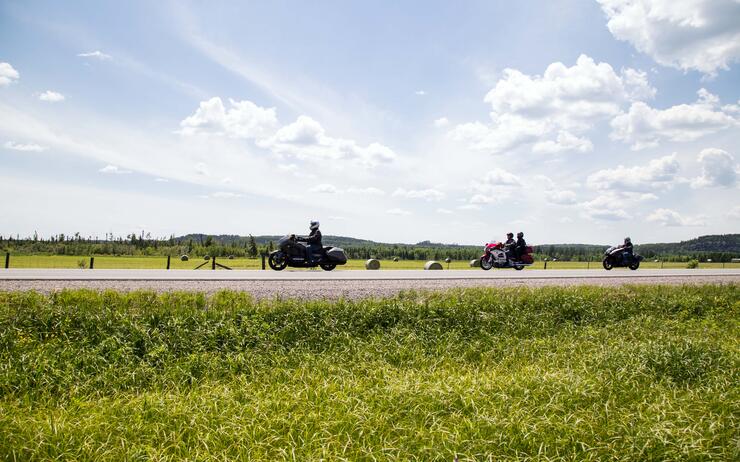 Why You Should Ride It: See more of Ontario in one trip than most people see in their lifetimes. This is the North of legends; the massive rocks of the Canadian Shield are jutting out everywhere, there are picture-perfect lakes framed by deep boreal forest—and the roads vary nicely between twisty and straight open cruising.
Who Should Ride It: Michiganders from the Greater Detroit and Lansing areas will find the Georgian Bay Coastal Route a perfect Canadian ride, for an extended long weekend. It's also great for a week-long trip if you've got the time and plan on stopping and enjoying the sights.
Why You Should Ride It: The eastern side of Georgian Bay is a pretty unique landscape with thousands of tiny inlets running inland, and most visible from the main highway. The loop around Georgian Bay isn't the most exciting or scenic ride, unless you make some side trips (check out the interactive map for a ton of ideas), but it's a solid ride.
Who Should Ride It: Rich doctors and lawyers from Toronto! Just kidding, although this ride is right smack dab in the middle of Ontario's ritzy cottage country, where McMansions cover the lakeshores. But really, if you're coming from New York State, Vermont, the Golden Horseshoe, or even Ohio, the two routes in the Explorers' Edge region (the Big Loop and the Small Loop) are perfect for those who like twisty, well-paved backroads. But if you're riding in summer, try to do it mid-week; those pesky cottagers can jam up the sideroads pretty well on weekends.
Why You Should Ride It: It's super scenic, the roads are in great shape for the most part, there's lots of semi-technical riding to keep sport riders engaged, but it's good for the Harley set too. And the towns are all very friendly to tourists, seeing as they're full of them all summer long.
Who Should Ride It: Riders who want to be fully engaged by their riding experience, the 1,000-km Ride the Highlands Loop is Ontario's no-holds-barred, rock'em sock'em motorcycle ride, and if you aren't screaming for joy in your helmet the whole time, you got old. Sport touring riders will love this, but anyone who loves to ride twisties will too. If you're coming from Ottawa, Quebec, Montreal, New York, or Vermont, this is the route for you. If you're coming from Toronto, you won't regret the extra little hike to get there.
Why You Should Ride It: It has Ontario's only full-speed hairpin turn (don't test it), it has Ontario's number one riding road (the Calabogie road/Black Donald Road), it has tonnes of amazing places to eat including our favourites, the Old Ridge Authentic Barbecue, and the Wilno Tavern where you can get pierogies the size of your fist!
Who Should Ride It: Wisconsinites, Minnesotans, Manitobans—you'll all get a major kick out of this backwoods ride. People who like to ride alone, or in a quiet group. Harleys are perfect on the Nor'Wester, as are big BMWs and Goldwings. Sport bikes might get tired of some of the straight sections, but this is a massive loop.
Why You Should Ride It: To see what motorcycle riding is really all about. These are very quiet roads, even in the full thrust of summer, and they give you a sense of what riding used to be like. If you need a trip that allows you to get back in touch with yourself—this is it.
Who Should Ride It: Toronto riders of all ilk: cafe kids, ADV bikes, big fat Harleys, sport and sport touring dudes and dudettes—everyone. The length of it will keep anyone from getting tired, and the scenery will keep you from getting bored. Also; Michiganders from the Detroit side, New York state riders, Vermont folk, and Ohio friends. Bring what ya got.
Why You Should Ride It: Perfectly balancing scenery, length, distance from major urban centres, road quality and twistiness, the Temiskaming Loop is one of those long weekend rides that just scratches the riding itch perfectly. You'll do a three-day ride, get a breath of fresh northern air and never be bored with the landscape you're riding by. And the splash of French culture makes it seem like a bigger trip than it is.
Who Should Ride It: Michiganders from Sault Ste. Marie (and surrounding area), Wisconsinites, Minnesotans and Ontarians who are willing to do an extra-long first day to get to the start of the two or three-day loop. Harleys will most definitely be at home on the Grand Algoma, but this will really sing for sport and sport touring bikes (although there are lots of options for ADV on Highway 129).
Why You Should Ride It: Because you're looking for a half-and-half kind of trip—half will be the truly mind-blowing scenery that inspired the Group of Seven, with some major elevation changes and cuts through big hilly passes, and the other half will be a combo of big sweepers and tight twisties that will make you want to ride it twice. We did!
Who Should Ride It: Everyone. This is Ontario's bucket list ride. Even if you're riding from Egypt, California, Sudan, Australia—if there's one route you do in Ontario, make it Ride Lake Superior. All bikes are good, all riding styles taken (although there isn't any gravel, so maybe not ADV bikes) and all sizes of groups will get along perfectly. And if you like being treated extra nice, most cities on the loop have motorcycle-specific parking at the hotels.
Why You Should Ride It: You want to experience the majesty of the world's largest freshwater lake. You've got a week or longer to ride, and want a ride that doesn't compromise in any way. This is a straight-up bucket list ride—if you're looking for something memorable that you'll be talking about for the rest of your life, this is it.