Cycling Paradise on Manitoulin Island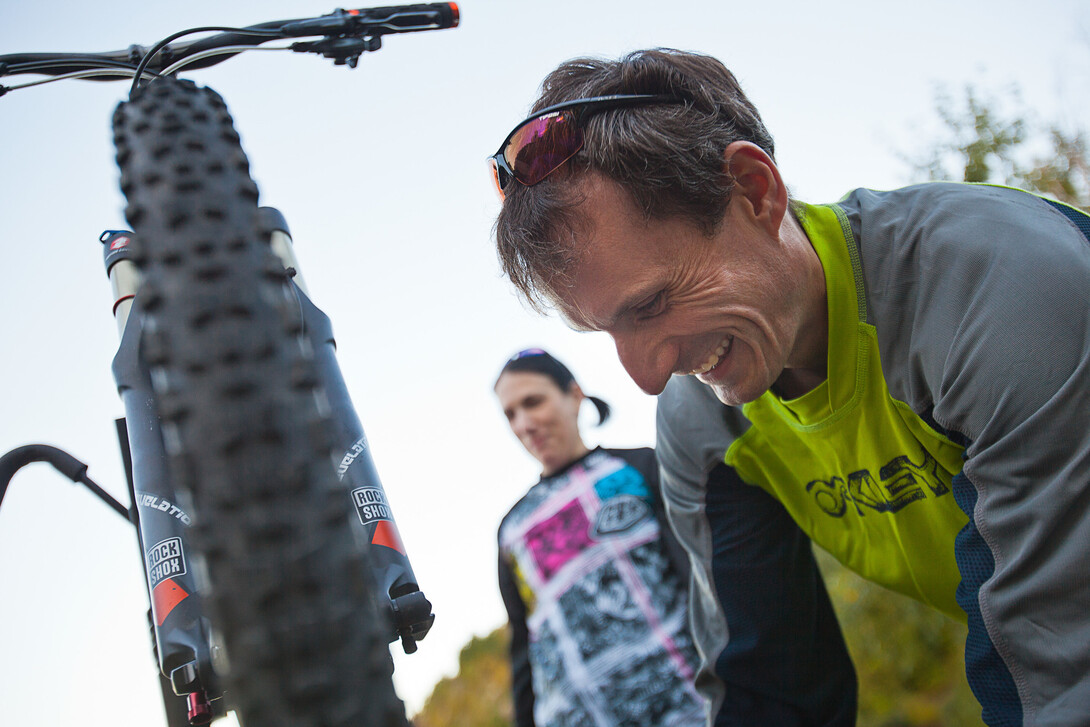 The largest freshwater island in the world—Manitoulin Island—is quickly establishing itself as a cyclist's paradise. With 108 inland lakes and more than two dozen towns and settlements dotted between its shores, the island's natural beauty and First Nations cultural history offers a rich biking experience.
To get to the island, the M.S. Chi-Cheemaun runs from May to October between Tobermory and South Baymouth. The ferry departs four times daily in the summer months and two times daily in the spring and fall. Ferry schedules can be found at most tourism information booths and local businesses. In high season, it is important to make reservations in advance.
Cyclists arriving on the island are met with a warm and welcoming attitude. This is in part due to the efforts of Manitoulin Island Cycling Advocate or MICA. MICA was established to increase the popularity of cycling on the island, to advocate for safe cycle routes, increase the amount of paved shoulders on local highways,  and encourage cycling as a safe, healthy, and environmentally-friendly activity for all ages. MICA's goals also include educating drivers regarding cyclists, ensuring proper signage in a share-the-road campaign, and collaborating with like-minded groups.
MICA published "Manitoulin Cycling Routes and Roads"—a cycling map that provides a dozen recommended loops. The map is available throughout the island and can be found on their website. MICA also organizes an annual cycling event in June called the Manitoulin Passage Ride. The Passage Ride is a two-day event that offers fun and friendship with other cycling enthusiasts as well as great food and music.
For those wanting to explore on their own, Manitoulin's highways and quaint country roads provide easy cycling distances between towns, First Nations, and settlements. Because of MICA's lobbying efforts, a long section of Highway 6, the Island's north-south corridor, was fitted with a metre-wide paved shoulder, ensuring that the road is much safer for cyclists. MICA has helped push for additional paved shoulders to be added to the remainder of the highway, as well as to a section of Highway 551 that is being redone between the town of Mindemoya and M'Chigeeng First Nation.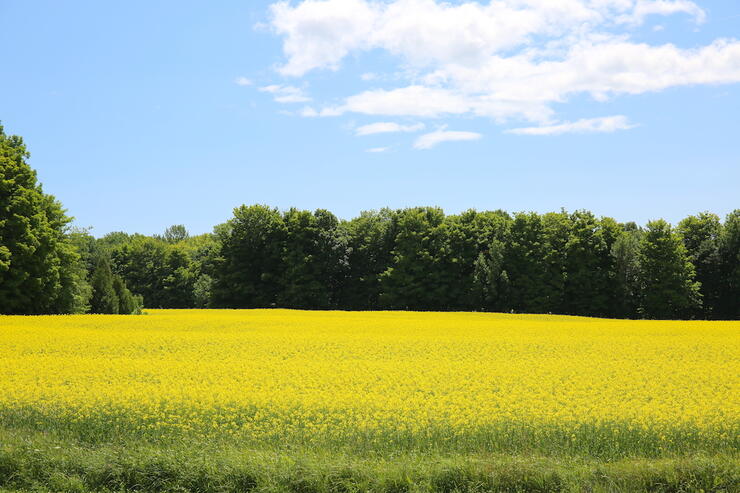 Even during the high season, these roads are relatively free of motorized vehicles (with the exception of ferry traffic on Highway 6 during July and August). Getting off of the paved main roads takes you onto even quieter, scenic country roads. At 100 km long and 50 km at its widest, the island is big enough to explore over several days. From passing through rolling hills and farmland, to taking in amazing views along the coastline, every day of riding on Manitoulin is unique. Highway 6 and Highway 540 are especially good for breathtaking views.  
While the island generally offers enough closely-spaced towns to stop for snacks and refreshments, there are longer sections that don't offer many facilities. It is very important to ensure that you are self-sufficient and to plan for the unexpected. Make sure that you have enough food and water as well as any items required for bike repairs before you hit the road.
If road biking is not your cup of tea, those seeking a little more adventure can test their skills on two trail rides. The first is in McLean's Park located 20 km north of South Baymouth just off of Highway 6. McLean's Park offers an 8-km ride through its roughly 40 ha (100 ac) of hardwood bush. The path is challenging along its rough terrain, but there is little elevation gain.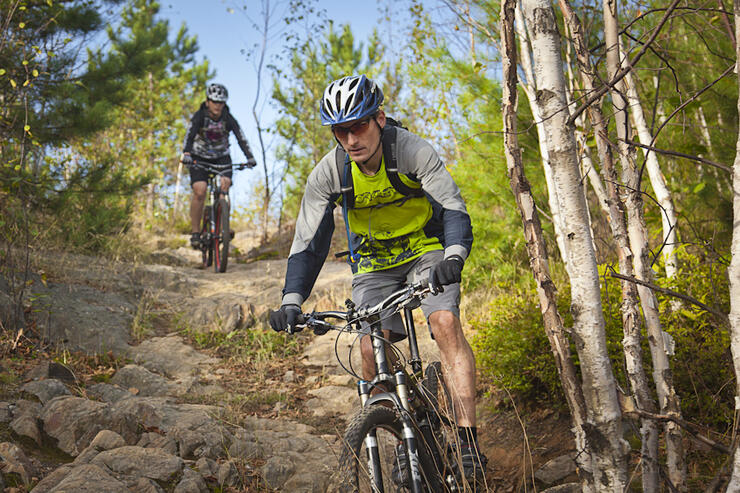 The other trail ride can be found in the northeastern section of the island at the Wikwemikong First Nation community as part of the Bebamikwe Memorial Hiking Trails system. There are 11 km of double- and single-tract paths to discover. These pathways also feature signs along the route to provide information on the unique ecology of the area and the historic creation of the site.
The locals on the island also enrich the experience. Their welcoming attitude is marked by their warm hospitality, concern for your safety on roads, and enthusiasm for directing you to the best places to eat—of which there are many!
There are also a variety of accommodation options available. From lakeside resorts like Rockgarden Terrace Resort in Mindemoya, to cabin rentals like Batman's Cottages in Sheguiandah, to quaint inns like the Meldrum Bay Inn, you are sure to find the right fit to match the style of your trip!
In just a short amount of time you can get a taste of the amazing cycling options available to you on the island. Manitoulin truly provides an unforgettable cycling experience—quiet roads, varied landscapes, cultural destinations, diverse fauna and flora, a balance of terrain, and culinary delights. You won't regret a moment of your time discovering the beauty of this unique part of the world.
For additional information on Manitoulin cycling, visit ontariobybike.ca!