5 Fishing Hotspots in Timmins & Area
Anglers are able to target eating size or trophy pike, walleye, perch, smallmouth bass, and whitefish.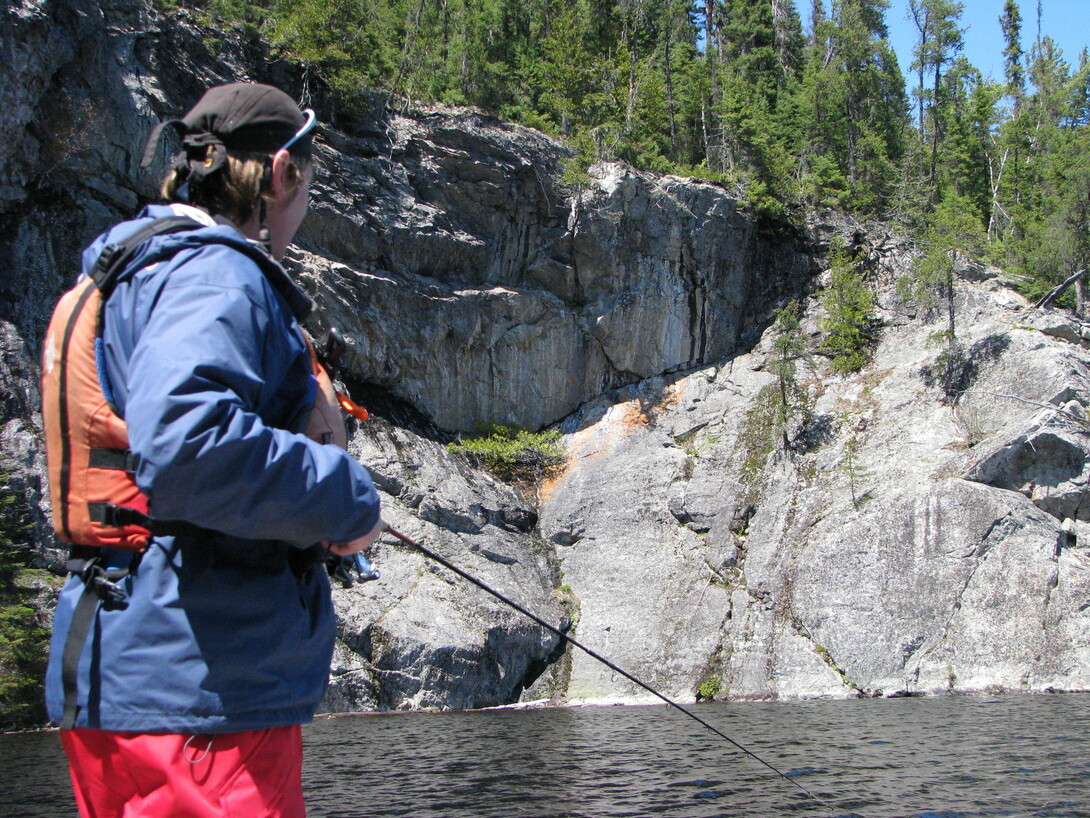 After a long winter, families and anglers start to seek out holiday locations that include breathtaking scenery and unbelievable fishing. Some may look for a fly-in trip, while others may seek out a great lodge or resort that offers an opportunity to experience incredible fishing during their stay. One area that can offer anglers and families both options and plenty of choices is the city of Timmins, located in Northeastern Ontario.
In no particular order, here are five of the most popular bodies of water that are easily accessible and frequented by locals and tourists visit regularly—and with good reason—each year.
Here are 5 spots to fish near Timmins, Ontario. 
1. Mattagami Lake
Mattagami Lake offers an angler over 60 kilometres (over 40 miles) of waterways that consist of sunken humps, weed beds, rock and sand points, and flats, along with water depths of over 200 feet. Here, anglers are able to target eating size or trophy pike, walleye, perch, smallmouth bass, and whitefish.
Getting There
To get to Mattagami Lake head west from Timmins on Highway 101 until you reach the turn-off to Highway 144. To fish the upper section, drive for an hour until you see the turn-off sign to Mattagami First Nation. Turn left and drive until you reach the Mattagami First Nation Reserve. Keep driving straight until you reach the boat launch. From there, you're able to fish the upper sections of Mattagami Lake.
To fish the lower section, head the same way from Timmins on Highway 101 west and turn off onto Highway 144. Drive for approximately 45 minutes, until you see a green sign for Mattagami Road. Turn left and drive for one kilometre on a gravel road until you reach the launch.
Both have good cement ramps to launch your boat.
There are three Lodges on Mattagami Lake for anglers or families looking at spending their holidays on this amazing fishery: Minakwa Lodge and Green Wilderness Lodge. 
2. Kenogamissi Lake
Separated by the Upper Dam, Mattagami Lake flows into Kenogamissi Lake, which in turn is dammed at the northern part of the water system by Wawaitin Dam which continues to flow into the Mattagami River.
Kenogamissi Lake has abundant pan-sized and trophy pike, walleye, perch, smallmouth bass, and whitefish. It isn't uncommon to catch different fish species during an outing. This system makes for an incredible place to introduce new and young anglers to the sport of fishing. With numerous points, sunken humps, islands, flats, and shallow timber flats, this 40-kilometre stretch of water offers anglers a variety of options to consider for their favourite target species.
Anglers using the public boat launch next to Cache Campground have the opportunity to either fish the narrower southern section or head north down the reservoir where it dumps into a shallow flood wooded section called Wawaitian Lake. During high winds, it's best to avoid fishing the shallow part of the system due to the flooded timber lying just beneath the water line.
Getting There
To get to Kenogamissi Lake head west from Timmins on Highway 101 until you reach the turn-off to Highway 144. Turn left onto Highway 144 and drive approximately 20 minutes until you see the Cache Campground sign. Follow the road until you see a Y in the road. Turn right at the Y and drive until you reach the public cement boat ramp. 
There are two campgrounds that many visitors enjoy staying at on Kenogamissi Lake. WildExodus offers several different packages for guests to enjoy and experience the local landscape. Cache Campground (which is mostly highway driving until you turn off onto a well-maintained gravel road for approximately one kilometre) offers close boat launch access.
3. Horwood Lake
Horwood Lake offers anglers 170+ kilometres (110 miles) of shoreline and 13,702 acres of water to explore. This water system is a reservoir, is spring fed, and has many inlets and creeks running into it. You will definitely want to see the Old Woman River with its breathtaking waterfalls.
Anglers have the option of fishing for pike, walleye, perch, whitefish, and smallmouth bass on the many sand and rock points, rock humps, wooded coves, and weed beds.
There are three boat launches: one at Big Bear Camp, and two other public launches located about one kilometre beyond Big Bear Camp. The gravel launch is the better of the two, as the cement launch has an underwater boulder that can damage your trailer if you are unfamiliar with its whereabouts.
Getting Here
To get to Horwood Lake from Timmins, take Highway 101 west for about 80 kilometres until you see the Big Bear Camp sign on the left side of the highway. Turn left and follow the signs to Big Bear Camp.
Be sure to have your camera handy on your ride to and while fishing on Horwood Lake, as you will want to snap a couple of pictures of the wildlife you'll see during the day.
There are three lodges on Horwood Lake: Horwood Lake Lodge, Big Bear Camp, and Horwood Outpost.
4. Ivanhoe Lake
Ivanhoe Lake is one of the best-kept secrets and for good reason. Anglers have the choice of either fishing its lake, or the 43+ kilometres (27 miles) of the river for trophy walleye.
Ivanhoe Lake offers anglers a true paradise to kick back and enjoy the red pines that scatter the hillsides, watch wildlife, and breathe in the fresh air as they fish for shore lunch, or pursue trophy walleye. Anglers also have the opportunity to target pike, perch, smallmouth bass, and whitefish.
Getting There
To get to Ivanhoe Lake from Timmins, head west on Highway 101 until you see the Ivanhoe Lake Ontario Provincial Park sign (approximately one hour and 15 minutes). Turn left.
To access a boat launch, you can follow the Red Pine Lodge signs to their boat launch, where there is a small launching fee. The other boat launch is inside the Ivanhoe Lake Provincial Park in the La Baie Campground. Here, as well, there will be a launching fee.
There are two lodges on Ivanhoe Lake: Air Ivanhoe and Red Pine Lodge. 
5. Mattagami River 
The Mattagami River runs through the heart of Timmins, but don't let that deter you from fishing it. Many residents and visitors head down to the river for a quick fish throughout the day.
Anglers can expect to catch several different fish species such as walleye, pike, perch, suckers, burbot, and sometimes even smallmouth and rock bass that have found their way into the river.
Note: With the reintroduction of lake sturgeon back into the system in 2002, anglers now have an opportunity of catching a "dinosaur." If you do happen to catch a sturgeon, make sure to have your camera handy to snap a quick picture as there is no possession on them and they must be released quickly.
Getting There
Situated on a corner bend of the river is the two-vehicle boat launch and a set of docks running along it. On the southwest side of the boat launch, the Mountjoy River flows into the Mattagami River along a set of docks and the city creek just north of the boat launch have another set of docks. With a sharp bend in the river and two water systems running into it, this area offers an angler a productive area to wet a line on any given day.
To reach the boat launch, drive west on Algonquin Boulevard, and turn left before crossing the bridge. If travelling east on Riverside Drive, turn right once you cross the bridge.
The next time you're in the Timmins area, or starting to plan your next vacation, give one of these water bodies a try and make fishing memories with friends or family that will last a lifetime!