Lake Temiskaming – Northern Ontario's Boating Mecca
Ontario is home to hundreds of waterways for mariners who want to test their mettle. From small lakes to rushing rivers, and bodies of water so large they look like oceans, being a boater in Ontario is never boring. Although it's nice to have so many choices, the flip side is overcrowding on our most popular waterways. It can be difficult to navigate with all the traffic a hot summer day brings. Thankfully, hidden gems like Lake Temiskaming in Northeastern Ontario exist—offering the casual boater a VIP experience without the pitfalls of the busier waterways.
Lake Temiskaming is not just any ol' body of water, it's literally old. For centuries, French has been spoken on the shores of Lake Temiskaming. Four hundred years ago, Samuel de Champlain first ventured into Algonquin and Ojibway land and, in doing so, set foot in what is known today as Ontario. Voyageurs following in his footsteps made it all the way to Lake Temiskaming. Over time, on both sides of the lake, settlers established a dynamic Francophone community on both the Ontario and Quebec side that's still going strong to this day.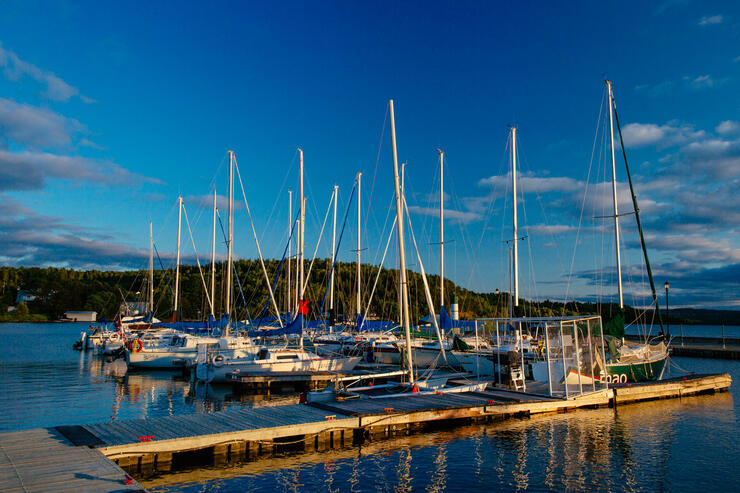 Located just an hour from North Bay, not far from Hwy 11, the 100-km long, 300-square-km boating mecca is well worth the extra travel time over more common destinations like Georgian Bay or Lake Ontario. Add a selection of great marinas, full service accommodations and tasty restaurants along the shore, "Lake Tem" should find its way onto your Boating Destinations to-do list. Another nice feature is its depth—clocking in at over 200 metres (700 feet), all you deep drafting cruisers need not fear—no hull scraping or prop damage here.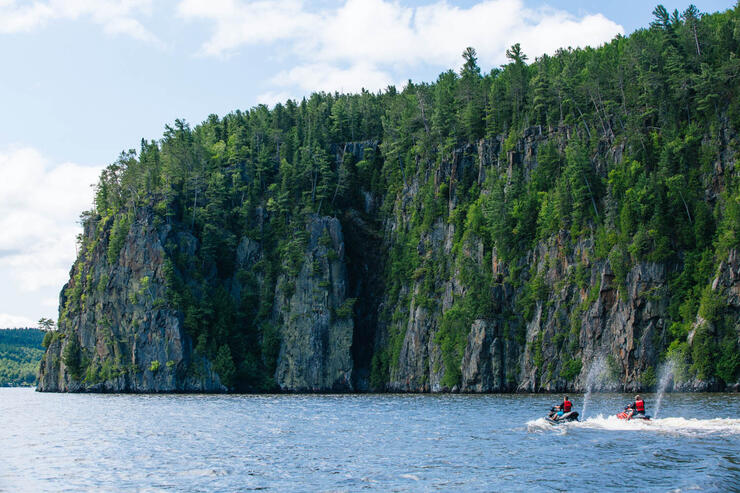 If your sense of adventure takes you ashore, 90% of the land surrounding Temiskaming is crown owned, meaning hassle-free access. Undoubtedly the most famous natural landmark on the lake is Devil's Rock. This two-billion-year-old cliff sits 30 stories above the water's surface and is a popular destination for hikers and boaters alike. I've heard all kinds of stories on the origins of the name, but the most common sense answer being the rock shape resembles a devil's face. I'd recommend heading out there at sundown and catching the sunset, as it bathes the whole rock cliffs in brilliant gold summer sunshine.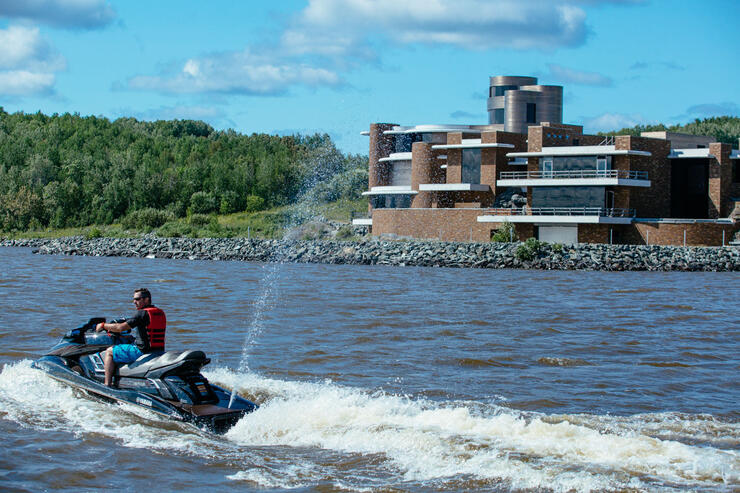 I've spent a fair bit of time on Lake Temiskaming over the years doing various photoshoots and projects. In all my time spent in the area there's one attraction that continually blows me away every time I lay eyes on it. The "Grant Mega-Mansion," as it's become known, sits along the western shore in the town of Haileybury and was supposed to be a dream hom/office forforestry mogul Peter Grant, who used to be one of Canada's wealthiest men. The unique thing about this is it was never meant to be an attraction, quite the opposite actually. The home (if you can call it that) holds the prestigious title as Canada's largest, measuring in at a whopping 65,000 square feet (this is the same size as Microsoft billionaire Bill Gate's palatial Seattle home).
What makes this property even more bizarre is the fact that it sits vacant, never having been inhabited. When the financial crisis of 2008 hit, Mr. Grant lost a large chunk of his fortune to creditors, and now the property sits unfinished. Last I heard, the current asking price was $25 million, with an estimated $1 million to make it livable. Regardless of the circumstances, it's pretty amazing a home of this magnitude is located in a small Northern Ontario community instead of a larger city hub like Toronto or Vancouver. It's served as a great backdrop for many of my photographs and is a must-see when in the area.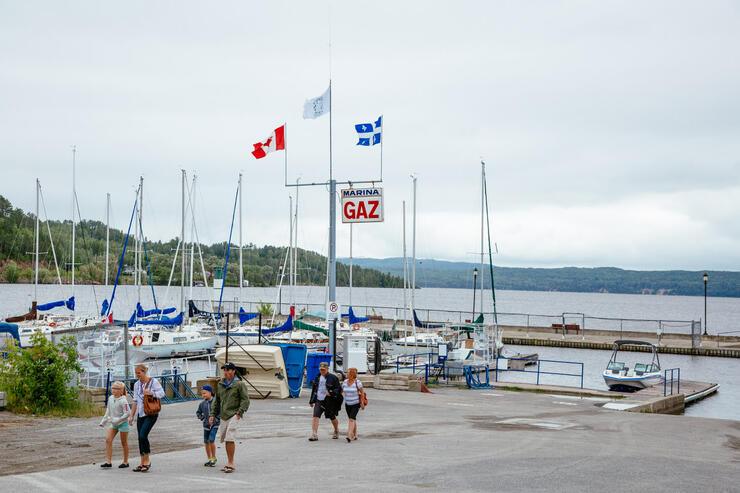 In addition to The Grant Mega-Mansion, Haileybury can claim some of the best accommodations on Lake Temiskaming—The Presidents' Suites being my personal favourite. A series of century homes were modernized just enough on the inside to meld a classic lodging feel with today's current technologies. They also serve up some of the best home-cooked meals I've tasted in my days travelling Northern Ontario.  The Haileybury Marina is another key highlight for potential boaters. It's one of five marinas on the lake and has been our most commonly used launching point when spending time on Temiskaming.  Haileybury beach sits adjacent to the marina and is a great spot to take the kids when looking to cool off on those hot summer afternoons. The other four marinas each have their own benefits, but it all depends on what you're into and where you want to stay.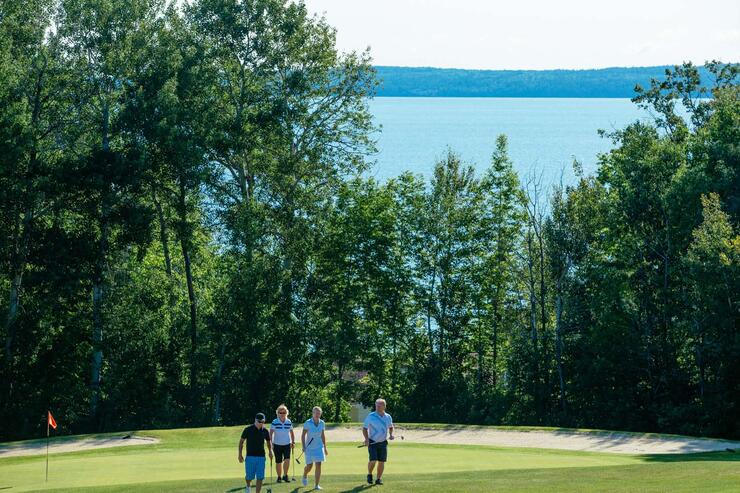 Yet another unique feature to the lake is two 18-hole golf courses located just minutes from your boat. I play a lot of golf in my off-time, and I can't remember a course that had multiple panoramic views of a freshwater lake. If golf isn't your thing and you're more of a history buff, be sure to stop into Fort Temiscamingue-Obadjiwan Historic Site in Duhamel-Ouest. Once again, there is easy access from your boat and you can see how important the fur trade was to early settlers of the region. I spent some time hiking around the forest, and the care that went into creating these grounds is remarkable. This site also shares a peninsula with La Bannik, a luxury resort with a high end dining experience overlooking the lake, private lodges complete with hot tubs and BBQs, an RV park, and in my opinion is the most complete lodging experience on the Quebec side.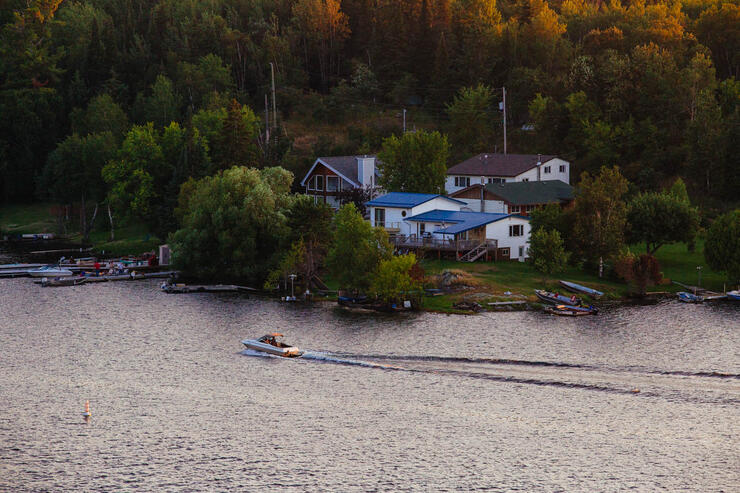 The bottom line: boating on Lake Temiskaming is a one-of-a-kind nautical experience. You'd be hard pressed to find this many activities and attractions along with open water and space to do so, in one area. Throw in top-notch lodgings and meals, and you'd be crazy not to consider Lake Temiskaming as an option for your next weekend or weeklong getaway.