In Search of Matachewan Winter Trout
Jeff Morrison provides insight to the great winter hunting and ice fishing in Matachewan, Ontario!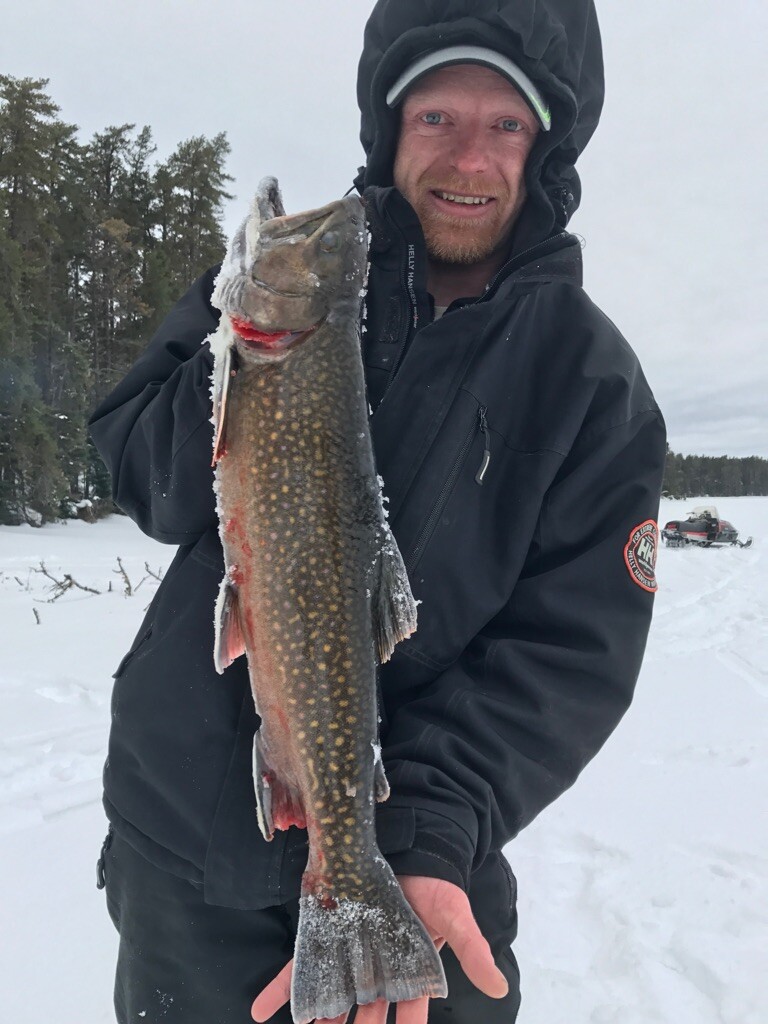 Northeastern Ontario boasts a vast array of lakes, rivers, and woodlands and Matachewan is no exception. Located approximately two hours south of Timmins and 45 minutes west of Kirkland Lake, the Matchewan region is a location renowned for relatively untouched wilderness, boasting truly topnotch hunting and fishing opportunity.
During the winter months, ice anglers in the know who are willing to put in the effort are rewarded with trophy trout found off-the-beaten path, but finding the best spots can be a daunting task if you're not familiar with these parts. Using the services of experienced outfitters is your best bet to land fish and since the brook trout, or salvelinus fontinalis as they are known scientifically, happen to be a cold-water species by nature, you're playing right into their wheelhouse this time of year, making these beautiful Matachewan trout a prime target of winter anglers.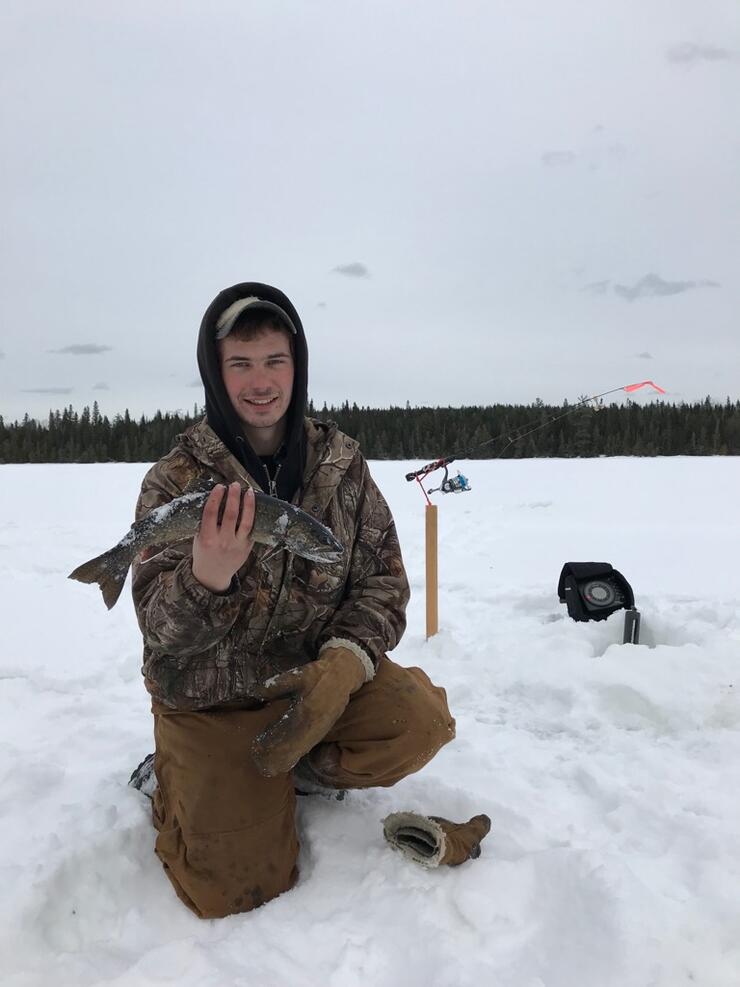 winter trout regulations
Anglers venturing into this region take note that winter trout fishing in Matachewan (Zone 8) opens January 1, with a catch limit of five brook trout for the regular license, and two2 trout with the Conservation license. The Lake trout season in this region runs from Feb 15 – March 15.  Please note the rules for lake trout are three fish under the regular license, and two trout with the Conservation license. Find more information on fishing regulations here.
meet saul outfitters
In Matachawan, the best way to get in the know is with Saul Outfitters, a father-and-son team who operate an outdoor guiding service in this beautiful part of Ontario. Owner Byron Saul is a third-generation forest worker and outfitter, like his father Ed and grandfather before him, and he continues the tradition of guiding hunters and anglers in his special corner of the Northeast.  Byron and Ed work together closely to ensure clients' needs are being served. Byron is also a successful trapper with a registered trap line, and has extensive experience with remote geological surveying. He works out of his primary residence and maintains numerous land use permits, where he also offers two remote base tent-camps.
Ice fishing enthusiasts in search of trophy brook trout will be comfortable at Saul's main property with comfortable sleeping quarters; satellite TV, washrooms, and shower facilities are available. Full-serviced kitchens are provided so clients and guests can cook their catch of the day.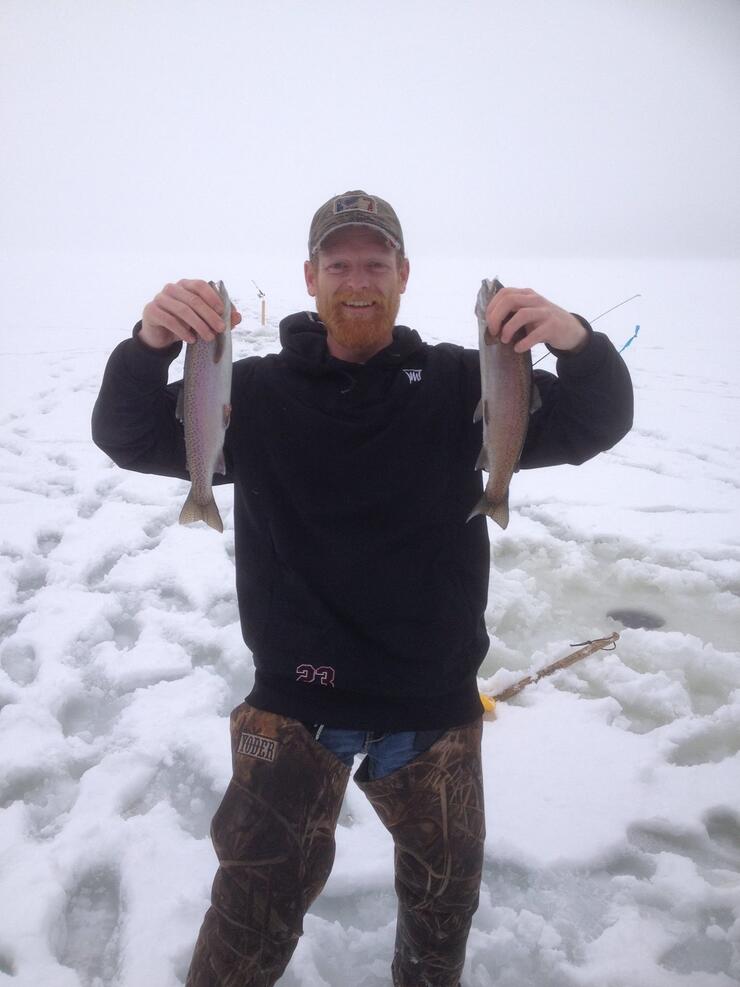 ice-fishing & predator hunt combo
If you're interested in a hunting/fishing combo experience, Saul also offers three types of predator hunting: push and ambush, solo sit and wait, or call and stalk.  Byron will guide you to an active area with timber wolves and set you up in a prime ambush position, via snowmobile. He is an expert at calling predators should you chose to hunt in that manner, which can be very exciting as the wolves will often return calls before moving into your location.
cleaning your catch
Now that you have some brookies on the ice, proper fish cleaning is in order, and not everyone knows how to do it. Begin with a good, sharp fillet knife and insert the knife tip into the fish's vent. With a smooth forward stroke, cut through to the centre of the belly to the middle of the gill plate, making sure not to cut too deep. Remove the gills completely, eviscerate the entire fish and discard the organs. Rinse the fish under cold water, and then remove the kidneys (which run along the inside of the backbone) with the end of your thumbnail. Rinse again under cold water and make sure the body cavity is clean and free of debris. Do not remove the head unless a specific recipe calls for it.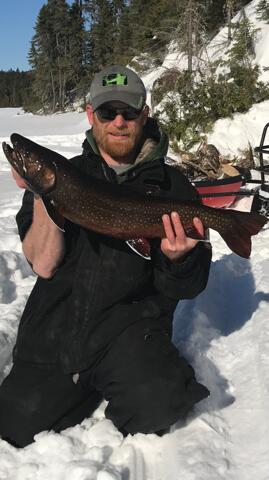 from the ice to the table
Try this delectable brook trout recipe this winter, featured in my award-winning Canadian Fishing Cookbook. This cold weather trout recipe will be just the thing to warm you up on a chilly day on the ice!
Stuffed Baked Brookies (Serves 4)
The different subspecies of trout in Canada are extensive and wide-ranging but did you know they all share one common thread—a tiny little fin located between the pelvic fins and caudal, known as the axillary process. As inconspicuous as it looks, this one small appendage separates them from all other fish. Trout, along with salmon, are members of the elite family Salmonidae and are considered, by professional chefs and the general population alike, to be one of the best-tasting fish this great country has to offer.
4 brook trout, cleaned not filleted
6 cups sliced mushrooms
1 1/2 cups finely chopped onion
1 celery rib, finely chopped
3 Tbsp olive oil
2 Tbsp lemon juice
1/4 cup melted butter
Salt and pepper to taste
In cast-iron skillet, heat olive oil, and then add mushrooms, onion and celery. Fry, stirring occasionally, until mushrooms brown and oil has been absorbed. Remove from heat. Season with salt and pepper; set aside. Preheat oven to 350º F (175° C). Coat baking sheet with a non-stick cooking spray. Fill trout cavities with mushroom mixture, and sprinkle with lemon juice. Brush trout with butter and lay on baking sheet. Bake trout for 15 minutes until golden brown and fish separates easily from bone. Serve immediately.
MNR Trout reference material
The Ontario Ministry of Natural Resources & Forestry (MNRF) offers some comprehensive brook trout informaiton for anyone planning a winter trout adventure in Ontario, check it out here.
For more information on Saul Outfitters visit their website or give Byron a call at (705) 262-3851.