Rving from Toronto
These amazing itineraries will take you from Toronto and back again into some of Ontario's most incredible scenery. Whether you're a beginner or a pro–RVing is the perfect way to get away.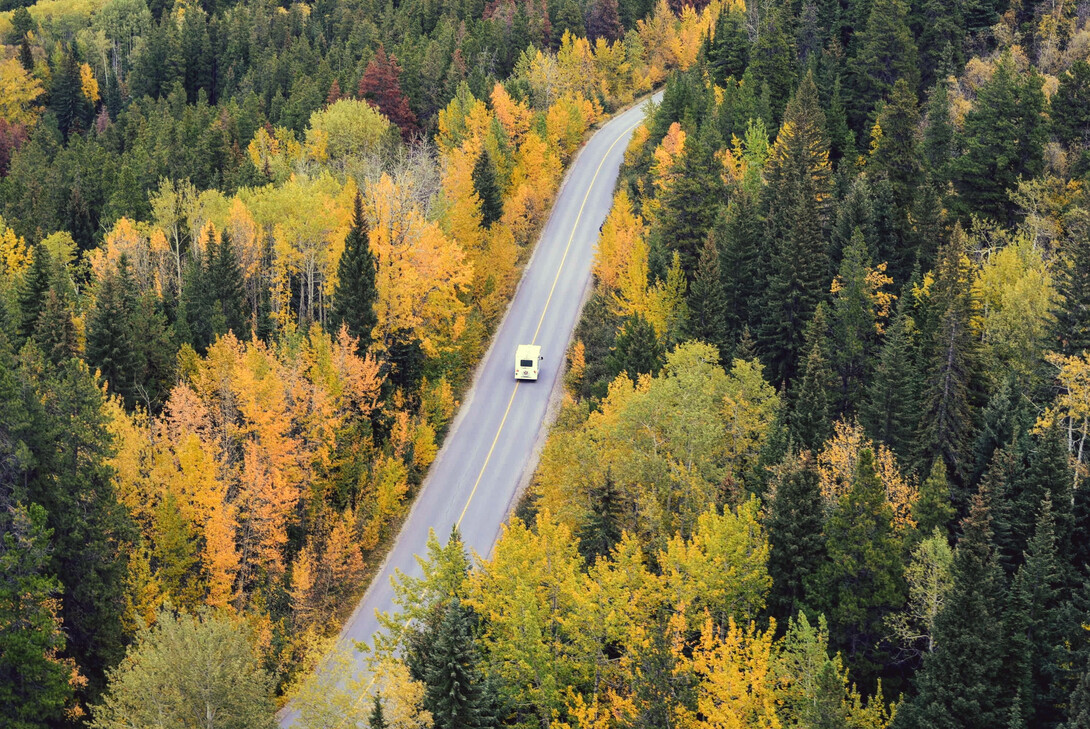 Summer may be coming to a close, but that's no reason to pack up your wanderlust in preparation for the winter. Autumn is arguably the most beautiful time of year in Ontario, as the province's lush deciduous forests change from verdant green to brilliant, fiery shades of yellow, red, and orange. And what better way to see as much of Northern Ontario's gorgeous fall landscapes as possible than to pack up and head north in an RV?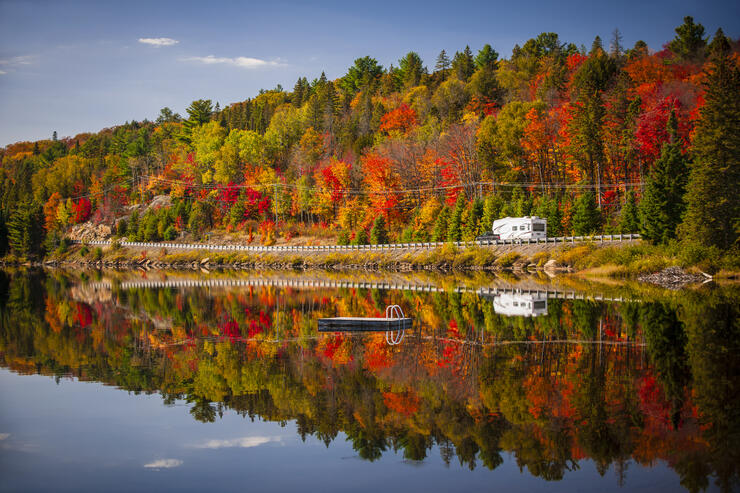 Indeed, RV road-tripping is practically made for cooling weather, combining the freedom to stop at will along the province's many scenic Northern routes with the comfort of a warm place to sleep. If you're new to RVing, no worries. Check out our handy beginner's guide for everything you need to know about renting and driving an RV (no special license required). 
If you're starting from Toronto, here are four great Northern Ontario routes to consider for an RV trip this fall, plus a few recommended stops to take along the way. 
Final Destination: Cochrane
Where it is: Cochrane is about an hour north of Timmins, located along Highway 11
Round Trip Mileage from Toronto: about 2,000 km
If you're looking to get north but want to keep your trip under 1,000 km one-way, Cochrane is a more-than-worthy endpoint. Travelling from Toronto, once you're past Barrie, the route is practically a greatest-hits compilation of South and Central Ontario's must-sees.
From Toronto, you'll cruise along the 11 straight into Cottage Country: Gravenhurst and Bracebridge are just a couple hours up the road, and scenic Bala is just a short detour west. If you stick to the direct route, spend a night overnight at the Gravenhurst/Muskoka KOA; if you detour to Bala, check in at Bala Woodlands Trailer Camping.
Cochrane is about five hours from Muskoka, so plan to get the drive done over the next day. But do stop in Temagami to see its eponymous lake: if you're into canoeing, you might want to pencil in a bit more time here, as the routes are world-famous; Finlayson Point Provincial Park offers RV camping if you wish. A couple hours later, you'll find yourself in Cochrane. Make sure to look up the schedule for the Ontario Northland Railway's Polar Bear Express, which runs five trains a week during non-summer months to Moosonee, the "Gateway to the Arctic" and home to Ontario's only saltwater port. In Cochrane, Taylor Lake RV Campground and Flood's Landing are both open through October for camping.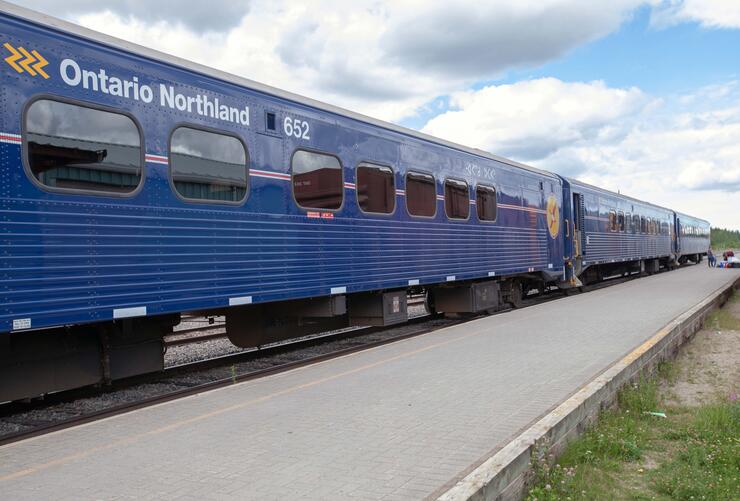 Where it is: On the St. Mary's River between Lake Superior and Lake Huron
Round Trip Mileage from Toronto: about 3000 km 
A medium-length trek from Toronto, Sault Ste. Marie is heaven for lake-lovers: it sits between Superior and Huron, and the drive up follows Huron's north shore almost half the way.
The total drive should clock in at just under eight hours, so you'll want to break it up a bit. Wye Marsh, just outside of Midland, offers plenty of appeal for birders—the wetland is home to numerous species, including trumpeter swans (a breeding programme is run nearby), cranes, and terns. If you want to break here, camping is available at the nearby Awenda Provincial Park; or, drive a couple hours further, and settle down at Fish Tale Cabins, near the French River Provincial Park.
Sault Ste Marie is just over four hours from Awenda (or closer to six from Midland); if you want to pencil in another stop along the way, continue up the 400 into Sudbury for a glimpse of the famous Big Nickel. Then, turn onto the Trans Canada Highway to hit "The Soo", where you should make plenty of time to explore the shores of Lake Huron, and visit the incredible Soo Locks on the St. Mary's river, which connects Lake Huron to Lake Superior. Park overnight at Ojibway Provincial Park or Bell's Point Beach Campground, both of which are out of town—but close to the lakeshore.
(Hot tip: if you want to spend an extra night away on your drive back to the city, take a left at Sudbury and head onto Manitoulin Island, the largest island in a freshwater lake in the world.)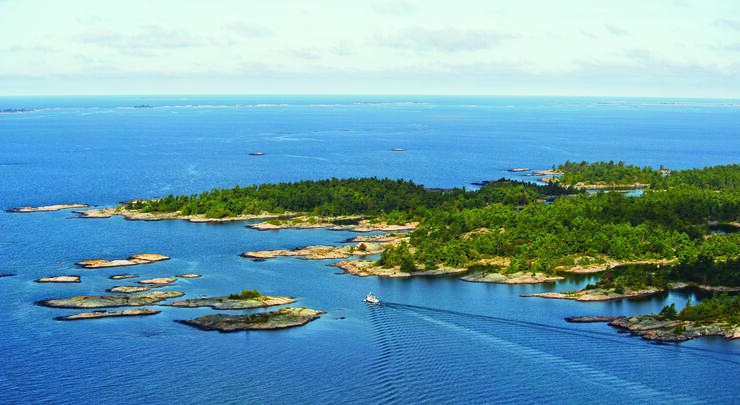 Where it is: The north shore of Lake Superior
Round Trip Mileage from Toronto: about 4000 km
Getting to Thunder Bay is just a matter of extending your trip from Sault Ste Marie by driving the rest of the way around Lake Superior. Make no mistake, though: at just over seven hours, that's no short trek—but it's a beautiful one.
Continue along the Trans Canada Highway from Sault Ste Marie to Lake Superior Provincial Park and nearby Wawa. If you stopped in Sudbury to see the Big Nickel, you'll want to swing by the 8.5-metre tall Canada Goose statue (Wawa takes its name from the Ojibwe word for wild goose, "wewe").
Grab a pickle from the famous pickle barrel at Young's General Store and explore a bit of the Voyageur Hiking Trail, which runs from Sudbury to Thunder Bay. Spend the night at Lake Superior Provincial Park. 
About two hours away is Terrace Bay, whose Slate Islands house the largest unthreatened woodland caribou population in the country; you can book a charter to the islands from Terrace if you'd like to spend some time there before heading off to Thunder Bay. There, visit the historic Fort William Historical Park, and get a glimpse of what Canada was like pre-confederation, and be sure to set aside plenty of time to take in the north shores of Lake Superior. Tuck in for the night at the Thunder Bay KOA, or set up just outside of town in Kakabeka Falls Provincial Park.
Final Destination: Kenora
Where it is: Northwestern Ontario, near the Manitoba border
Round Trip Mileage from Toronto: about 5,000 km
Continue along highway 17 from Thunder Bay for just shy of six hours and you'll hit Kenora, which is just 200 kilometres away from Winnipeg, and known for its boating. 
There are, in fact, two ways to get from Thunder Bay to Kenora. If you dip a little bit south and take highway 11, you can spend some time—and overnight—in Quetico Provincial Park, which is renowned for its paddling routes. Via the 17, Sandbar Lake Provincial Park is nearby, and also offers overnight camping. Once you hit Dryden along the 11, or Fort Frances along the 17, remember to set your clocks an hour back: you're now on Central Time.
If you do find yourself in Fort Frances—or are keen to take the detour—be sure to take in some local history: the town was the first European settlement west of Lake Superior, and therefore boasts some striking old architecture. It's also a great fishing, golfing, and hiking town, if that's up your alley. Once you hit Kenora, be sure to explore the beautiful Lake of the Woods, the sixth-largest freshwater lake in the world (after the Great Lakes). Nearby Sioux Narrows Provincial Park offers overnight camping, as does the Anicinabe RV Park, which is in Kenora. The town is also a creative hub—pick up some local artwork while you're there. 
It's never been easier to take a road trip. If you're looking for RV rentals in Ontario, this tool allows you to search various ways. Find rentals by province, or enter your location and how far you're willing to travel to rent.
Here are some of the best places to rent an RV in Ontario:
For more itineraries, check out our 10-day RV road trip itinerary of Ontario's provincial parks, and our 7-day RV road trip tour itinerary of festivals, craft beer, and culture.