Winter Family Adventures in Sudbury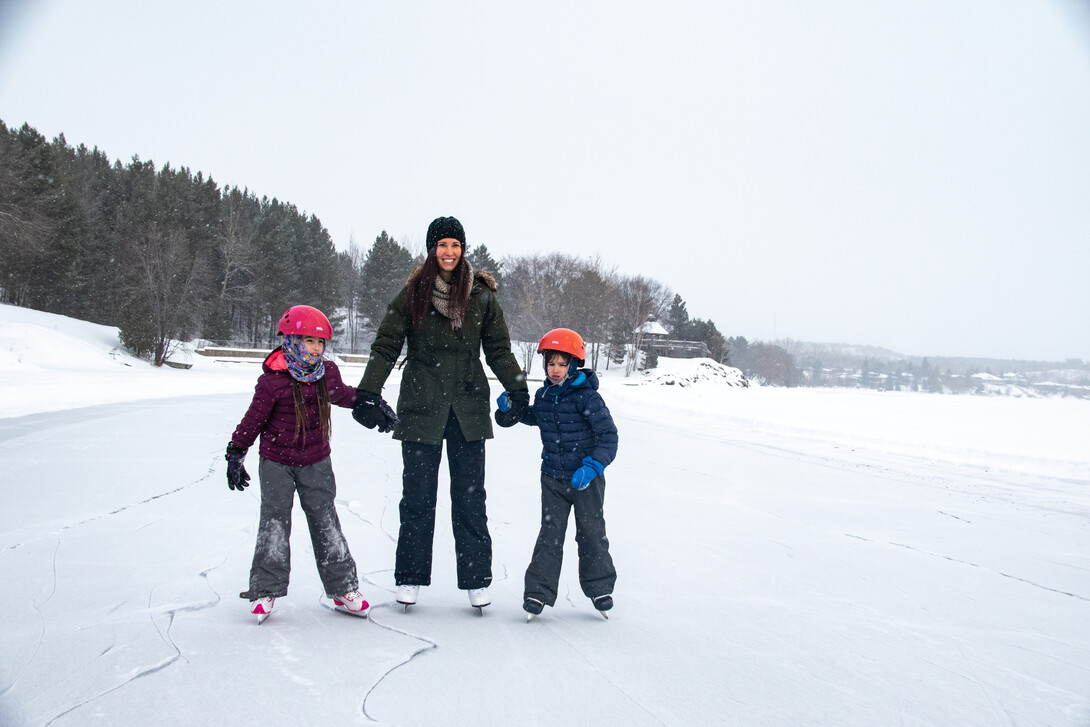 The snow has fallen and the ice is frozen, now it's time to get out and have some winter fun in Sudbury, Ontario! This northern city is truly a winter wonderland, with an abundance of fun and adventure to be had all year round. Sudbury is one of our favourite places to visit as a family and winter is no exception! Here are some of our very favorite places to check out in and around Sudbury during the winter: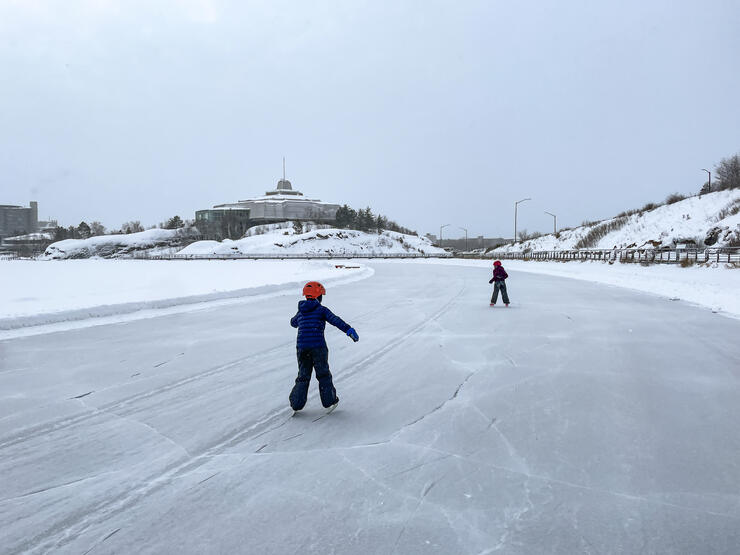 One of our favourite winter activities in Sudbury is skating on Ramsey Lake. The 1.5 km skate path takes you right along the waterfront in Sudbury, past Bell Park. The path goes from the Sudbury Canoe Club (at McNaughton Terrace and Elizabeth St.) to the Northern Water Sports Centre with an extra loop where you can skate right by Science North.
This wide skate path is well maintained with lots of benches along the way for you to stop for a rest while taking in your beautiful frosty surroundings. There are also benches and washrooms available at both ends of the path. You can check online for skating hours and ice conditions. Helmets are recommended while skating on Ramsey Lake.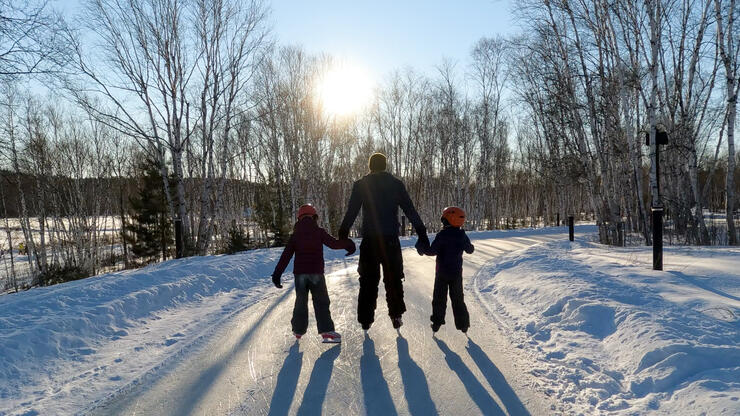 Kivi Park is a one-stop shop for everything winter adventure! We love strapping on our skates and winding through the forest of birch trees on Nina's Way Skate Path. This 1.3 km loop is pure magic and is even lit up after dark so your fun can continue into the evening! The natural flow of the skate path includes some slight hills and helmets are recommended. There are picnic tables and benches available for putting on your skates and warming huts available for when you need a rest.
Kivi park is also home to over 50 km of well maintained trails which are available for winter adventures. Marked trails have been established for cross country skiing, snowshoeing, hiking and fat biking. Equipment rentals are available onsite. You can buy passes and check trail conditions online before you go.
After our winter activities at Kivi park, we grabbed a hot chocolate from the onsite Wishing Tree Cafe and the kids enjoyed some time playing at the fabulous playground. Fire pits are also located throughout Kivi park for you to relax and warm up.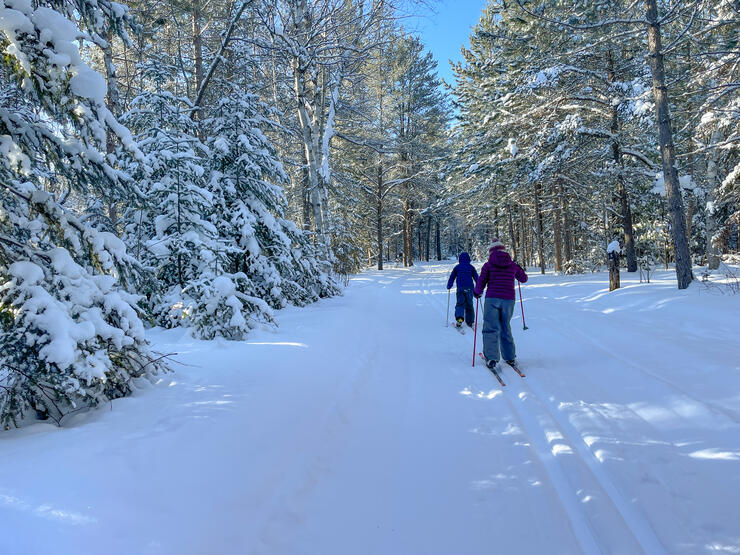 Windy Lake Provincial Park is located approximately 40 minutes northwest of downtown Sudbury. This park offers a variety of winter activities and has roofed accommodations if you want to spend the night. We enjoyed an incredible stay in a yurt at Windy Lake Provincial Park and had fun on the cross country ski and snowshoe trails located throughout the park. Snowshoe and cross country ski equipment can be rented onsite and if you want to explore another 15 km of trails, the Onaping Nordic Ski Club is located right across from the park entrance with excellent well groomed trails. Equipment rentals are also available at the park for ice fishing if you'd like to get out on the frozen lake and try your hand at catching a fish!
Onaping Falls
On your drive to Windy Lake Provincial Park you will pass by Onaping Falls. The A.Y. Jackson Welcome Centre is closed during the winter, but if you park along the road further north at the tobogganing hill, you can hike over the hill and down to the bridge to view the wintery falls. The paths are not maintained during the winter and caution is advised. Be sure to view the waterfalls from a distance, or by walking across the bridge at the top of the waterfalls, as rushing water can be especially dangerous during winter.
If you're looking for a break from the cold, you'll want to check out Science North. This science museum is the most popular tourist attraction in Northern Ontario and for good reasons! We always make time to stop by Science North whenever we're near Sudbury! The interactive displays and hands on experiences are fun for kids (and adults) of all ages. You will have hours of fun here checking out the Tech Lab, Bio Lab, meeting Northern Ontario animals, watching a show in the Discovery Theater or catching a movie in the IMAX theater. For your convenience, you can grab a snack or stop for lunch at the onsite food court during your visit to Science North.
Restaurants & Cafes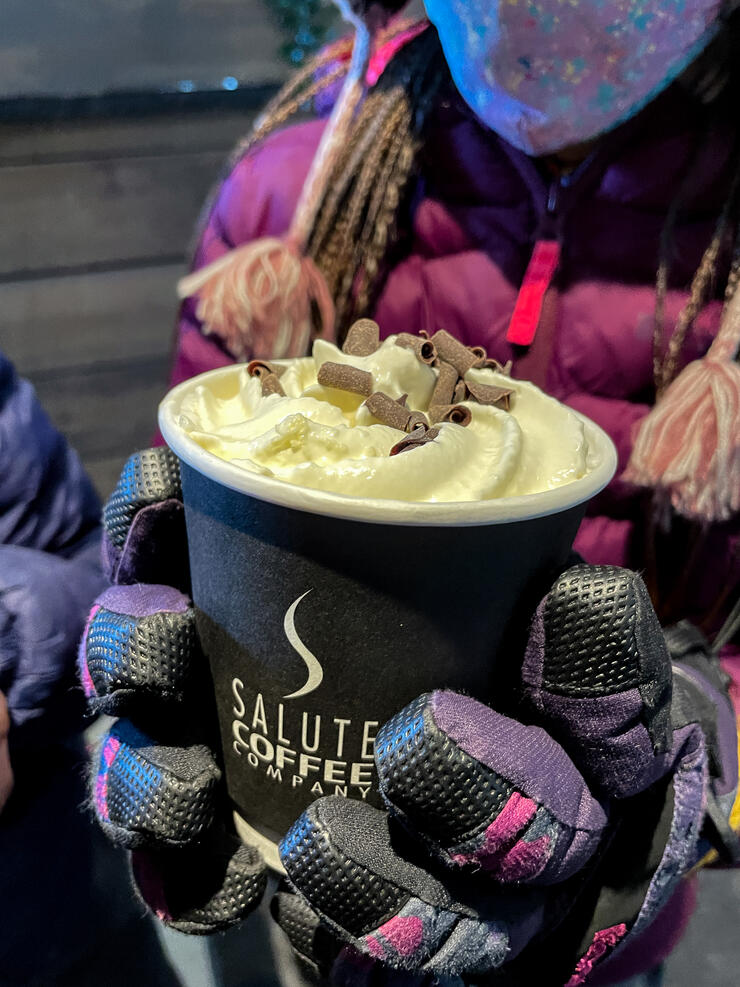 There's nothing better than warming up with a hot drink and enjoying a tasty treat after spending the day adventuring out in the wintery cold. There are many great cafes located throughout Sudbury for you to check out. Two of our favorite local Sudbury Cafes are Beard's Coffee Bar and Bakery, where you can enjoy fresh vegan treats, and Salute Coffee Company serving exceptional coffee and made-from-scratch food.
We love to start our adventure days with a nutritious meal and Sudbury has some of our very favourite breakfast places! Tutti Frutti offers a phenomenal breakfast menu with tons of incredible options! Twiggs Coffee Roasters has a delicious breakfast, lunch and supper menu and is also another great option for a mid day coffee and baked treat! When it comes to dinner time, Laughing Buddha is our go to place for dinner in Sudbury.
Whether you're local to Greater Sudbury, visiting for a while or just passing through this winter, make sure you take the time to get outside and enjoy all that this northern city has to offer. There's no limit to the adventure to be found here. Now, it's time to put on your snow gear and get out for some winter fun!