Accessible Hotels in Sudbury
There is so much to worry about when planning a vacation and finding an accessible hotel shouldn't be one of them. Check out these Sudbury hotels that offer a variety of accessible options for guests of all abilities.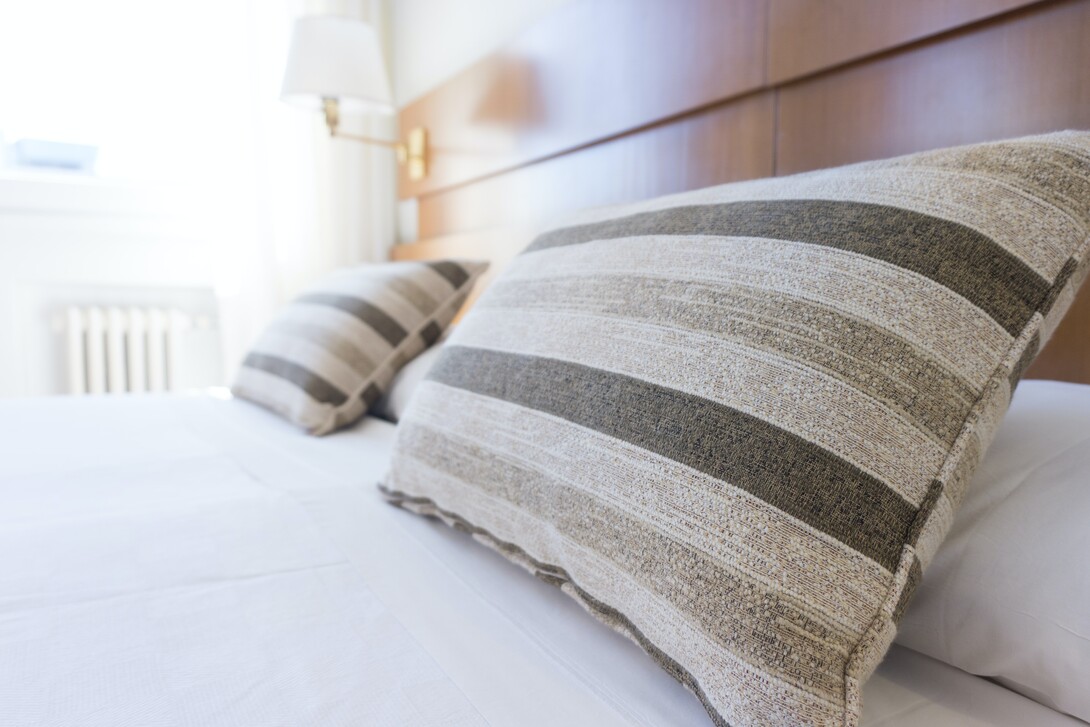 I must admit that accessibility was never something I thought about when travelling. All of that changed when I spent a summer living with my cousin. He has two prosthetic legs and also requires the use of a wheelchair to start and end his day. Living with him opened my eyes to his daily challenges, not to mention the extra planning required while travelling. He said he'd rather travel an extra two hours to stay with family or friends than stay in a hotel (due to the lack of accessibility that most hotels offer). After his comment, I set out to find our most accessible hotels here in Sudbury in the hopes that it might make his life, and the lives of potential visitors, a little more convenient when visiting our beautiful city.
Because there are so many factors to consider, I chose to concentrate my efforts on five distinct features that hotels can boast to increase accessibility for guests.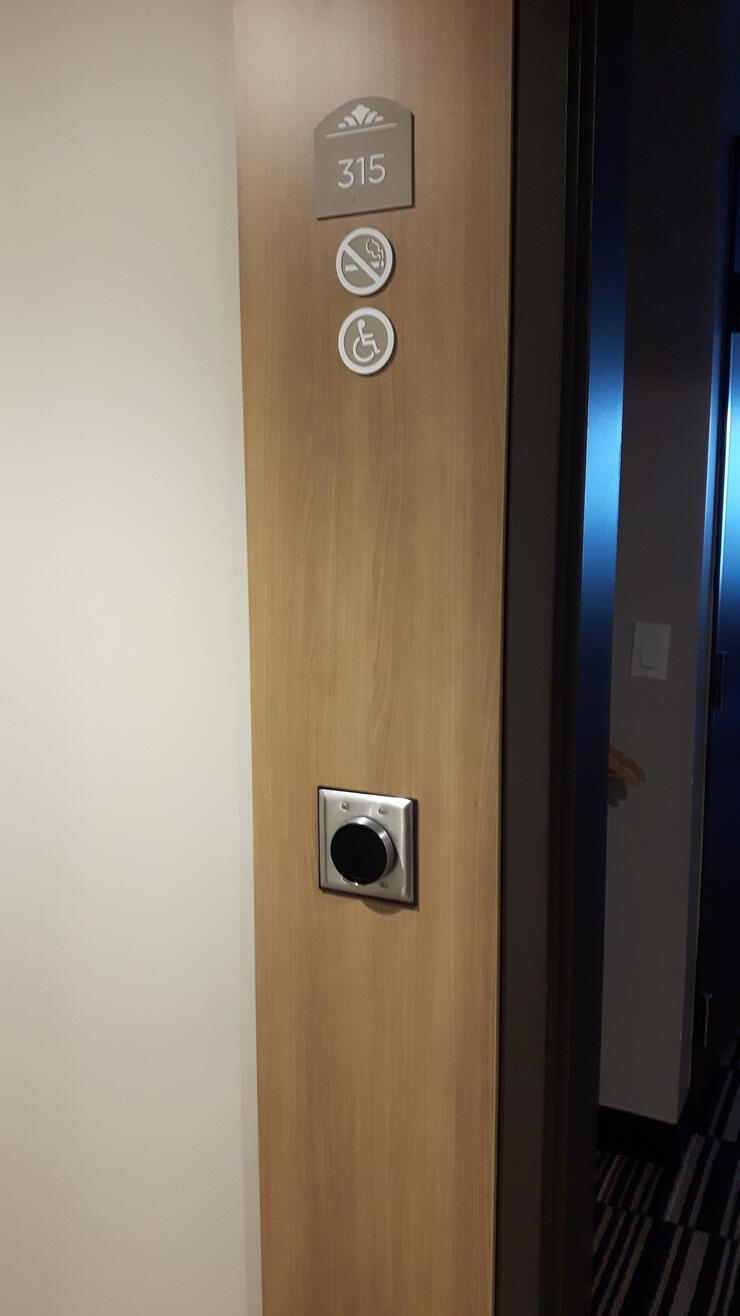 Automated door openings at main entrances
Step-free access (level or ramped) to main entrance and public areas
Accessible rooms, including roll-in showers
Handicap parking availability
Minimum 32-inch wide door frames in accessible rooms and public areas
With these five features in mind, I set out to look for Sudbury's accessible hotels. See highlights of each hotel below:
Hotel

Automated Doors

Step free access

Number of Accessible rooms with roll in shower

Number of Handicapped Parking spots

Minimum 32-Inch-wide door frames

Fairfield Inn & Suites

Yes

Yes

1

2

33" accessible bathroom doors

34.5" guest room doors

Hampton Inn

Yes

yes

1 + 12 partially accessible

1

36"

Hilton Garden Inn

Yes

yes

5

3

 Call ahead

Holiday Inn

yes

yes

2

5

34"

Homewood suites

Yes

yes

10 – no roll in shower

1

36"

The Northbury Hotel

yes

yes

1

4

35" or more

Microtel

Yes

Yes

10

3

36"

TownePlace Suites

Yes

Yes

1 + 10 partially accessible

2

36"

Travelway Inn

yes

Yes

1

2

36"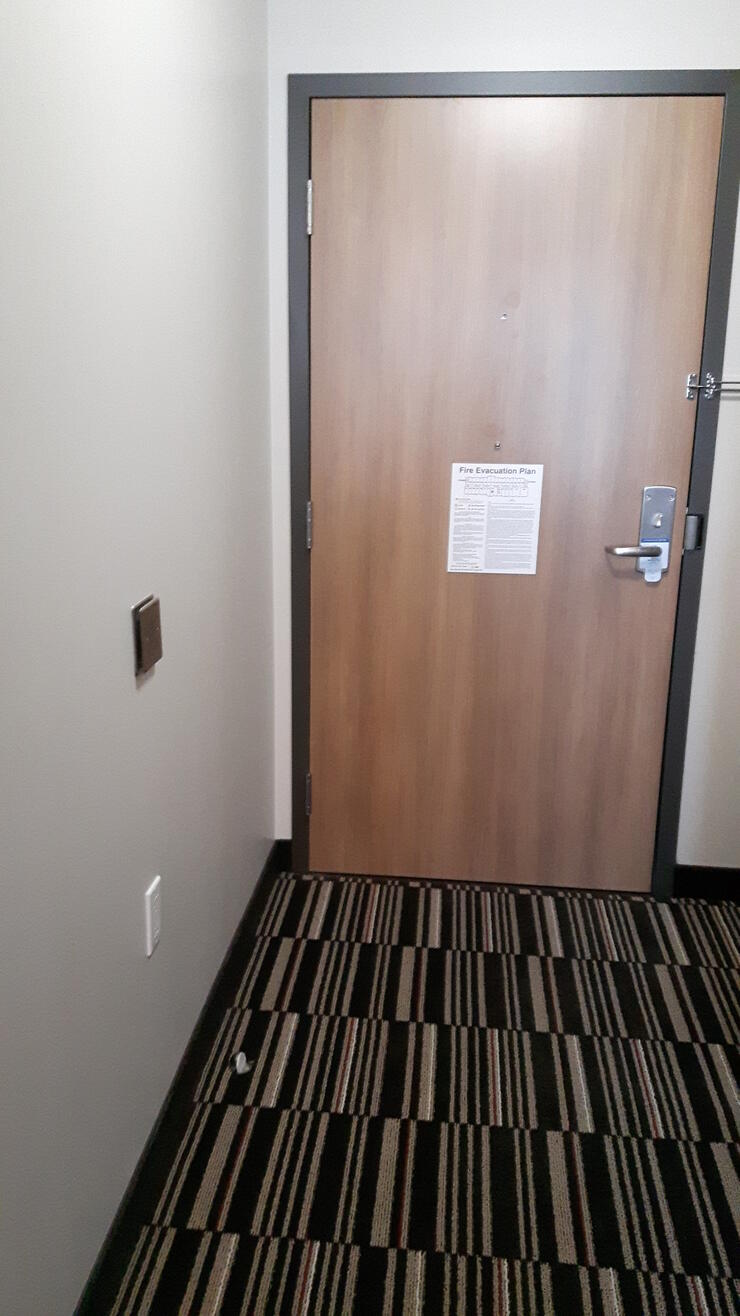 Microtel Inn & Suites was, by far, the hotel with the most accessible rooms which included roll in showers. These rooms boasted larger entry-ways, more space in between beds, large roll in showers with a foldable seat, lower closet rods and lowered peep holes. The rooms even had an automated 'push-button' feature for convenient access in and out of the room, which was really impressive.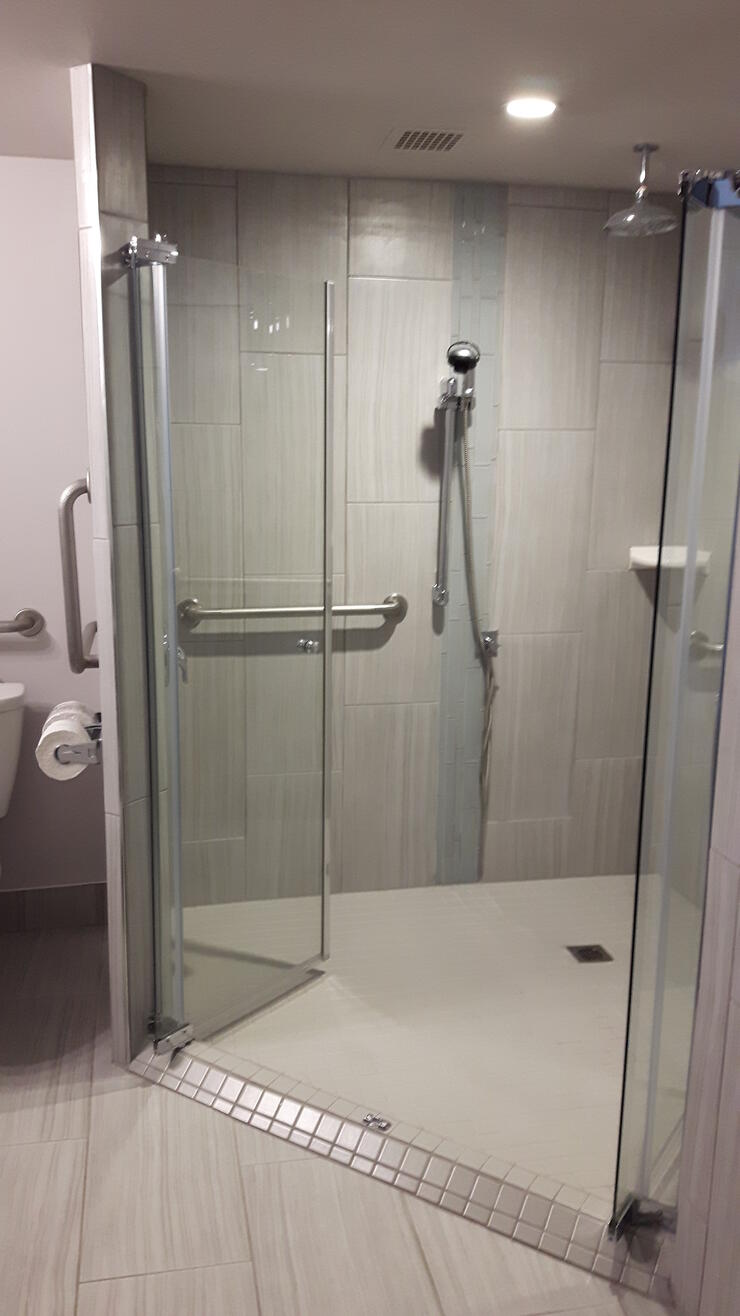 The Northbury Hotel is newly renovated, so you can expect modern and up-to-date rooms. They have one accessible room with a stunning bathroom. The door frames are very large in the room – over 35" in all places and there is lots of room to get around. The bathroom also has a very large roll-in shower with a seat available for use.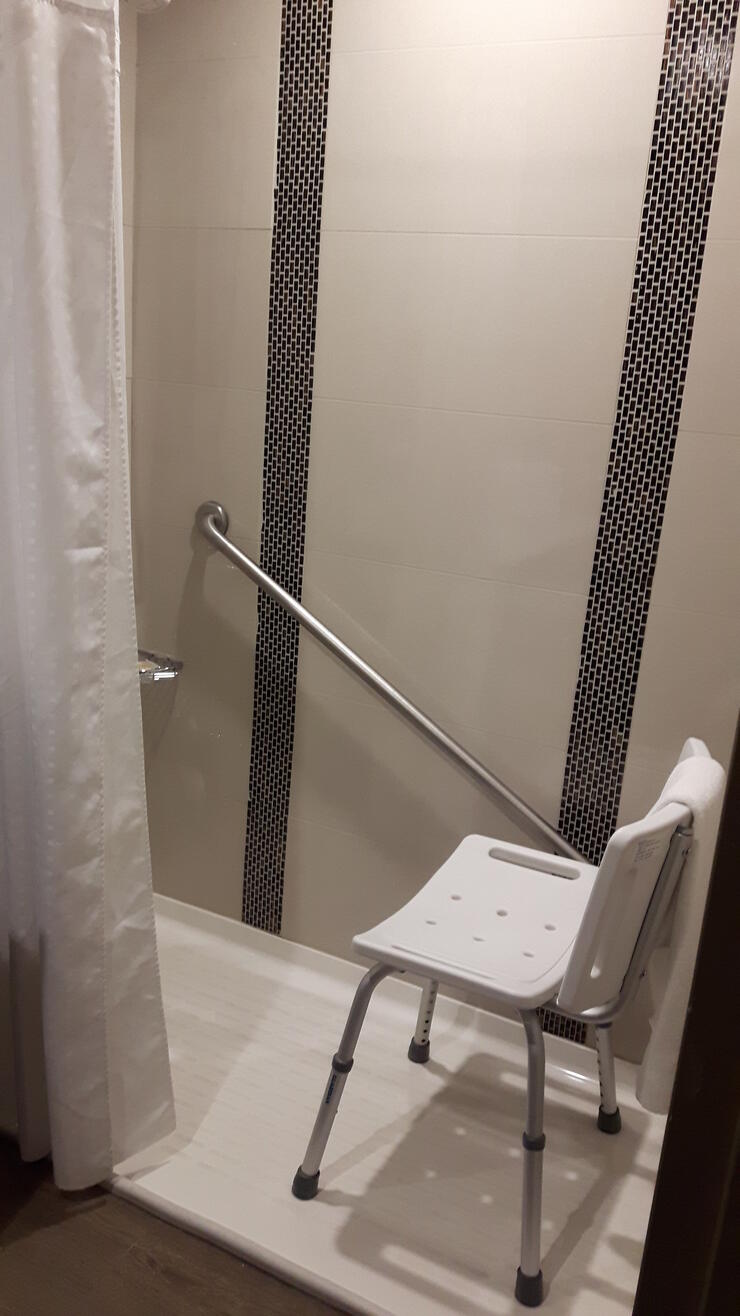 The Holiday Inn has two fully accessible rooms with your choice of a king or two queen sized beds. The rooms boast wider door frames, lower closet rods, lowered peepholes, lowered towel hooks, a higher furnace unit (for easier access), a minimum 34" door frame and lowered 28" bed height. All public areas in the hotel are accessible and you will be very impressed by the lavish décor they have put in!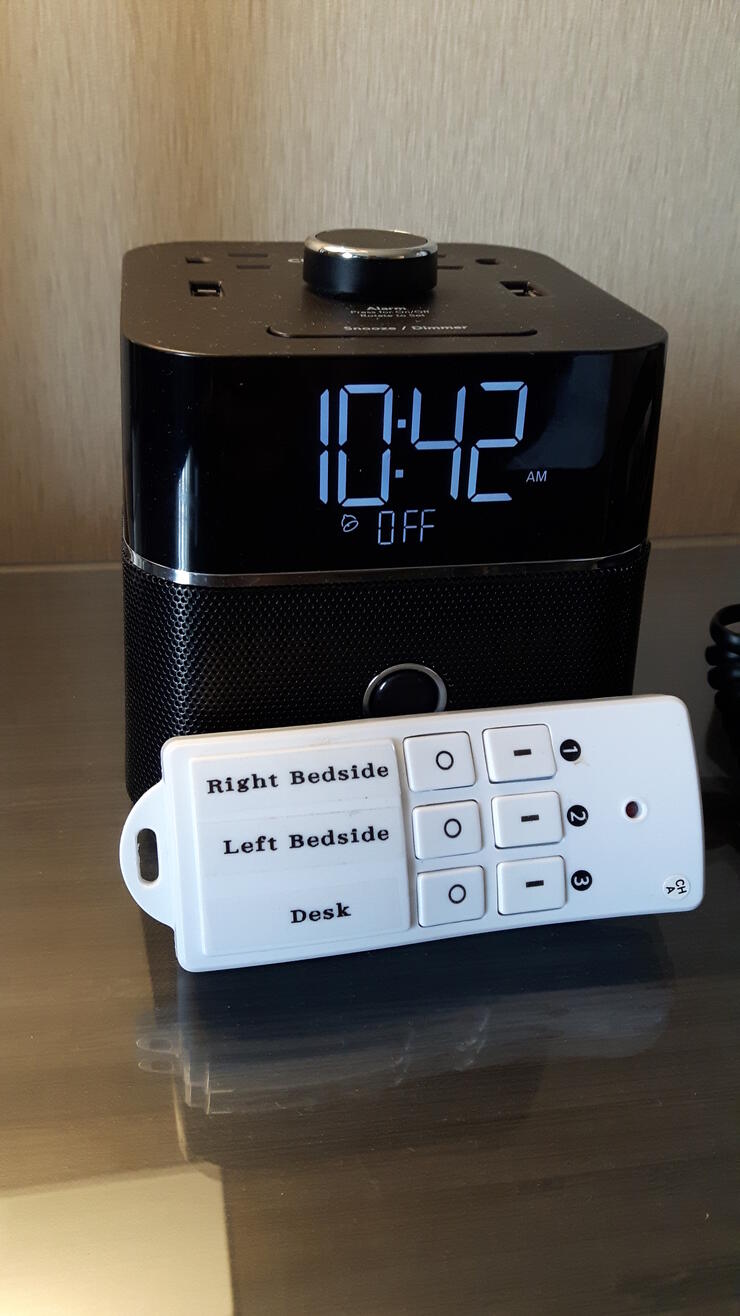 The Travelway Inn is a great option for those wanting a close stay to Science North or the Hospital. They have one fully accessible room; however, they have plenty of equipment to help adapt any of their other rooms to become more accessible for your stay. They have lowered peepholes, light switches, deadbolt locks and plenty of room to move around for those needing a wheelchair. They also have a huge washroom with a collapsible shower seat as well as remote-controlled bedroom lights, so you don't even need to get out of bed to turn them off.
The Hampton Inn has one fully accessible room and 12 other partially accessible rooms. Their fully accessible room boasts a beautifully updated washroom with open counters and a roll in shower. It also has lowered coat racks, peepholes and a doorbell that is connected to the light switches for those that are hearing impaired. The partially accessible rooms have the option of a stand-up shower or a bathtub with hand rails along with all the features of the other rooms.
Homewood Suites offers spacious studios and both one and two bedroom suites with a fully equipped kitchen area. They also have a complimentary grocery service which is great for those longer stays or if you just don't feel like doing groceries. Although their rooms do not feature roll-in showers, they do have grab bars in their bathtubs and plenty of space to move around inside the room. Another great feature is that all their accessible rooms offer Braille signage, making it easier to identify room numbers. In addition, there are door bells which connect to light switches in the room for those that are hearing impaired.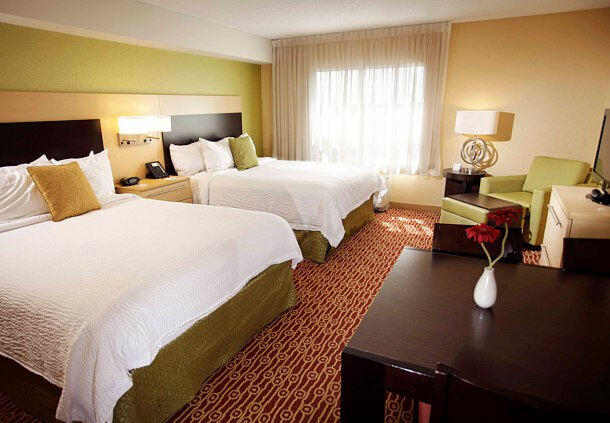 TownePlace Suites is a newly built hotel that not only boasts many accessible features, but also gives you room options. It has one fully accessible room with a roll-in shower and 10 other partially accessible rooms, including one suite, that includes tubs fitted with safety rails and adjustable shower rails. The rooms have accessible peepholes and generous 36-inch doors. On top of this, the hotel is AODA compliant and they offer many extras upon request such as a telephone signaler, text answering machine, telephone amplifier, sonic boom alarm clock with a bed shaker, a CO2 detector with strobe light and a flashing knocking device for the door.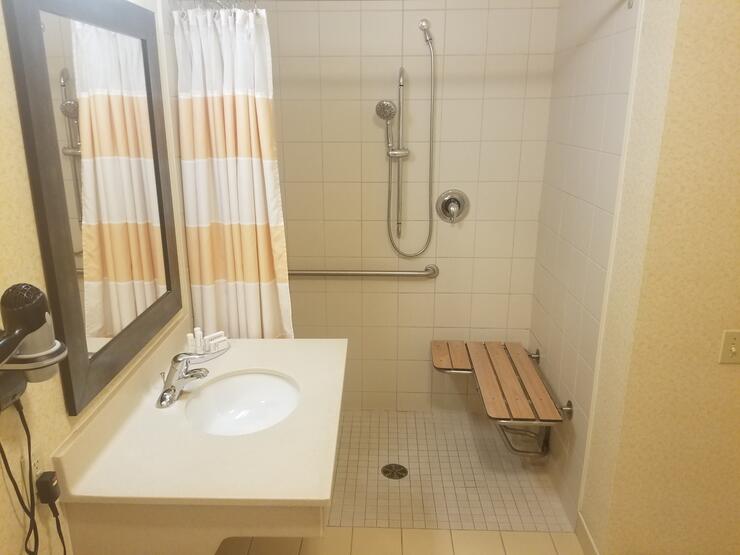 Located in New Sudbury, the Fairfield Inn & Suites is close to Sudbury's shopping hub - New Sudbury Centre and the RioCan Centre, plenty of restaurant options and a 5-minute drive to Cambrian College. Fairfield offers one accessible room with a roll-in shower, a 33" wide accessible bathroom door and two accessible parking spaces. Viewports and light switches in the room at an accessible height. Bed foundations are lowered for easier access. The room has visual fire alarms as well as audible for guests with hearing impairments.  Additionally, there is an adjoining room available for caretakers.
Without exception, the hospitality staff at these fine hotels within the City of Sudbury will do everything they can to make your stay as comfortable as they can. 
With these conveniently accessible hotel options within our city, perhaps now I can encourage my cousin, and others, to travel a little more to enjoy some of the highlights that Sudbury has to offer.