5 Things I Learned ATVing For the First Time
If you go fast the bugs can't get you...and other secrets. It's also a thrilling way to experience Ontario's rugged backcountry!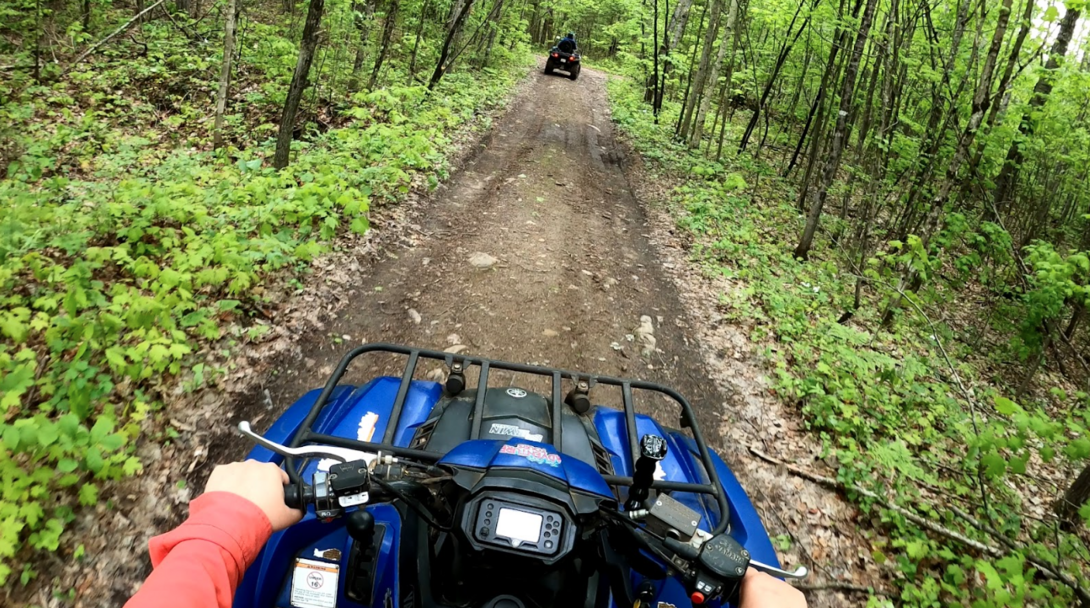 I'm heading out on a road trip through Northeastern Ontario in a few weeks, and I'm looking forward to my first time ATVing through the scenic terrain where the Ottawa and Mattawa rivers meet. I'm set to ride on the Voyageur Multi-Use Trail System (VMUTS), taking a guided tour to explore the landscape known as Mattawa Voyageur Country, between Algonquin Highlands and the Laurentian Mountains.

VMUTS has over 300 km of various length loops that could take a few weeks to ride in their entirety. My natural attraction to these routes, aside from riding through old northern forests, was the promise of sandy tracks, stream crossings, and dirty mud runs.

Undoubtedly this ride will be different from my first time ATVing. As I prepare for the upcoming adventure, I'm reflecting on a few things I learned during my introduction to this motorsport.
1. There Are No Seatbelts On This Ride
It was disconcerting not to have a seat belt - I remember unconsciously reaching for the non-existent safety gear, my hand grasping at the empty air. So, I gripped the machine tighter, rigidly clinging to the handlebars, my knuckles turning white despite the barely contained excitement I was feeling.

As we rode down gravel shoulders and easy dirt trails, the vibrations coming up my arms began to loosen me up. By the time we reached the first steep ditch climb, I was pumped up for the first trail challenge.

I've driven ride-on lawnmowers since my teens, but there's a vast difference between rolling lawns and wild landscapes. Tom, my guide and the owner of Tom Irwin Adventure Tours, taught me how to counterbalance when we can't go straight up a hill. I slid out of my seat, leaning uphill, keeping my weight close to the ground because tall, top-heavy things tend to roll downhill.

I relaxed - I was finally moving more intuitively with the ATV. We rode up rocky rain washouts and crawled down the drainage creek beds full of boulders. When my time comes to explore VMUTS, I will not hesitate to give myself entirely to the experience.
2. The Bugs Don't Bite - If You Go Fast Enough
According to my GoPro footage, my top speed on the trails was a mere 14 km/h, but it felt twice as fast. I've driven on 400 series highways for decades, but I was on the inside of a vehicle.

The open-air seating of the ATV gave me such an adrenaline rush that my slow pace felt incredibly speedy. Frequent riders and bikers have grown accustomed to the lack of seatbelts - and the exposure to the elements - so my low speeds may not excite you, but the following probably will:
It's rumoured that if you average 16 km/h, most biting bugs won't make a meal of you.

Horseflies would be able to keep up (a male was clocked at 90mph chasing a female), but the majority won't bother with the chase. So, I didn't have to go fast to avoid being eaten, but hungry insects descended upon us anytime we stopped. Even a few minutes was long enough for them to get several bites in.

I should have applied bug spray at least once because, after the ride, I took stock of the damage, and my face was as bumpy as the trails. My vision was close to being impaired with swelling - a few more well-placed bites around my eyes, and I would've become a safety concern.
3. ATV Trails Don't (Usually) Have Restrooms
I had not confirmed the lack of facilities before my first ATVing tour, but it's what I expected, so it was good that I prepared because my wee bladder had a big day ahead of it.

I ate a chia seed breakfast bar, skipping the coffee in favour of an electrolyte drink to aid in efficient hydration. I couldn't risk overloading my system before 7 am, so I sipped the power-up instead of chugging my nutrient-rich drink while nibbling the nutbar.

I aimed to stay hydrated without running the risk of bursting under pressure or needing to stop repeatedly to take care of business. I didn't want to think about bathroom needs; I just wanted to be on the trails as long as possible, without interruption.

So imagine my surprise (and extreme delight) when reading about VMUTS, that I found there are at least three washrooms and shelters on the trail system, marked out on maps. VMUTS maps are available with the purchase of a VMUTS or OFATV Trail Pass

I like being ready for anything, so I'll still carry my little loo kit with a trowel, wet wipes, and hand sanitizer in my travel pack - plus a WAG bag to pack out all human waste. Depending on land geography and proximity to protected areas, digging a cathole may not be an option, and WAG bags are the best way to #leavenotrace.
4. You Can't See What's Below the Surface
Over the years, I've seen photos of ATVers covered in dirt, riding through mud and splashing water everywhere. Mudding is an iconic image that I always associate with ATVing, and I yearn for the experience. However, it was not to happen on my first ATVing experience.

The area of the Canadian Shield we were exploring had buried dangers - rocks exposed by the spring's freeze and thaws would be hiding below the water's surface. Heavy storms could also drastically alter the terrain - newly exposed boulders could be hidden by accumulated rainfall and mud puddles.

For this reason, riding fast through waterholes depends on the region - and intimate knowledge of the terrain is vital. So, if you're not following an experienced guide, consult the regional ATV club for up-to-date trail information before touring independently and be cautious of hidden dangers under the water.

Now, I don't know what routes my next guided tour will follow, but I've learned that the VMUTS trail system promises I'll have many opportunities to get dirty with plenty of waterholes, mud runs and stream crossings.
5. Orange is the New Black
I'm talking about wearing bright orange and other fluorescent colours to be easily seen during hunting seasons. Ideally, recreational users (like me) should refrain from riding during those times, but if you must head out on the trail, be visible!

I avoid all types of backcountry adventures during hunting season for safety. Still, when the season is over, I always wear pink, red and orange to increase my year-round visibility as a solo adventurer.

However, I've decided that when I ride VMUTS, I will layer up in my lightest coloured clothes to best show off the mud splashes for the post-tour selfie.

Will this be your first ride? I wrote an ATVing Guide for beginners you should read.