Trial by Tyre
If you live in Toronto and don't want to go too far from home, the roads north of the city offer plenty of space to stretch out your legs and test and refine your skills.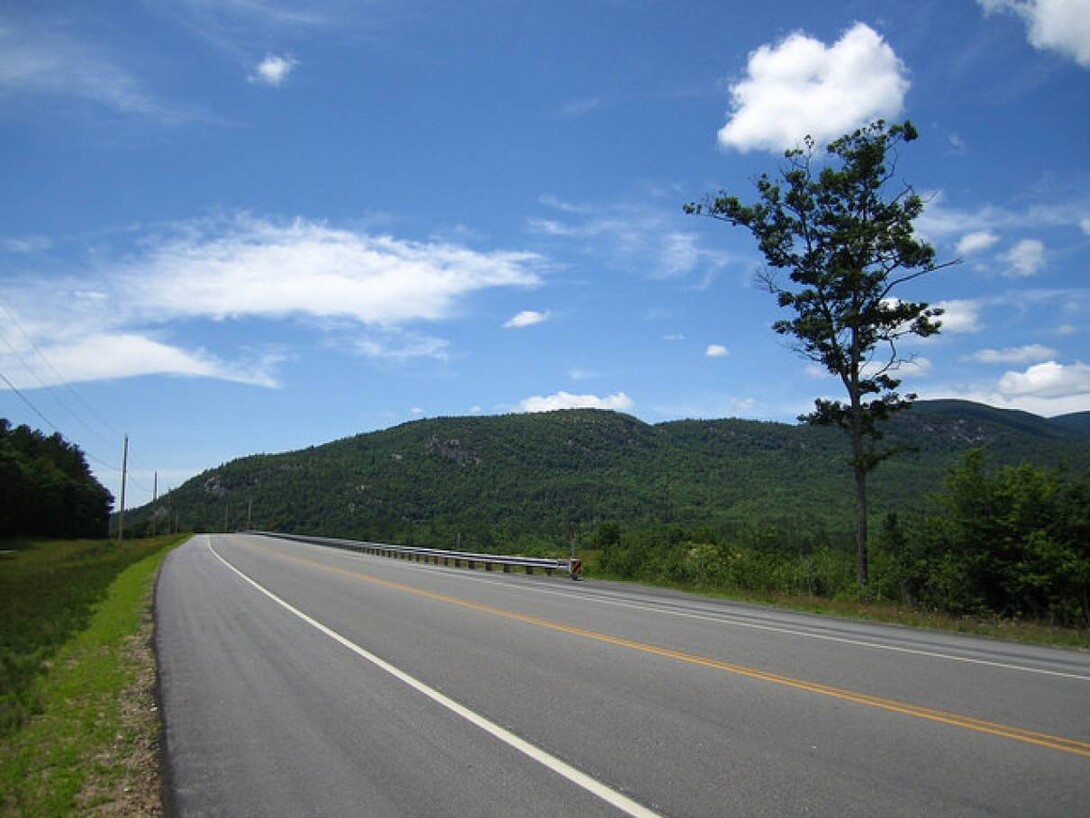 Some get into it so they can bring their friends over, and with pride, present the extraordinary set of antlers mounted on the wall. Some do it for the thrill of the hunt. A motorcyclist is no different. For some, the satisfaction of figuring out how to take a bike apart and put back together again is more of an adventure than taking it onto the road. For others, owning a shiny, fast object of pleasure is reward enough. Whatever the motive for getting your first bike, you still have to actually be able to ride and ride safely.
Within a few short weeks, I quickly overcame those mental training wheels and got comfortable with the basics by investing in a healthy amount of seat time.
My thirtieth birthday was a few months after I passed the M2 exit. Like a dying house cat, I did not want to be seen by anyone during this terrible time. I'd often wake up, in the middle of the night to thoughts of "I'm too young for this," or "This only happens to other people". So, I did what any other woman would do and decided to have my birthday while on a 10-day trip from Toronto to New Brunswick and back.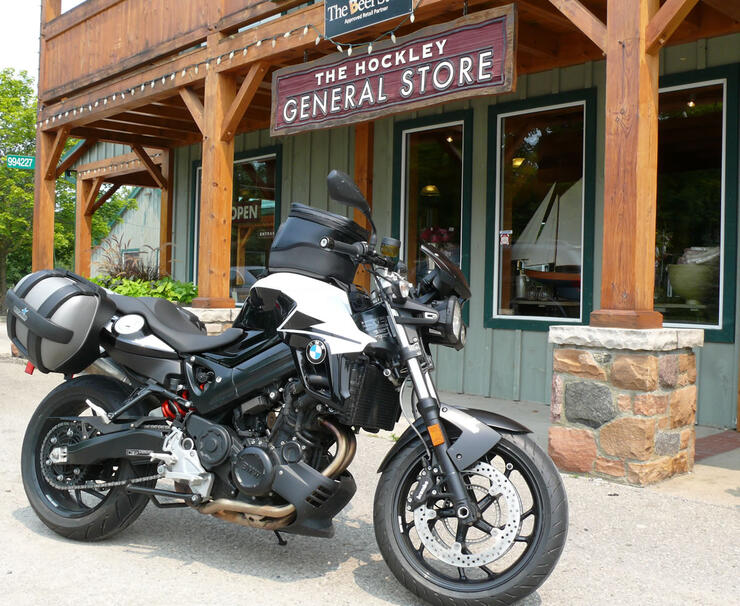 Getting out of the grid and spending the day traversing wonderfully curvaceous roads like Hockley Road or the 507 was a great way to get a little more than just the daily grind of stop and go. These two roads are very popular amongst two-wheeled city-dwellers for a reason. Both are within a couple hours of Toronto and offer the perfect way to escape the grips of city traffic.
In the Hills of Headwaters you will find Hockley Valley and the famed Hockley Road. It has a mixture of straightaways where you can get up in the gears and winding arches where you need to lean a little further to maintain speed. The Hockley General Store is a nice cafe at the eastern terminus where you can enjoy a coffee or brunch on the patio or buy a jar of locally made honey. This road is a good option if a few hours is all you can spare.

View Hockley Road in a larger map
On the other hand, the 507 is a full day venture. First, you have to do some highway driving to get there. Highway driving is no joke, especially on the 401. So many drivers don't check blind spots before changing lanes, continuously tap the breaks because they're following too closely for their own comfort, and worst of all, don't signal. Being able to navigate through fast-moving traffic (while preserving your life) is a must if you want to
get anywhere within a reasonable amount of time. I always assume I'm invisible to everyone else on the road which seems to save me from being left with no escape route. Strong wind is also a hazard, especially if you're on a smaller bike. I remember spending about 30 minutes on a highway at a 60 degree angle in order to avoid going off into the ditch. Forcing myself to relax, focusing on where I wanted to be instead of where I was being pushed, and following my natural instinct to re-balance definitely helped.
Once past that god-awful highway, you'll be in the Kawarthas & Northumberland area where the roads resume their normal deflated appearance. Heading north from Peterborough, you'll soon hit Bobcaygeon. If you've made it here by lunch and want to grab a bite to eat, the Water's Edge Restaurant offers good food with great scenery. Head east across the 36 and this will bring you to what I consider the best piece of road close to home. Including the 503 and 118 portions, it is 90 kilometres of curves, dips, and uphill climbs. To me, this road is better and it's a great way to get to Haliburton and the rest of Ontario's Highlands with all that it offers for motorcyclists. 

View Toronto to Haliburton via Highways 36 and 507 in a larger map
Outside of the city, you'll also have a good chance at seeing wildlife (alive, not just road kill) such as a partridge, wild turkey, deer, or if you're truly lucky, a pig.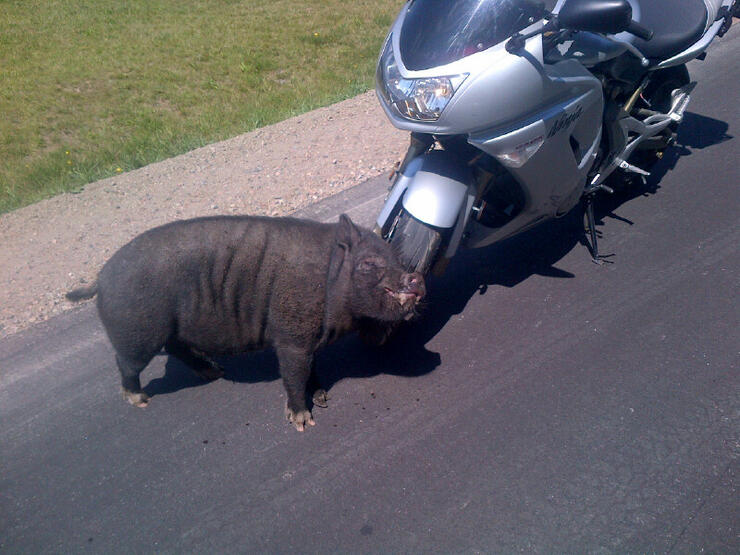 Out here, even the pigs are nicer.
I treated these trips and roads as practice for the looming marathon. Soon I wouldn't have the luxury of heading back home after a few hours and watching TV for the rest of the day. Spending four or five hours at a time with my knees tight around the tank and bum wholly numbed enabled me to find those perfect shift points, discover the personality and quirks of the bike, and test my personal limits. 
Wide and slow turns, stalling on a hill, missed and slow shifts, I did it all, but by the end of those few weeks, I felt I had stumbled enough times and experienced a variety of terrains to at least survive the long haul. And what's so terrible about exploring outside the city limits? The air certainly won't be too fresh and the traffic too light for you to tolerate. Taking the time to explore beyond the coffee shop and getting to know your bike and yourself will reward you with being able to simply enjoy the ride, wherever it may be to. 
For more routes for the rider who's just getting started check out our Escape the 400s series.
And if you're looking for lessons in Ontario here's a list of all riding schools in the province.