Going Old School for Brook Trout
One avid angler reveals what old-school techniques he'll use to land his Brookies when trout season opens in Northeastern Ontario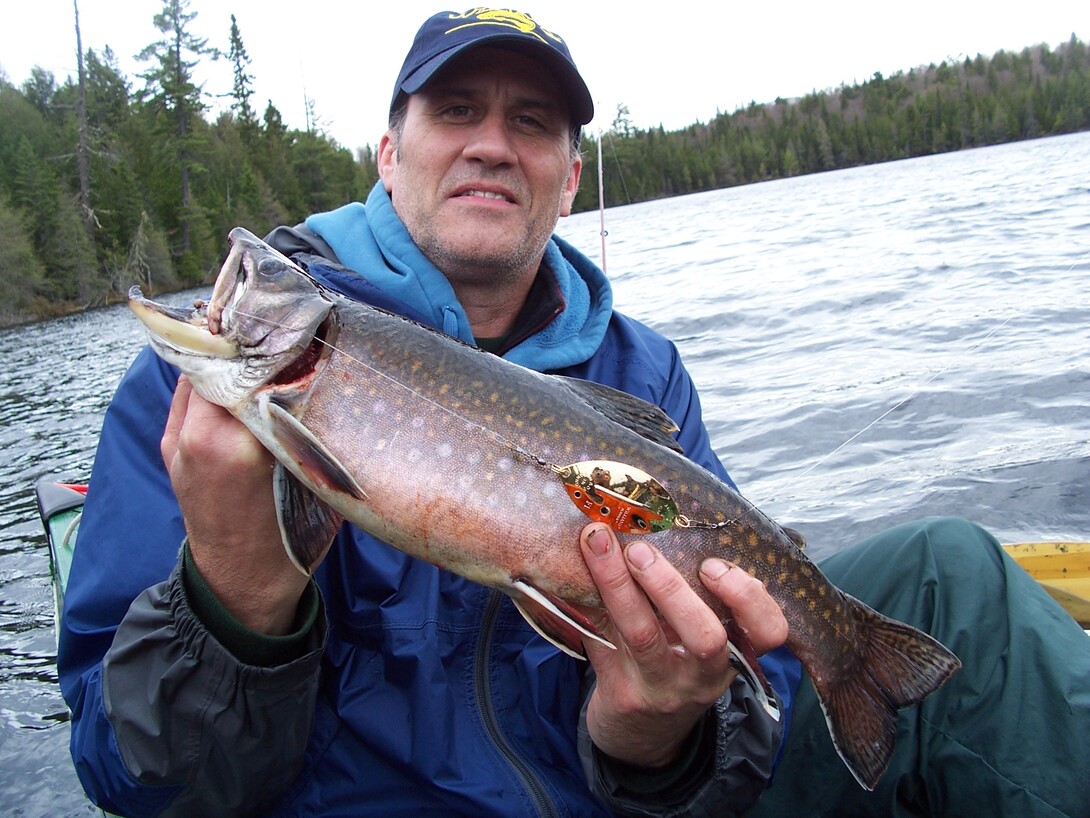 The beautiful brook trout or salvelinus fontinalis as they are known scientifically are one of this country's most sought-after fish species. Found in many clear water lakes and streams of Ontario's northeast, brookies are fun to catch and offer superb table fare. In the spring, these colourful Salmonids become active immediately following ice-out, seeking available forage in the bitter cold early spring water. Trout are famous for feeding on invertebrates and flies, and old school anglers like my Grampa have capitalized on this behaviour since the beginning of time. 
I recall old stories of my grandfather taking Dad, and his siblings, to their favourite mountain trout lake with an armful of bamboo poles and a box of worms, hoping to nab a few fish for dinner. From the tales recounted to me, Grampa's old school "hook & worm" technique produced nice stringers of trout, with great regularity. It was simple and it worked! 
Angling terms like "match the hatch" did not exist in the 1930-40s.  There was no need to get technical by using baits that replicated a specific invertebrate that flourished on that particular day. Earthworms worked just fine and occasionally, I was told, they streamed flies behind a canoe whilst paddling slowly along the shoreline.
I took old family stories to heart for my own fishing endeavours, proving that old school works and would shine in trout waters of Ontario's northeast! Hot spots to fish in Northeastern Ontario include Lady Evelyn Smoothwater Provincial Park.
Old school ways for modern success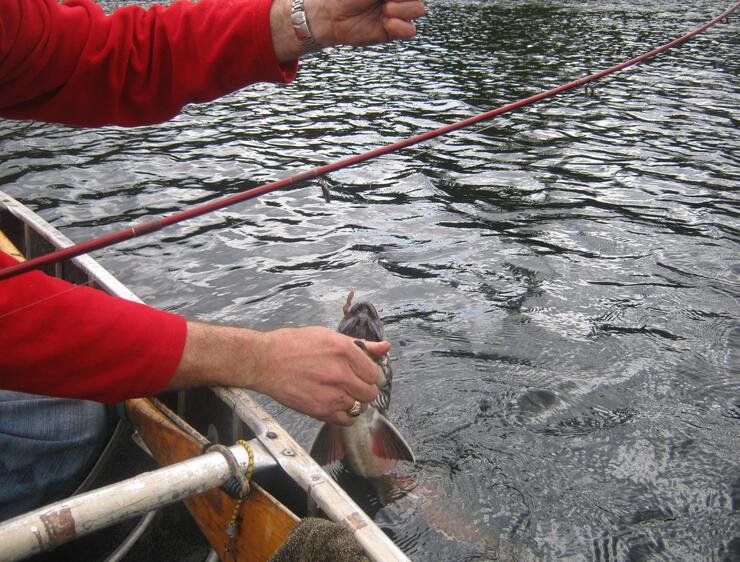 Trout fishing styles that worked 70-80 years ago, as I discovered, remain effective today. Truth be told, 90% of my brook trout, each spring, are caught on hook and worm. I modernized slightly by adding spoon attractors like Williams W55 Spoons, Mooselook Wablers and Clearlake Wablers connected to a 12" snelled hook, and tipped with a juicy earthworm. Modern-day trout go bananas for this old school offering just as they did back in the day. 
Ultimately, it is the early worm that catches the trout like my Grampa did all those decades ago.  
Worming tips
I use a 1-2" piece of nightcrawler but "red wiggler" garden worms are equally as effective. Depending on the fish size you are after, use bait holder-style hooks in size 6, or size 4 for even larger trout. You may either form a worm ball, or hook the worm so that it dangles off the end. Find the worm attachment that works for you, and present it where (& when) the trout are. Shortly after ice-out in the spring is the ultimate time to hit the trout lakes. Focus on any remnant vegetation, underwater structure like sunken logs and large boulders. Cast or troll slowly enough for those spunky spring trout to see your worm offering. Give them a moment to grab it before setting the hook, and then hold on tight!
Streaming flies
Grampa also streamed flies behind the canoe on a slow paddle and pulled in spunky "specs" that way too. It's as easy as pulling out 30-40' of line; allowing your flies to stream across the top of the water ever so gently, as you paddle or row. Early season trout actively feed on flies at the surface, so keep your eye on the "stream" for the telltale swirl of a trout hitting your fly. Flies like the famous Muddler Minnow work well but there are other good trout flies that catch fish too.
Ministry trout info
Before heading into the wily Northeast, please visit the Ontario Ministry of Natural Resources & Forestry's (MNRF) brook trout information guide: https://www.ontario.ca/page/brook-trout
Traditional Trout recipe, with modern flair!
Try this delicious brook trout recipe, one of many trout recipes featured in my award-winning Canadian Fishing Cookbook. "Tequila Trout with Salsa Fresca" will have dinner guests swimming back for more.
Tequila Trout with Salsa Fresca (Serves 6)
Brook trout, or speckled trout as they are commonly called, can be found throughout hundreds of streams and lakes across the Canadian Shield. Brookies are known for their wonderful spawning colours come fall. The male brook develops a pronounced "hooked" lower jaw known as a kype. The male will also turn a brilliant red for attracting females. Whatever the case, the spawning colouration is something to behold.
Ingredients:
6 × 6 oz (170 g) trout fillets
6 plum tomatoes, diced
1 onion, diced
1 jalapeño pepper, seeded and minced
2 Tbsp chopped cilantro
1 Tbsp lime juice
1 Tbsp each cumin powder & garlic powder
7 Tbsp tequila, divided
1 tsp each salt & pepper
2 Tbsp vegetable oil
chili powder, lemon pepper, and dried dill, to taste
1 Tbsp chopped cilantro, for garnish
For salsa, mix tomatoes, onion, jalapeño pepper, cilantro, lime juice, cumin powder, garlic powder, 1 Tbsp tequila, salt and pepper in a bowl or processor. Pulse briefly a few times for chunky texture. Transfer to bowl and refrigerate.
In a large skillet, heat oil over medium-high until barely smoking. Sprinkle fillets with chili powder, lemon pepper, and dill, and cook for 5 to 7 minutes, turning once, until golden brown and flake easily when tested with a fork.
Remove pan from heat and splash some tequila on each fillet. Carefully ignite tequila with a match or lighter. Shake the pan gently until flames subside. Transfer to individual plates. Top with salsa, garnish with cilantro and serve.
Trout fishing in Northeastern Ontario (Zone 10 & 11) runs from the 4th Saturday in April, until September 30. The catch limit is five Brook trout for the regular license, and 2 trout with the Conservation license. Please note that in Zone 10, the rules are as follows: S - 5; not more than 1 trout greater than 31 cm (12.2 in.)  C - 2; none greater than 31 cm (12.2 in.) 
For more information on planning a fishing trip to Northeastern Ontario visit: https://www.northeasternontario.com/do/fishing/