Kayak Georgian Bay's Stunning Islands
Kick off your summer paddling odyssey in Killarney Provincial Park! #PaddleON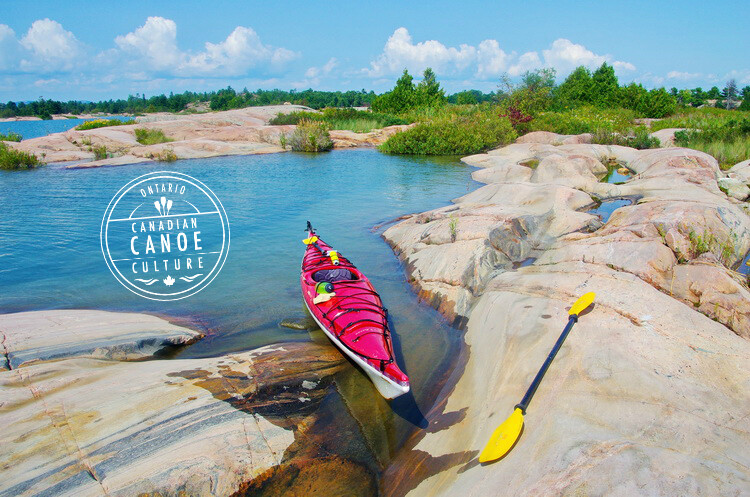 Pink, granite islands, magnificent campsites, incredible sunsets and the beautiful waters of Georgian Bay ensure a kayaking trip starting in Killarney Provincial Park will be an experience to remember in Northeastern Ontario. There are so many options for trips – from day paddles out from the launch site on the Chikanishing River, to a full circumnavigation of Phillip Edward Island, to an out-and-back paddle, to any island where you can nab a beautiful campsite for a couple of days.
Getting There
Killarney Provincial Park is about a four-and-a-half-hour drive north of Toronto or a 70-minute drive south from Sudbury via Highway 637 heading west off of Highway 69. In the park, you can rent expedition sea kayaks from Killarney Outfitters and they'll have them waiting for you at the launch site. If you're coming from afar, you might like to take advantage of their complete trip planning and outfitting services. And if you've forgotten any last-minute food or gear, you can rent or buy it right here. They also sell maps and offer lots of free and helpful advice.
Before you start paddling, you must buy a parking pass at the George Lake office in Killarney Provincial Park at a cost of $14 per day. If you're ready to launch and you've just remembered you need a parking pass, you can also buy individual day passes at the launch site, but it's slightly more expensive.
Go Prepared
Before you head out kayaking, it's a good idea to check the weather forecast as wind, waves and even fog can be a problem on Georgian Bay. Look for the weather and marine forecast posted inside the Killarney Outfitters store for the day, the week, and even the coming month. You can rent a satellite phone from them for $100 for 100 minutes, but cell phones work over almost the entire area you'll be kayaking through.
There is loads of parking, and the launching is easy on the Chikanishing River. The first kilometre on the river is very enjoyable. The paddling is mellow and you get your first taste of the pink granite rock. It's a good idea to have a couple of islands in mind as a destination once you reach the open waters of Georgian Bay. Campsites can be tough to find on a sunny summer weekend, so you may have to paddle further than your first choice. In my experience, there are more campsites than are listed on the map, especially in the maze of islands around Le Hayes Bay.
I don't think there's a bad campsite on any of the islands, but you should be aware of distances; should the wind suddenly blow up as it would be easy to become island-bound for a few days. To avoid disappointment, get an early start on a weekend so you get the campsite you want.
Islands I personally recommend include any in the Fox Island Chain, just a few hours away under calm conditions. There are beautiful campsites on Le Hayes Island and Crab Island, though busier, offers a prime, very private campsite. Pinch Island near the Flat Rock Beacon is fantastic as it's big, there are lots to explore, loads of camping possibilities, and it doesn't feel heavily used.
The joy of kayaking in the maze of islands in Georgian Bay is the fun you have just poked about. Throw in the fact that the swimming is excellent and the landscape is classic Group of Seven with windswept pines and glacier-scraped, smooth rock. It's an area that will beckon you back over and over again. But please, campers, pack out the garbage and burn toilet paper so you don't ruin it for others!
More Things to Do in Killarney
Before or after your trip, should you want a break from camping or just a great meal, there is the option to stay at Killarney Mountain Lodge – a historic, rustic resort complete with log décor and a wood-burning fireplace. It's nearby in the town of Killarney, which is definitely worth a visit, especially as it's conveniently just a five-minute drive away from Killarney Outfitters.
Consider supporting Killarney Provincial Park by shopping at the online store of Friends of Killarney Park. They work hard to keep the park wild so future generations can enjoy it as well.