Gear Up in Greater Sudbury
Sudbury has an impressive collection of outdoor stores, guaranteed to prepare you for anything Mother Nature can throw your way!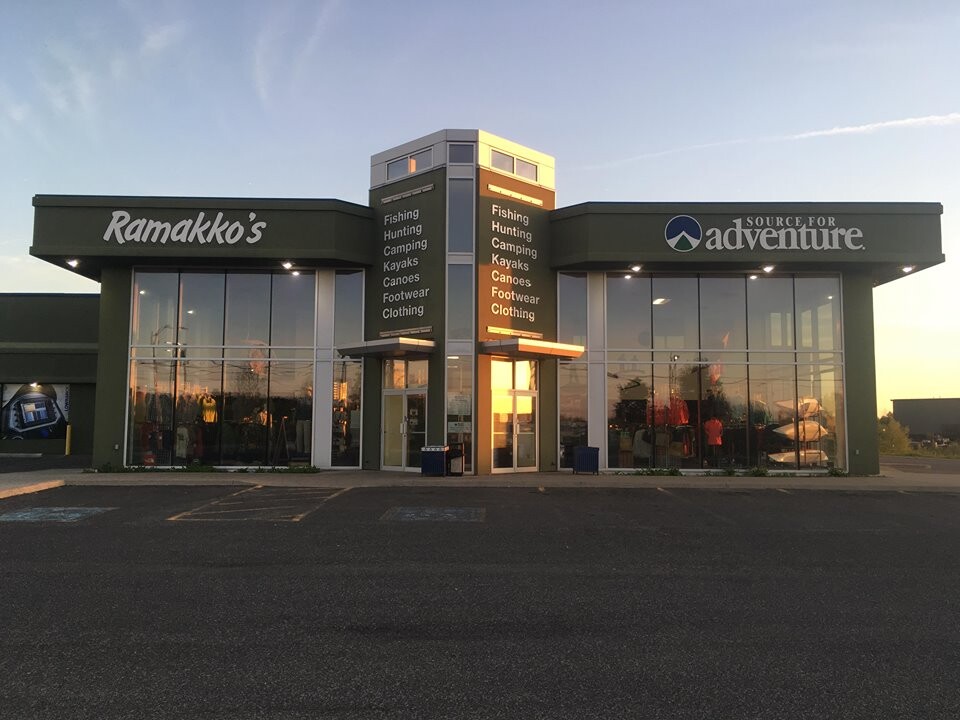 Sudburians love the outdoors! From a young age most of us are taught how to bait a hook, use a compass, and start a camp fire. The forest, lakes, rivers, and wetlands are valuable resources on which we pride ourselves and they provide the perfect environment for endless nature adventures; however, for those visiting from urban communities, the outdoors can be intimidating. Luckily, Sudbury has an impressive collection of outdoor stores guaranteed to prepare you for anything Mother Nature can throw your way! Head to Ramakko's Source for Adventure, The Outside Store, Adventure 365, and Sessions Ride Company to gear up for year-round outdoor fun!
2345 Regent Street, Sudbury, ON
(705) 522-8889
Ramakko's Source for Adventure is one of the largest and most complete outdoor stores in Northeastern Ontario, filling its 20,000 square foot showroom with fishing, hunting, and camping gear, as well as footwear and all types of outdoor apparel.  The owner, Sudbury local Brian Ramakko, prides himself on the store's extensive collection of outdoor products which are all reviewed and recommended by customers and staff specific to the Greater Sudbury area. Ramakko's fishing lures are the perfect example, providing an extensive array of pickerel (walleye) lures as these fish are heavily present in Greater Sudbury lakes.
First opening in April 1984, Ramakko's sells a variety of outdoor products depending on the season. Everything from the necessities such as fishing rods, folding chairs, canoes, and active wear to specific high-end products including paddle boards, fish finders, rifles, and branded Sudbury Rocks swag! The store, fondly described as an amoeba by Brian, is constantly changing to fit the needs of Sudburians and the Canadian seasons—primarily a fishing and camping retailer in the summer, the store transforms into a haven for hunting and all things winter once autumn begins. No matter the season, the staff at Ramakko's are passionate about the outdoors and are enthusiastic to share their expertise and love for nature with anyone who walks through their doors!
2140 Long Lake Rd, Sudbury, ON
(705) 522-1755
The Outside Store is one of the oldest outdoor stores in Sudbury—first opening in August 1977, it has had many homes in Sudbury, but has remained a family-run business from the beginning. From the moment you walk through the doors you're made welcome by furry friends and friendly staff; their love for the outdoors as well as their familiar and friendly faces create a personal and pleasant experience for every customer.
The Outside Store specializes in non-motorized sports equipment and boasts an impressive variety of bikes, apparel, and footwear in the summer, as well as skis, snowboards, and snowshoes in the winter.Their Canadian-made, KAHUNA stand-up paddle boards, and electric-assist bicycles are unique products only found at The Outside Store. In addition to retail, The Outside Store is one of Northern Ontario's biggest service shops which service non-motorized sports products such as skis, snowboards, and bikes.
Community and outdoor initiatives are an important part of The Outside Store's philosophy; they are advocates for a healthy environment as well as healthy minds and bodies. The Outside Store provides annual monetary donations as well as event support to many outdoor organizations in Sudbury such as Kivi Park, Walden Mountain Bike Club, and Lake Laurentian Conservation.  
444 Barry Downe Rd, Sudbury, ON
(705) 222-2772
Their name says it all: experience adventure 365 days a year. Adventure 365, a locally owned outdoors store, encourages Sudburians to take advantage of their Northern Ontarian environment and four seasons of sports by supplying extreme sports gear and services to Greater Sudbury! Although Adventure 365 has only been open for seven years, it has grown successfully due to their dedication to customer service. The store and its staff go above and beyond to help each and every customer love what they do, and love the outdoors, by customizing sports gear to fit each individual's needs.
In the spring and summer months, Adventure 365 sells a vast array of outdoor gear for all-ages including men's and women's active wear and accessories, an extensive variety of bikes and bike parts, as well as cycling clothing and equipment. Once winter hits, the products and services at Adventure 365 transform into a winter wonderland selling skis, snowboards, and accessories as well as offer bike, ski, and snowboard repairs and servicing by their expert technicians! 
Adventure 365's passion doesn't end with their products and services—their store is the only one in the city to sponsor and design its own Sudbury jersey used by local cyclists. Each year a local artist is chosen to design a Sudbury-specific jersey; Adventure 365 pays for the cost of creation, the jerseys are sold at the store, and 100% of the proceeds from sales are donated to local charities and non-profit organizations like Walden Mountain Bike Club, Sudbury Cyclist Union, and Sudbury Para-Nordic Ski Program.
609 Notre Dame Ave, Sudbury, ON
(705) 523-7400 
One of Sudbury's newest outdoor stores, Sessions Ride Company, established summer of 2016, has been a welcome addition to Sudbury. Local owners John and Tim have a passion for biking and have built up a business that is rider-focused, providing personalized bikes for every cycling enthusiast. Sessions Ride Company retails and services all types of bikes including mountain, road, and racing bikes—they'll even trick out or modify your bike to fit your personal needs. One of their best-selling bike brands, Devinci, is unique to their store; they're hand-welded in Quebec and are one of the only brands of bikes that are still made in Canada. In the winter Sessions shifts gears, swapping out most of their bikes and bringing in a variety of snowboards and skis, all of which they service.  
What makes Sessions truly unique in the midst of all Sudbury's outdoor stores is the atmosphere. From the moment you walk into the shop, you are welcomed by the owners and fresh coffee from Old Rock Café—Sessions' very own bike café. At Sessions Ride Company, biking is as much about building and serving a community of passionate individuals as it is about selling bikes; visitors are encouraged to stop by the shop, grab a coffee, and hang out.
Sessions Ride Company prioritizes giving back to the community, and partners with many Sudbury organizations such as Sudbury Cyclist Union, Espanola's Boogie Mountain, Rainbow Routes, and Walden Mountain Bike Club, providing sponsorships and event support to help promote biking and a love of the outdoors. Sudbury is home to many beautiful spaces that hold the potential for exploration and are worthy of appreciation and because of the time and energy invested into developing these spaces, Sudbury residents need to take advantage of them and Sessions Ride Company will help you do just that!
For more spectacular Sudbury-specific stores, visit www.sudburytourism.ca/shop.
Now that you've got the low down on the array of outdoor stores and experts here in Sudbury, it's time to gear up, #GetOutside, and explore all that Sudbury has to offer! Explore some of Northern Ontario's most beautiful hiking trails with Rainbow Routes, spend a weekend camping at one of five provincial parks: Windy Lake, Halfway Lake, Daisy Lake Uplands, Fairbank, or Wanapitei Provincial Park, all located in Greater Sudbury, or head out onto Lake Ramsey and put your canoeing and fishing skills to the test! For more exciting #ThingsToDoInSudbury visit: www.sudburytourism.ca/events  #DiscoverSudbury 
For more places to shop, visit discoversudbury.ca/shopping