Discover Sudbury Snowmobiling
Sudbury is Northern Ontario's premier snowmobiling destination. Check out our complete guide to this rider's paradise.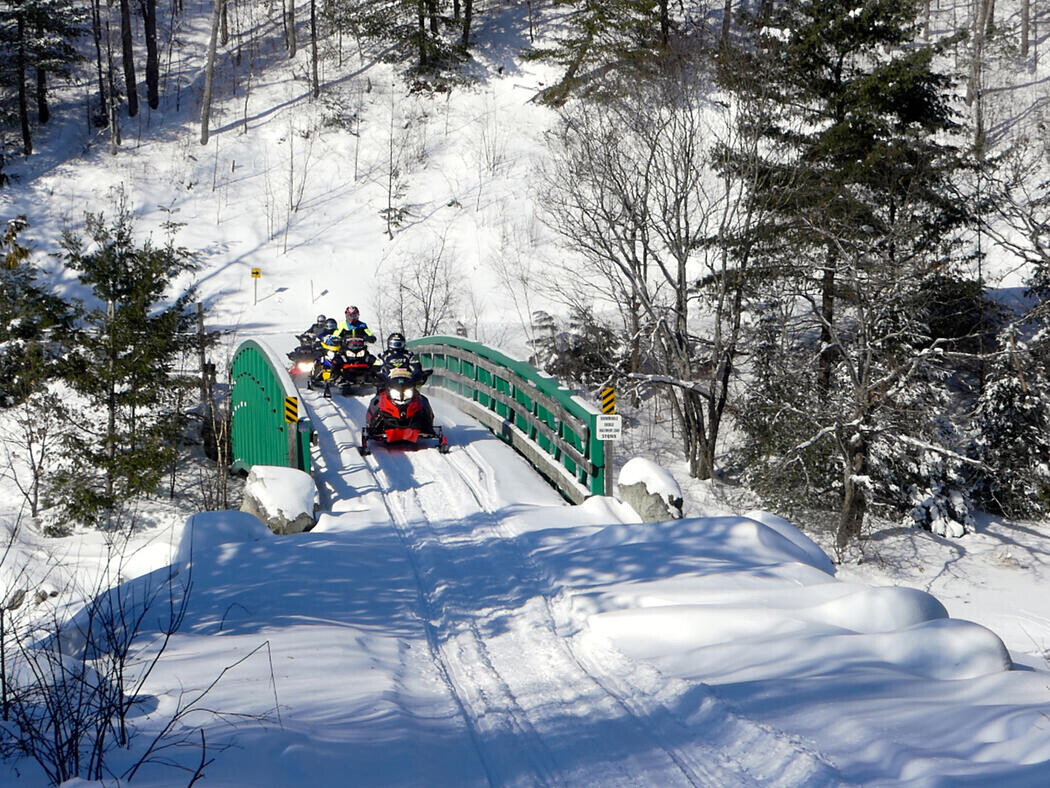 As Northern Ontario's premier city, The City of Greater Sudbury is its largest urban centre with a population of about 165,000, completely surrounded by a wilderness of snowmobile trails. The so called "Nickel City" is located less than a four-hour trailer drive north of the Greater Toronto Area on Highway 69. As such, it's a main gateway for snowmobilers riding farther into Northeastern Ontario.
4 Good Reasons For Sudbury's Popularity
But Sudbury is also a popular snowmobiling destination in its own right, for several good reasons. One, just outside the city proper, Sudbury is surrounded by the unspoiled terrain of the Canadian Shield, ideal snowmobiling country. From town, 2,000 kilometres of well-maintained trails spoke out, looping to places like Espanola, Killarney and Wanapitei Lake. So, there's plenty of great loop riding to be had staging out of Sudbury, while still close to a major urban centre. The sledding includes four premier snow tours (see below), designated loops that make area exploring and navigation even easier.
Reason number two is that Sudbury is far enough north that snow conditions are generally reliable all winter. Even in the off-chance that Mother Nature doesn't cooperate in one area, Sudbury offers enough available riding options from you can simply make a last minute change of plans and head in a different direction.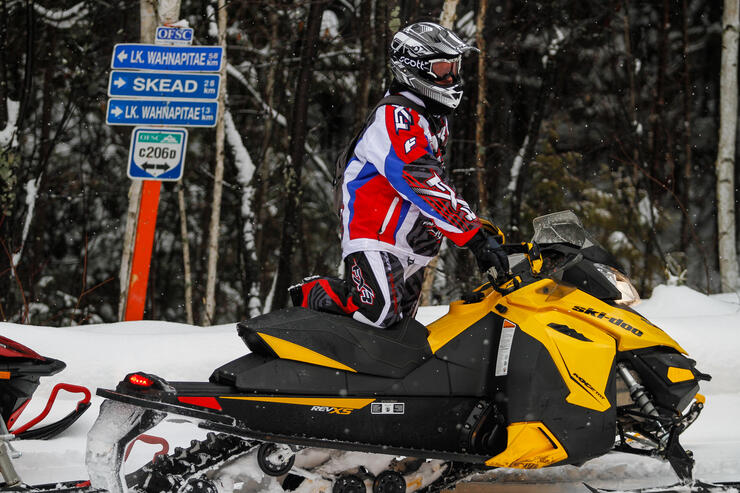 Three, the region is home to District 12, ten snowmobile clubs working collectively as the Sudbury Trail Plan (STP), a pioneer of cooperative and coordinated regional grooming in Ontario. The STP is dedicated to delivering the best possible trail riding throughout the Greater Sudbury Region, so the grooming is consistent and reliable, and the overall quantity and quality of trail signage throughout this trail system is very good.
Finally, Sudbury offers a host of big city attractions, events, nightlife, shopping, services and amenities to more than fill any snowmobiler's non-sledding hours and desires. What's more, there are more than enough other winter activities to keep any non-snowmobilers in your family or group happy and entertained if they want to do something else while you're off riding.
Another big plus for riders is the presence of snowmobile dealers for all four manufacturers, just in case you need anything for your sled (see below).
Lodging Locations For Staging Day rides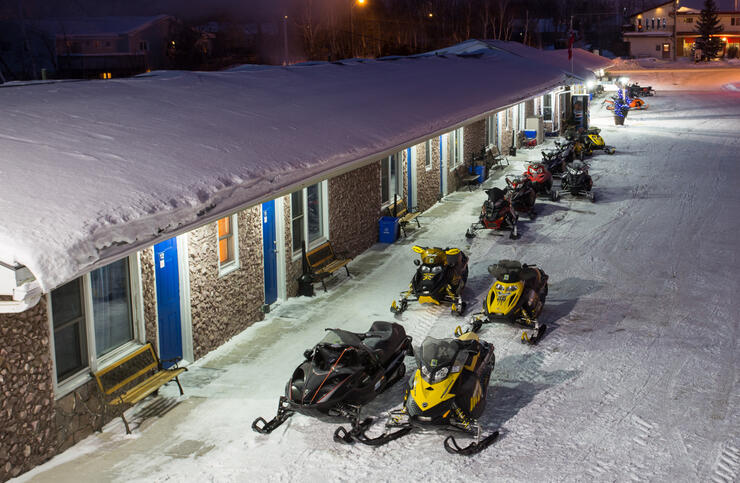 Visiting snowmobilers wishing to stage day rides out of the Sudbury region have two general choices of lodging location. One is to stay in the "suburbs", where several snowmobile-friendly accommodations are located with good trail access (see list below). These are mostly mom 'n' pop style motels with sled parking in front of guest rooms. Unfortunately, none are centrally positioned, so depending on their location, some are closer to one side of the Sudbury Trail Plan system than the other. So that means a shorter trail ride to some of the major loops, but a longer journey to the others.
The other lodging location choice is to stay at a hotel within Sudbury. This alternative may appeal if you (or your family) want to be closer to all that the city has to offer such as great restaurants or if having top notch hotel amenities like indoor pool, hot tub and gym are a priority. However, as with most large urban centres, none of the in-city hotels are close to any trails or provide direct trail access. But that's easily overcome by simply "garaging" your sleds in your trailer every night and towing each morning to any one of several Park 'n' Ride locations (see below) with direct trail access scattered around the outskirts. This way, you can choose to ride one direction of the compass each day and stay in the heart of the action too!
Getting To The Snow Tours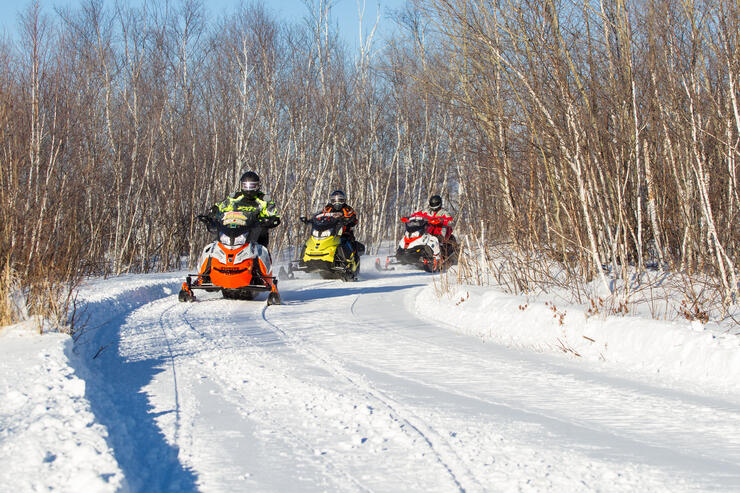 From a trail riding perspective, with either lodging choice you can pick your own routes or ride the snow tours. Sudbury is unique in Ontario as the only destination having four designated snow tours so close at hand. For planning purposes with each of these four snow tours, please note that your actual daily ride distance will depend on where you stage from as noted previously in my comments about lodging location.
So, if you are riding directly from one lodging location, be sure to calculate the daily mileage for each snow tour to and from the nearest access point for the snow tour you want to ride that day. These additional kilometres will make your snow tour ride slightly longer than the distance shown for the loop itself. In fact, your choice of which snow tours to ride, may be a deciding factor in where you decide to stay while snowmobiling the Sudbury region.
Certainly, one advantage of staging daily from an in-town hotel is that you can trailer directly to the Park 'n' Ride location closest to the snow tour you want to ride each day, thereby avoiding a potentially roundabout and lengthy trail route before you even get to the snow tour.
The Sudbury region snow tours are: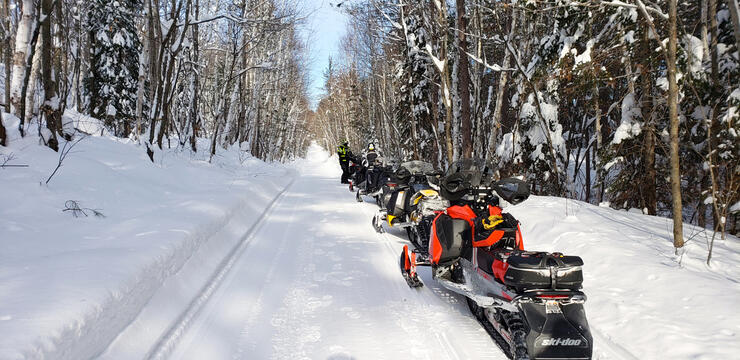 Chiniguchi Wolf Loop (210 km) – This snow tour is positioned northeast of Sudbury. Essentially, its trails (TOP C, TOP C105 & TOP C206D) circle the largest area water body, Wanapitei Lake. TOP C trail on the west side passes by towns like Capreol and Hanmer (Park 'n' ride location), where services are available. Note that there are no services on the north section of this loop, with fuel, but not food available at the Sportsman's Lodge on Lake Kukagami on the east side. It's worth a detour to Rocky's on the west side off TOP C via Trail 64 for food & fuel.
Be Sure To See: The Chutes at the south end on TOP Trail D; Wolf Mountain Lookout on the east side on TOP C206D.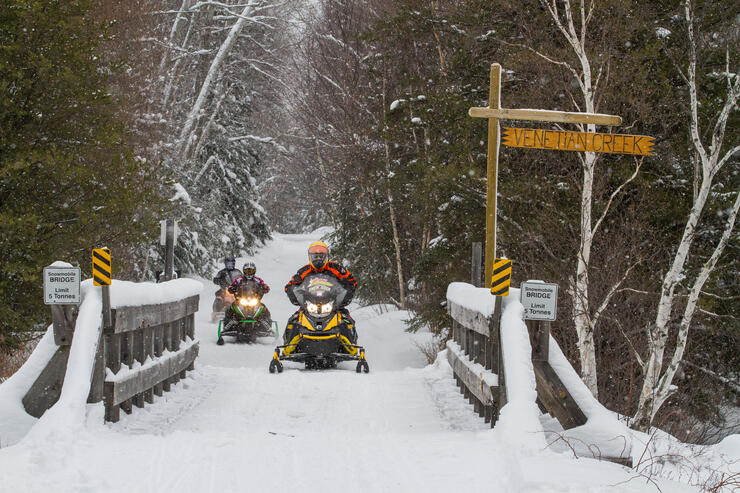 Cartier Moose Loop (225km) – Located northwest of Sudbury, this snow tour follows old logging roads through the Laurentian Highlands on trails TOP D, TOP C115D, TOP C & TOP C111D. On this loop's west side, there's fuel & food in Cartier and at Windy Lake Motel & Restaurant. On the south side, fuel, food & lodging are in Chelmsford and Azilda, while on the east side, services are available in Capreol and Hanmer (Park 'n' ride location).
Be Sure To See: Fire Tower Lookout at the west side, south of Windy Lake on TOP Trail C111D; Onaping Bridge at north side on TOP Trail C111D; Stobie Dam at the south side on TOP D, just west of Chelmsford.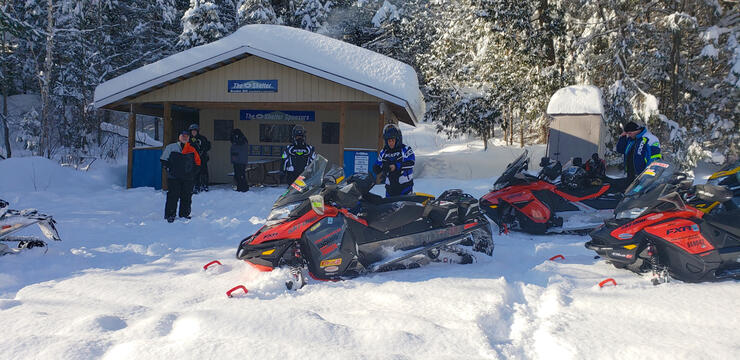 Rainbow Elk Loop (167 km) - This snow tour extends southwest from Sudbury all the way to Killarney on TOP C107D, TOP C113 & TOP C108D. Food, fuel and lodgings are available in Killarney. With the Rainbow Elk Loop, snowmobilers have two options if you do it clockwise.
One is to do the full ride to Killarney for lunch and fuel. This town provides the only fuel, food and lodging services actually on the tour. The other option is not going into Killarney to shorten the loop by about 68 kilometres. Instead, cut off on to TOP C113. It travels numerous ice crossings, so the going is quicker than by trail. But there are two other factors to consider with this shorter option. One is that there's no lunch stop on route, so bring a snack. The other is that there's no fuel on route. So, unless you're carrying extra gas, this alternative round trip total may be too far for most sleds to go without filling up. However, Panache Lake Marina has gas and a variety store. It's only a quick 12-kilometre detour west from the Rainbow Elk Loop intersection of TOP C113 and TOP C108D following the stake line on the lake of that name.
Be Sure To See: White Oak Bridge & The Shelter, both at east side on TOP Trail C107D.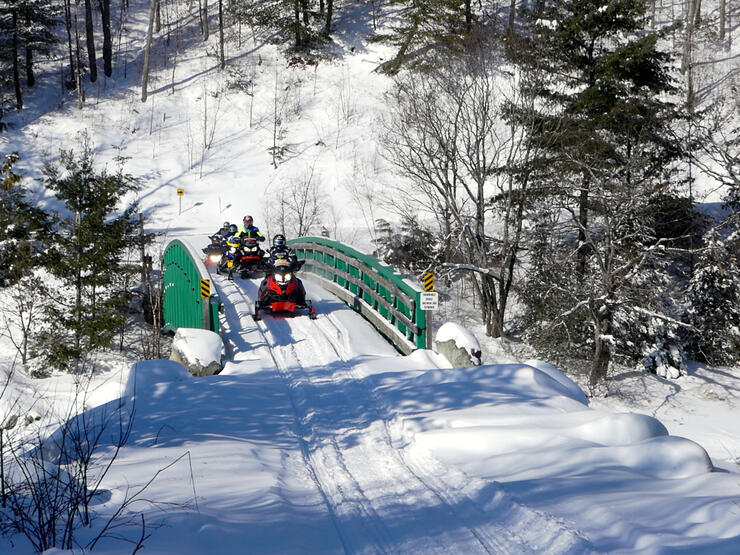 Deer Loop (142 km) – This snow tour is positioned west of the Rainbow Elk Loop on trails TOP D109, TOP D, TOP D110 & 25. On route, there's fuel and food outbound at Nairn and Espanola, and at Panache Lake Marina.
Be Sure To See: Augusta Ice Caves & Vermillion Bridge, both at the north side on TOP C108D.
Ontario trail riding in the Greater Sudbury Region typically ranges from good to exceptional. Yes, as with any major population centre, in town trails can be a challenge for local snowmobile clubs to keep up with grooming. But snowmobilers don't have to go far out of town to hit smooth, snowy trails spoking out in every direction. So, if you're looking for a snowmobile getaway staging destination with plenty of trail options plus big city amenities, the Greater Sudbury Region has it all!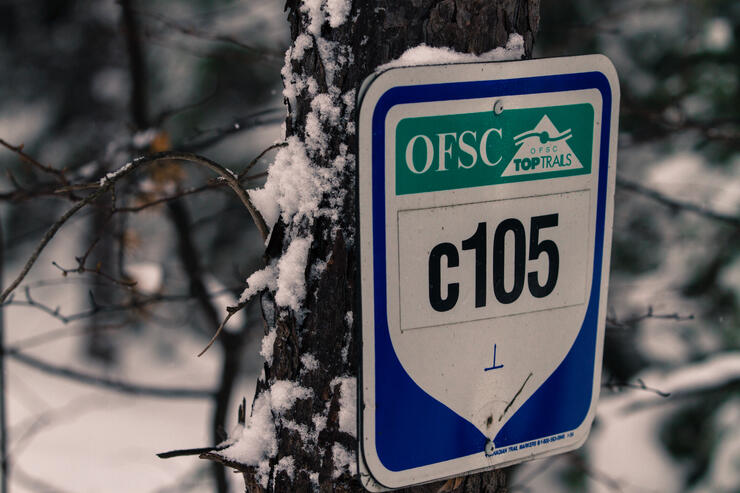 Trail Accessible Lodgings In & Around Sudbury
These motels are just outside the city proper, with good access to 2 or more snow tours.
Chateau Guay Motel (east side – Deer Loop, Rainbow Elk Loop)
Colonial Inn (east side - Cartier Moose Loop, Chiniguchi Wolf Loop)
Moonlight Inn & Suites (east side – Deer Loop, Rainbow Elk Loop)
Motel 6 (south side – Cartier Moose Loop, Deer Loop, Rainbow Elk Loop)
Northland Motel (west side – Cartier Moose Loop, Chiniguchi Wolf Loop, Deer Loop, Rainbow Elk Loop)
Norvic Motel (east side - Cartier Moose Loop, Chiniguchi Wolf Loop)
Valley Inn Motel & Suites (west side - Cartier Moose Loop, Chiniguchi Wolf Loop, Deer Loop, Rainbow Elk Loop)
Village Inn & Suites (west side - Chiniguchi Wolf Loop, Deer Loop, Rainbow Elk Loop)
Out of Town Lodgings Near Sudbury
These area accommodations are located on or near a snow tour.
Fairbank Lake Resort (Deer Loop)
Rocky's Lake Wanapitei (Chiniguchi Wolf Loop)
Sportsman's Inn Resort (Rainbow Elk Loop)
Sportsman's Lodge Wilderness Resort (Chiniguchi Wolf Loop)
Windy Lake Motel (Cartier Moose Loop)
Maps Needed
These guides and good trail signage are the best navigation tools.
Sudbury Trail Plan – OFSC District 12 Print Guide
OFSC Go Snowmobiling Ontario App
Park 'n' Ride Locations
The Sudbury area offers many easily accessible trailer parking for staging days rides. They are marked with a green P on the District 12 Trail Guide.
North & West Trail Access + Cartier Wolf Loop & Chiniguchi Moose Loop: Hanmer Valley Shopping Centre – Trail 56
North & east – Sudbury Trail Plan Yard, 3610 Falconbridge Highway, Garson Trail 74
West – Sudbury Road 55 (service road), Lively – Trail 21
South & West - Kivi Park Trailer Staging, Long Lake Road, TOP C108D
Sudbury Snowmobile Dealers
Sudbury offers snowmobilers peace of mind with a full complement of snowmobiler dealers for sleds, parts, service and gear.
Algonquin Equipment (Ski-Doo)
MidCity Motorsports (Polaris)
Play Powersports & Marine (Yamaha)
Royal Distributing (gear, parts & accessories)
Pro-Tech Powersports (repair all makes)
Sudbury Boat & Canoe (Arctic Cat).
Sudbury Contacts
OFSC District 12