Summer Adventures in Sudbury Perfect for Families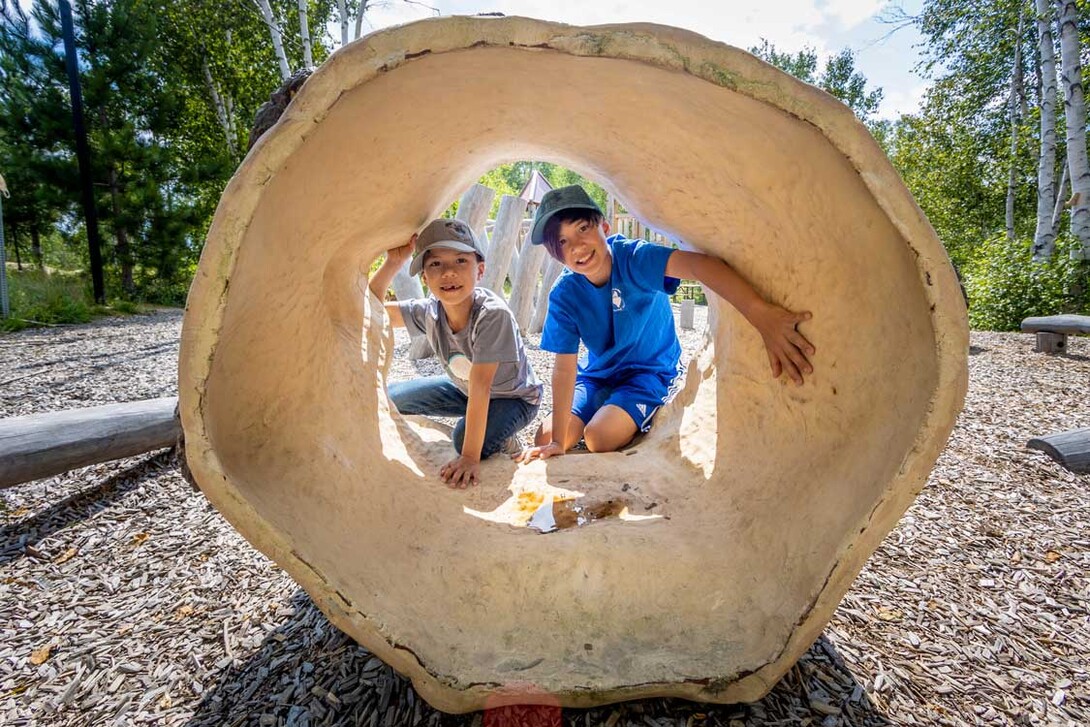 It's easy to fall in love with Sudbury. In fact, for some families, it just takes a few days.
The food, attractions, and natural beauty of the city make it a wonderland for those looking to combine culture, education, and adventure - my top three ingredients for the perfect family vacation.
For road trip-loving families like ours, Sudbury offers that ideal combination of accessibility and escape. In fact, traveling north to Sudbury from our home in Brampton has become even easier thanks to massive highway improvements along the Trans-Canada Highway.
But what is it about Sudbury that makes this city such an incredible destination for families? After my family's first proper visit, we've learned there is far more to do in Sudbury than we expected.
Culture
Even by Canadian standards, Sudbury is not an old city. In fact, it was only in 1883 that European settlers first began to mark the landscape. But in the 150 years since communities first began to become established in the area, a lot has happened.
Sudbury is, at its heart, a mining and logging city. These industries established the city as the engine of Northern Ontario. After years of industry, Sudbury has begun to emerge like a butterfly from its cocoon as an art and food destination that can rival the experiences of larger cities further south.
Experience The History of Sudbury At the Northern Ontario Railroad and Heritage Museum
Located 32-minutes north of downtown Sudbury, the Northern Ontario Railroad and Heritage Centre is a must-stop for train-loving kids in Sudbury. This fascinating museum explores the region's history through the lens of the railroads that helped make it all happen.
Not only does the museum offer an amazing set of artifacts, photos, and guided tours, but you can also tour the fascinating collection of rail cars, steam engines, snowplows, and train car houses that were part of everyday life in early Sudbury.
Wander Among the UpHere Festival Murals
Sudbury has a wild collection of massive murals spread throughout the city. In fact, the murals are so intertwined with the city's architecture that the collections rival those found in Ontario's capital.
You'll find UpHere murals throughout the city, with a large collection of them located in the downtown core. But to get an understanding of just how epic the Sudbury murals are, head to Bell Park, where you'll find Canada's largest mural. This 74,000 square foot painting encompasses the entire facade of the former St. Joseph hospital.
Eat Your Way Through The Sudbury Food Scene
The food scene in Sudbury is booming! The portion sizes on offer belie the incredible flavours spread throughout the city. Whether you're looking for sandwiches the size of your head, scrumptious fine-dining, vegan cuisine that might convert the most devout carnivore, or local-favorite joints that will fuel you up for a weekend of exploring, you'll find food for everyone in Sudbury.
I could go on for days about the food we ate in Sudbury, but here are a few restaurants that you'll definitely want to experience for yourself.
With a menu exploding with epic sandwiches, Cara's Convenience is a lunch spot that you shouldn't miss. While all of the sandwiches on offer here are enough to feed two (or maybe even a whole family), the Paul Bunyon is their signature. Exploding with meat and cheese, this classic hoagie packs enough sandwich to feed a family of four.
Gloria's Restaurant is where you'll want to go for a flavour-filled breakfast. To satisfy the biggest sugar-fiend, the epic crepe and pancakes are slathered in whipped cream, fresh fruit, and syrup. Just be warned, this isn't a place to go if you're counting your calories.
Tucos Tacos serves up vegan Mexican cuisine. Not vegan? Don't worry. You won't know the difference. These incredible dishes pack enough flavor to spoil even the heartiest meat-eater. My kids absolutely devoured their nacho platter, and the black-bean burrito left me with a smile (and ample amounts of sour cream) spread across my face.
Education
I honestly believe that every memorable family vacation involves a little education. Something that you and your entire family can take with you when you go home and feel like you've come away as a more enlightened soul. Well, Sudbury has that in spades thanks to Science North and Dynamic Earth.
Science North is one of the most incredible science museums in the country. Spread throughout the floors, you'll find interactive exhibits covering millions of years of the Earth's history, right up to modern science and biology.
The building of Science North itself is intricately woven into the rock of the Sudbury landscape, making it an experience all its own. Meanwhile, Dynamic Earth offers visitors (who book ahead of time on their website) the chance to descend into the depths of one of the world's most successful nickel mines. And let's not forget the family photo-op at The Big Nickel, Sudbury's most iconic attraction.
Adventure
One glimpse at the landscape upon which Sudbury is built, and it's clear that there is something extraordinary about this city. This raw and unique natural beauty extends beyond the city's borders and into the nearby parks and conservation areas.
Whether you've packed your bikes, paddles, or hiking shoes, you'll find plenty of places to get in touch with nature and enjoy some human-powered adventures.
Kivi Park
Kivi Park offers an incredible variety of four-season fun right on the edge of Sudbury. During the winter, visitors will find snowshoe and cross-country ski trails, while in the summer months, these are transformed into a vast network of hiking and mountain biking trails.
Visit during berry season, and you'll find loads of wild raspberry and blueberry bushes dotting the trails. Kids will also love the pump track and nature-themed playground that offer a chance for outdoor family fun.
Lake Laurentian Conservation Area
Nestled into the wild landscapes near Laurentian University, Lake Laurentian Conservation Area might be my favourite place to visit in all of the Sudbury regions.
Drop your canoe or kayak into the water amidst the wild landscapes of Lake Laurentian. The ripples sparkle under the sun as rose-red rock smoothly rolls away from the water.
You can also bike, ski, snowshoe, or hike the huge variety of trails that wind through this sprawling park. We particularly loved the boardwalk trails where forested hills reflected in the mirror-like waters of quiet lakes and streams.
AY Jackson Lookout and Onaping Falls
Among the many incredible spots where the famed Group of Seven set up to capture magnificent landscapes. One of the most storied is located just 30-minutes from downtown Sudbury. Onaping Falls was captured by Group of Seven founder AY Jackson and became one of his most celebrated paintings.
At the visitors centre for the waterfall, you can explore some of the geology that helped shape the landscape and gaze over the waterfall from the AY Jackson Lookout.
Those looking for a bit of a challenge (and who have some grippy shoes) can make the climb down to the edge of the river to the bridge and nature trail that wander the nearby forests. Just be careful as the rocks can be slippery.
Are You Ready to Explore Sudbury With Kids?
We were kept very busy during our three days in Sudbury. The museums were awesome. The food was to die for, and everything was family-friendly, fun, and engaging. You can read all about all the things we did in Sudbury here.
Northern Ontario's capital is a city worth writing home about. So which of these Sudbury attractions will you explore first?