BIG Hikes – Caribou Mountain's Jaw-Dropping Lookout
This hike is our #5 BIG hike – Caribou Mountain located in Temagami.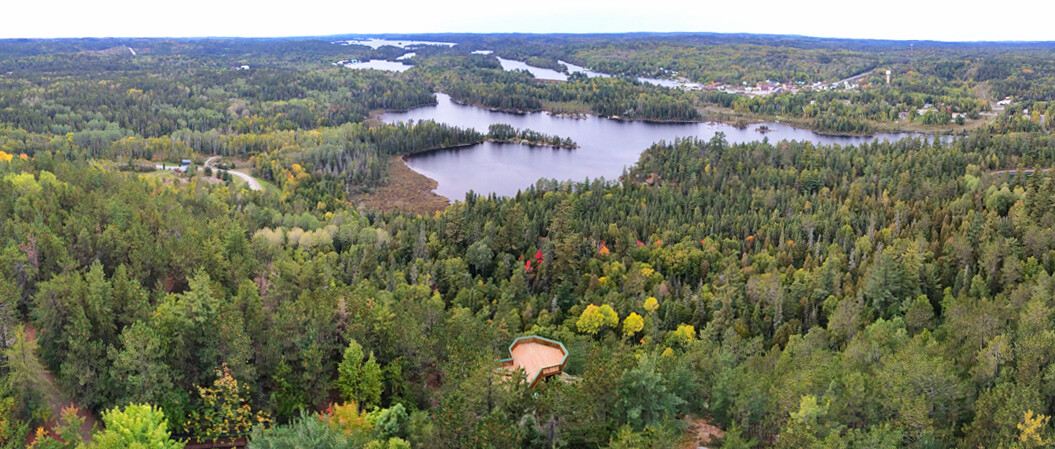 Editor's Note: This summer, we asked you to tell us what your favourite hiking trails in Northeastern Ontario are as part of our BIG Top Five Contest. Each month, we will be publishing a story about each of the top five hiking trails in Northeastern Ontario as voted by you!
 
This month we are featuring the hike that earned the number five spot—Caribou Mountain.
For anyone growing up in the 60s in Northern Ontario, TV channels were few and far between on the dial. With so little choice, we consumed every show we got, some even becoming part of our childhood memories. One of those shows that I remember was "The Forest Rangers," featuring men who lived in 'the North' and regularly scaled towers to scan the horizon for forest fires to help protect the rugged wilderness and the people who lived there.
So when I got the chance to visit one of these legendary fire towers and the trails surrounding it in Temagami, I was pretty excited to be walking (and climbing) in the footsteps of these Rangers whom I had romanticized as a child. I wasn't disappointed.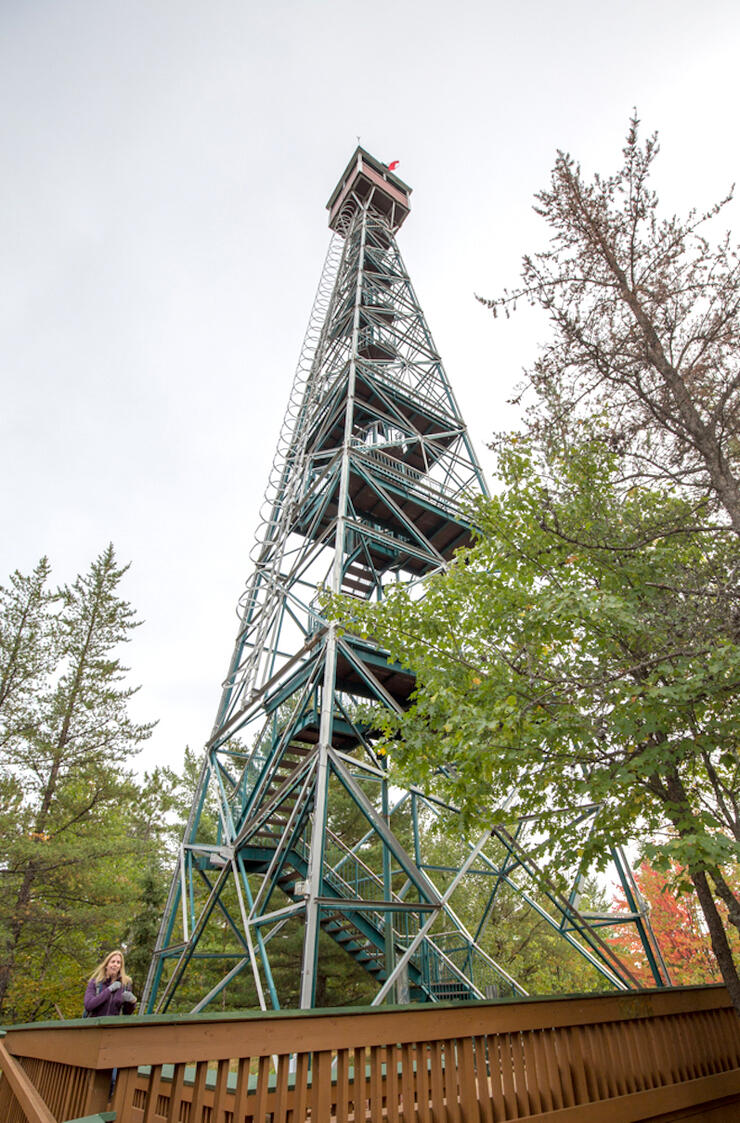 The 100-foot Temagami Fire Tower stands on the top of Caribou Mountain and has a history that dates back to 1910 when the original wooden tower was built. Replaced over the years with more permanent materials, the current steel tower was built by seven forest rangers in 1951 and restored in 1998, twenty-five years after having been retired from its former fire-spotting duties. 
Today, the tower is not just the town of Temagami's most famous landmark, but it is also the highest point on Yonge Street (Hwy 11) and offers up panoramic views for those who make the climb – a climb that is not for the faint of heart  – especially if you have a fear of heights. Fortunately, I don't, because even though the tower is made of steel, the entire structure is open to the air, and the day I chose to climb it was a particularly gusty one, and I could feel the slight sway of the steel as I climbed. 
The climb itself was not difficult, though, beginning with a series of linear staircases that gradually narrowed as the tower tapered, until the straight steps were replaced with a winding spiral staircase. Finally, like entering a grown-up treehouse, I climbed up a final steel ladder through the floor of the boxed-in platform at the top and for the first time since beginning my climb, looked out at my surroundings.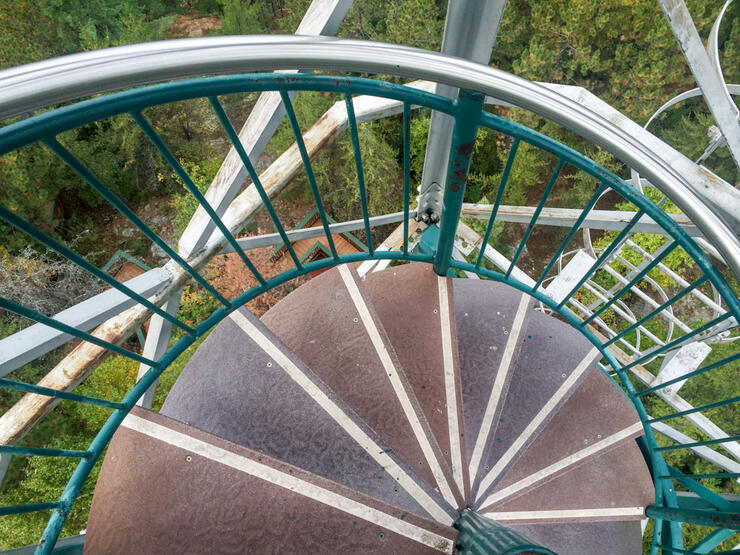 The panorama from the lookout can only be described as incredible! Like the Forest Rangers of my TV memories, I had an uninterrupted 360 degree view of the horizon stretching out on all sides. Dark blue lakes with names like "Blueberry", "Jumping Caribou," (and of course Lake Temagami itself) were laid out below, peppered with small islands covered shore-to-shore with trees. Hills and highways disappeared into the distance, where I'm told that on the clearest days, it's possible to make out a sister fire tower on the top of Maple Mountain, Ontario's highest point 40 kilometres to the northwest.
I could've stayed in the canopy for hours enjoying that view, but I knew there was much more to Caribou Mountain than just its famous tower: the mountain is surrounded by the White Bear Forest, 800 hectares of conservation lands that serve to protect one of Ontario's few remaining old growth pine forests, and I wanted to see some of that, too. 
White Bear is a hiker's dream, with 17 kilometres of trails of all levels of difficulty that snake through the forest, some of which date back 5,000 years to the original routes of the Anishinaabe, and are best accessed by boat or canoe. These remote trails are home to the Forest's old growth giants, rare red and white pine trees boasting 36 to 60-inch diameters respectively and that are upwards of 500 years old.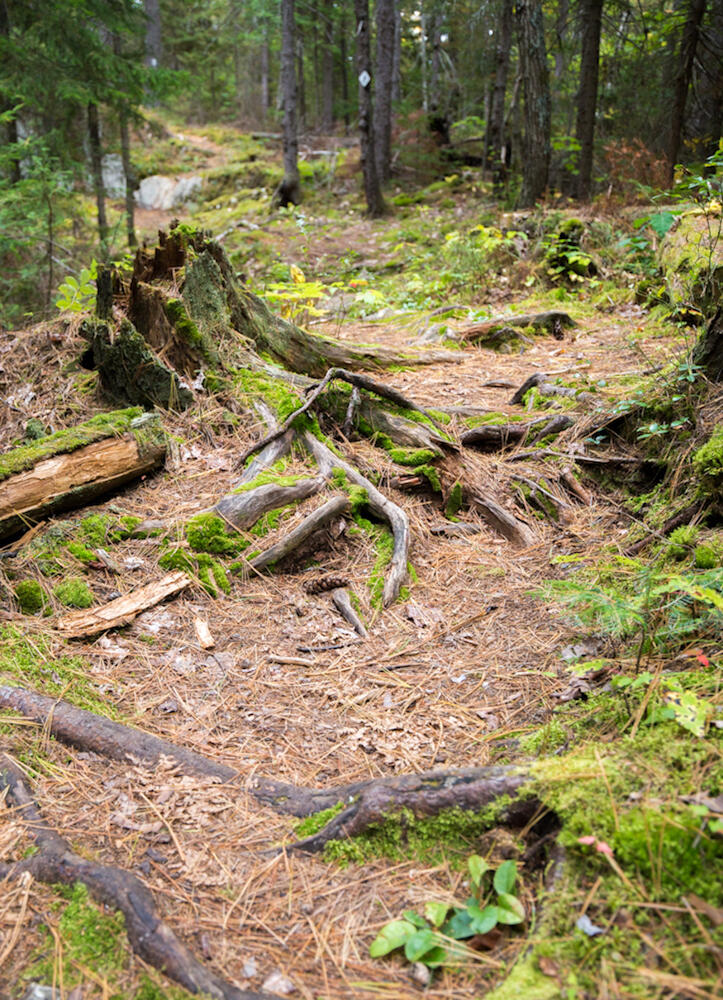 Descending from the tower, I decided to hike a short trail that bore the same name as the Forest itself – the White Bear Trail, which begins a short distance from the parking lot and the tower, and winds its way for 3 kilometres through towering trees on pine needle and moss-covered trails. 
The scent of pine was everywhere on this beautiful path, and with the soft footing, the hike was silent and serene, interrupted only by the sound of the odd bird or squirrel chattering in the canopy. Occasionally, the trail skirted the base of one of the mountain's remaining old-growth red pines, once plentiful in these forests before they were logged for their tall, straight lumber decades ago. Their dizzying height, impressive girth and wrinkled bark would turn anyone who appreciates nature even the slightest into a bona fide tree hugger. 
En route back to the parking lot, the White Bear Trail meets the top of the original Ranger Trail but one look at the steep incline of that path, and I had even more respect for the Rangers who used to hike this steeper, more direct route to the tower.
Leaving the trail and the town of Temagami behind, I wasn't sure which had impressed me more: the fire tower of Forest Ranger fame, or the towering trees it was built to protect. Regardless, both had been well worth the hike.
Access
Take O'Connor drive off of Hwy 11 at the historic train station, cross the tracks and continue uphill on the paved road to the right for 1 kilometre or so until you see a sign for the Tower. Turn right and take this road to the parking lot. The walk to the tower is on a loose gravel uphill path but is an easy walk.


 
Difficulty Rating: 2
The White Bear Trail that we took was well sign posted and even had ropes strung between trees to assist with climbing the one steep section. Apparently, not all of the trails are this well-marked or maintained, but they are being updated by volunteers to address this.
Amenities 
Campground-style restrooms are available at one end of the parking lot, and at the opposite end, there is a ramp leading to a covered gazebo for picnicking. There is a Visitor Centre here and trail maps are posted on signs. 
Visitor Fee
A small fee is requested for those who climb the tower, and when the Museum is closed, there is a box on one of the trail map signs for collecting donations. The tower is open from the May long weekend until Thanksgiving weekend. 
Viewing Deck
If heights are not your thing, a large wooden deck a few yards from the base of the Temagami Fire Tower gives a less intimidating – but no less impressive – view of the surrounding area. 
Where to Stay
The Town of Temagami itself is tiny with few accommodation options. More options are available in Temiskaming Shores, like the newly-built Holiday Inn Express and Suites and Suites, about 25 minutes north on Hwy 11 in New Liskeard. Here we enjoyed a little bit of luxury in a King Suite that had a bedroom and sitting area, each with its own TV and separated by frosted glass French doors. In addition to free WiFi, the hotel provides a great complimentary hot breakfast, in a large, modern eating area, and even has a pool. 
Trail Difficulty Legend
(Evaluated by an occasional hiker, 50+, reasonably fit with no mobility issues and who is able to walk 3-5 kilometres and climb 5-10 flights of stairs with no difficulty)
 
LEVEL 1: Easy. Trails are easy to follow, with good footing and gradual slopes, although surface would not be suitable for strollers. (May even have handrails, stairs or other assists in certain places.) Comfortable, closed footwear recommended.
 
LEVEL 2: Moderate. Trails have the occasional incline, with roots and/or rocks to step over. Running shoes with good tread and support, or hiking footwear recommended.
 
LEVEL 3: Moderate with some challenging areas. Trails may be rocky, requiring careful footing, with some steep inclines, or the trail could involve sustained uphill hiking for longer sections. Hiking footwear recommended.
 
LEVEL 4: Challenging. Requires agility and a good level of cardiovascular fitness as there may be steep sections, climbing over and around large boulders, roots, etc. May involve water crossings on rocks or logs with rough or narrow surfaces where balance is required. Hiking boots/footwear required.
 
LEVEL 5: Expert. (Basically a sustained Level 4 throughout most of the trail, with occasional sections that are easier) Hiking boots required.