A Northeastern Ontario Foodie Trip from Kapuskasing to Kagawong
6 essential stops for artisanal cheese, pepperettes, and butter tart cookies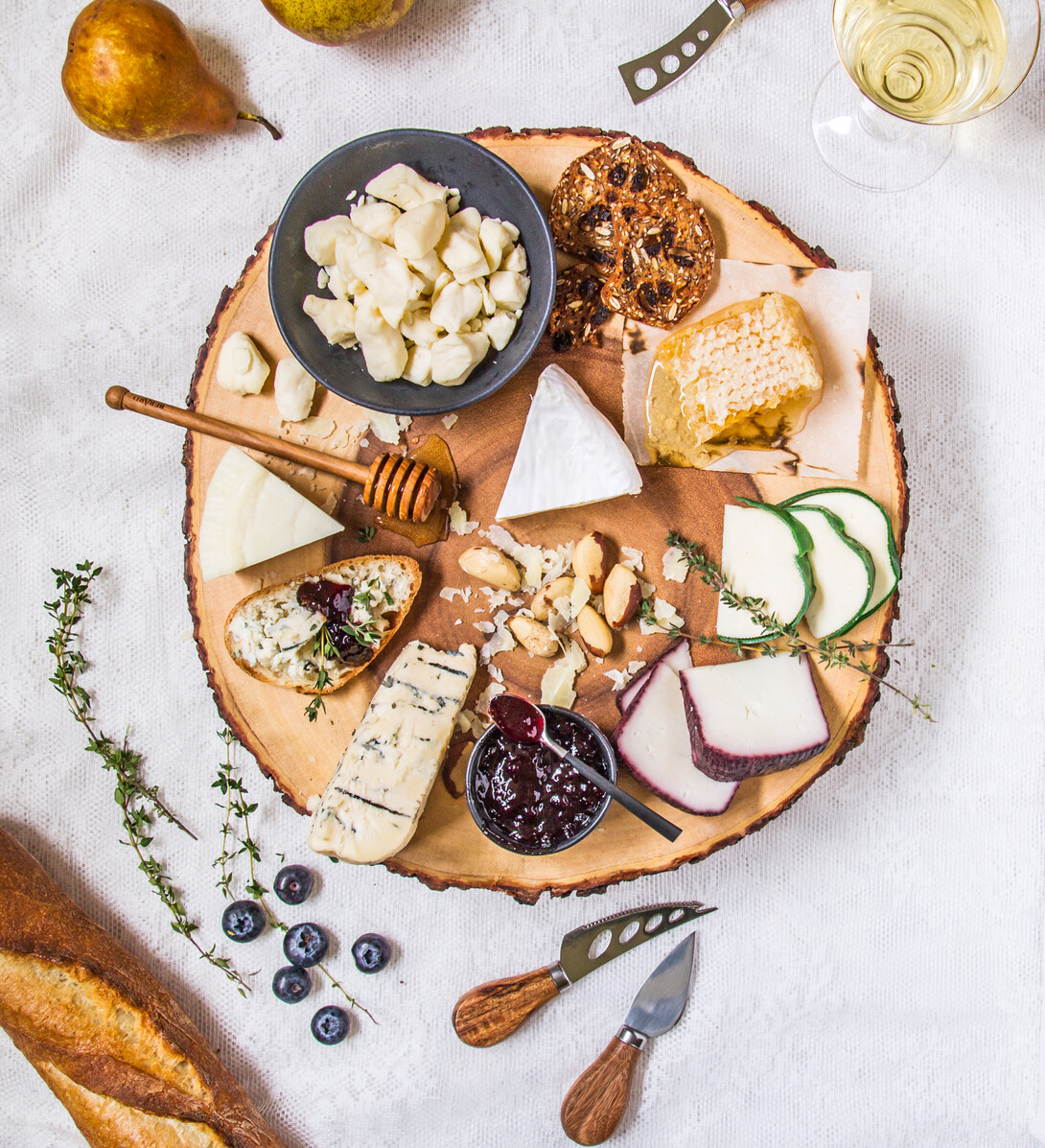 This tasty Northeastern Ontario trek takes you on a road trip from Kapuskasing to Kagawong in search of the region's most specialized—and delicious—foodie destinations. Welcome to the charcuterie circuit!
We're visiting multiple makers and bakers, shopping for items to create a feast with meat, cheese, bread, and spreads. At the end of this route you'll have everything you need for an impressive charcuterie board packed with locally sourced meats, artisanal cheeses, and fresh breads. We've added a few stops for some sweet and savoury treats—keeping you well stocked with baked goods, chocolate and coffee, too.
1. Fromagerie Kapuskoise Artisan Cheese, Kapuskasing
No matter where I start a charcuterie road trip, cheese is always top of mind.
So, let's kick off this list with the famous Fromagerie Kapuskoise Artisan Cheese. I love their selection of single-sourced, aged cheeses made from cow, goat, or sheep's milk, named after the region's pristine lakes and rivers.
After taking the time to taste the Fromagerie's offerings, it can still be tough to choose, so I'd suggest The Kapuskasing. It is smooth, with a buttery taste, and the vegetable ash-lined center is beautiful and lends special notes to the cheese's flavour, pairing well with charcuterie favourites like bread, fruit, and red wine.
The Saganash is a creamy textured cheese perfect for slicing and for topping crostinis. Add a daub of jam to make tasty morsels. Bonus: The rich and tangy flavour comes from sheep's milk and contains less lactose than some of their other cheeses.
I can never resist the temptation to buy a fresh, squeaky bag of curds. Knowing me, I'll "forget" to save some for the charcuterie board, opting to devour them as road trip snacks. If that sounds like you, snack away! There are more cheese curds available at stop number three.
2. Dabrowski's Smoked Meats, Timmins
If you call yourself a carnivore, Dabrowski's Smoked Meats is a must-visit destination for locally made, in-house smoked provisions like their famed beef jerky.
Grab some hunter's sausage to cut into bite-size pieces and garlic kielbasa for slicing— this is so good with a little mustard and a bit of cheese on a cracker. Roll up salami, add some toothpick skewered jalapeno cheddar smokey rounds and kabanosy sausage (mild or hot) so the board is abundant with protein options.
While at Dabrowski's, pick up Saucy Pete's Handcrafted Gourmet Sauces. The Garmesan and the Hot Honey Mustard are great additions to any charcuterie spread.
Don't forget pepperettes! These are a must-have snack on my road trips, and not one bite needs to make it home for the charcuterie board.
3. Thornloe Cheese, Thornloe
It's a good thing the next stop is Thornloe Cheese because, at this point, I will have polished off the fresh bag of curds that I purchased earlier. Here is an excellent opportunity to replenish your supply. This historic dairy and general store encourages browsing—so enjoy perusing their selection, tasting various flavours, and picking your favourites.
My taste for the flavours of blue cheese must be maturing because I love the Devil's Rock Creamy Blue Cheese Pyramid. Its pyramid shape is not only stunning on a charcuterie board, but this cheese's creamy flavour has the perfect amount of blue. The Onion and Parsley Mozzarella is another popular choice, as is the Garden Vegetable Mozzarella.
Are you planning to serve coffee with the dessert board? Thornloe Cheese's creme fraiche will be a rich and creamy addition to your hot or cold caffeinated drinks.
4. Pinchman's Cafe & Artisan Bakery, Sudbury
At Pinchman's Cafe & Artisan Bakery, you'll find both sweet and savoury baked goods made with love by Pinchman's—a special breed of baker who wields a pinch, with finesse.
There's always room for a French baguette on your food board—grab a second crusty loaf to make your own toasted crostini.
Add saucy flavours to your food board with ramekins full of Pinchman's Housemade Habanero Mango Hot Sauce and housemade fruit jams, like their Cranberry Fig—a tasty topping for your crostini and cheese.
Make sure to get a baker's dozen Butter Tart Stuffed Cookies so you can eat the extra one for a road snack! Add scones, housemade jam, and some fresh espresso beans for that post-dinner coffee, and the sweets section is almost complete.
5. Nickel City Cheese, Chelmsford
Have I ever mentioned that I love cheese curds? Furthermore, it's noteworthy that Nickel City Cheese has almost twenty flavours to choose from!*
I wouldn't let my charcuterie board squeak by with only one type when there are so many fantastic flavour choices! Make room for my favourites: smoked, jalapeno, dill, and garlic. And don't forget the maple bacon cheese curds.
There are also traditional cheddar blocks and flavours like BBQ, taco, greek, and lemon pepper, to name a few. And I wouldn't leave NCC without their Caramelized Onion Cheddar Cheese, a cornerstone on any charcuterie board.
If there are any leftovers, that'll be a good thing—just think of the poutine possibilities!
*Also, this is a good time to share my newly developed strategy for charcuterie missions:  Always buy extra bags of curds and strategically place them in the car where you can't reach them. #STAYCHEESY my friends.
6. Manitoulin Chocolate Works, Kagawong
When it comes to finger foods, I like a sizeable dessert board to accompany my charcuterie spreads—and it's not complete until there's chocolate.
So, a trip to Manitoulin Chocolate Works is a must for all cocoa lovers.
Make room on the sweet and savoury board for melt-in-your-mouth small-batch artisan chocolates and bonbons. It's good to have a variety, choosing from fruit flavours like creamy Strawberry, Orange and soft-centred Raspberry. I'd save a corner for sweet & salty Chocolate covered Ruffled Chips and Salted Caramels and a spot for Mint Meltaways.
Be sure to serve some freshly-brewed coffee with this final course!
A Horn of Plenty: Northeastern Ontario's Cornucopia of Local Foods
As the harvest season approaches, the time for gathering and celebrating the region's diverse local food offerings is almost upon us. I hope this list of local artisan food makers will set you on the route to creating your own spread of tempting treats for entertaining your family and friends!
We covered all the mainstays of a charcuterie board. Still, there wasn't enough room to cover all the baked goods and chocolate options in Northeastern Ontario, let alone the craft breweries along this circuit.